The National Center for Interactive Learning (NCIL)/Space Science Institute is pleased to announce the launch of a new collection of resources on the STAR_Net website to support library staff who want to begin or further develop their involvement in STEM:  STEM in Libraries. The resources are intended for those who might be experienced in STEM, as well as those who are beginning to lead the way forward for their libraries and communities. Many of the resources were compiled for the 2015 Public Libraries & STEM conference, but that is just the beginning!
NCIL, in partnership with the Lunar and Planetary Institute, received funding from the National Science Foundation for the first-ever Public Libraries & STEM conference that took place at the Sheraton Denver Downtown Hotel in Colorado, August 20-22, 2015. This invitation-only conference brought 150+ library and STEM professionals and funders together to build productive relationships; explore promising practices in designing effective programs; help define a 21st century vision of STEM learning in public libraries; and develop the foundation for a future evaluation and research agenda for libraries and their partners engaged in STEM education efforts.
Conference background reports, presentation materials, and findings are available at starnetlibraries.org.  The six background reports, authored by STEM and library experts, highlight research in how people learn through out-of-school-time (OST) experiences; the power of collective impact; audiences that libraries are serving; and the ways libraries are continuing to evolve to meet their community's needs. A digital copy of the conference program is also available online, with hyperlinks directly to abstracts.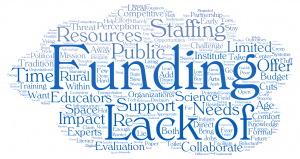 Presentation and poster files, as well as reports, evaluation instruments, and other materials that were referenced during the conference, are organized as the following collections:
Why STEM?
Collaboration
Diversity
What is STEM in the library?
Evaluation
The Future
Is there a report, book, or other publication that you use to develop your STEM programs? Do you have a good source for partnership ideas? Post your ideas here and help us grow this resource collection!
Are you new to STEM? Feel free to post here for ideas on getting started!