by Stephanie Vierow-Fields
STAR Net's Summer of Space campaign promotes space science and astronomy and provides valuable resources that public libraries can use to build a summer learning program that their community will remember for years to come. From NASA's 50th anniversary celebration of the Apollo 11 Moon landing to CSLP's summer learning program, A Universe of Stories, STAR Net brings together a wide range of activities, resources, and webinars that enlighten as much as they inspire.  But while there are instructions on how to organize a night sky viewing, or conduct a fun Solar System scale activity, Summer of Space is also providing libraries with the chance to win books and supplies that enhance their summer learning program.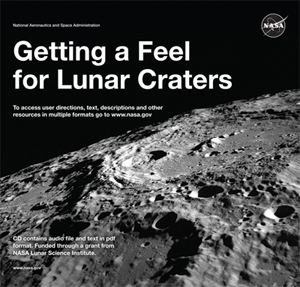 NASA and Scholastic have collaborated with STAR Net to offer libraries the chance to win a NASA tactile book, a copy from the Luciana Vega series, or a set of NASA stickers.  The book "Getting a Feel for Lunar Craters" was created with the NASA Lunar Science Institute and features tactile diagrams of the lunar surface designed to educate the blind and visually impaired about the wonders of Earth's Moon.  Luciana Vega is a girl with a head for science and her heart set on exploring Mars.  Written by Erin Teagan, a biochemist turned author, she uses her own experiences in the STEM field to inspire young girls to follow their dreams.
STAR Net has already gifted 1000 tactile books to libraries across the country with more to come – shipping in late May to June.  Scholastic has generously donated 300 Luciana Vega books for libraries to use along with four other titles from their collection including The Sun is Kind of a Big Deal and The Astronaut Who Painted the Moon.
To receive these, plus the chance at an Orion StarBlast telescope, NASA calendars, and more, libraries can register at: https://www.surveymonkey.com/r/universe-of-stories-registration.