Some of us associate science, technology, engineering, arts, and mathematics ("STEAM") with FUN and MEANING for ourselves and our friends and family. We might imagine rockets blasting into space and the excitement of exploring the universe, or we might appreciate the chemicals in our sunscreen that keep us safe from UV. We might even realize how much STEAM is in our favorite hobbies, from the mathematics involved in sewing a garment, to the fertilizer we add to our prize tomatoes, or the family genetics that mean we hate broccoli as much as our brother.
For others, "STEM," "STEAM," and related acronyms are meaningless. Or, worse, they are associated with memories of a dull science lecture or the frustration of challenging math homework. What better words can we use to capture the benefits and promise of STEAM in our lives? How can we invite our communities to play, create, explore, and more? Here are a few collections on our STEM Activity Clearinghouse that try to bring STEAM learning to life.
BE YOUR BEST SELF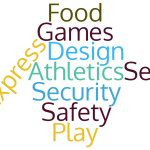 Let's make STEAM personal. Where is STEAM in your daily life? How does STEAM help you express yourself or achieve your own goals? Or, perhaps you just want to have fun! From athletics to food to security, STEAM is making our lives better.
Check out this collection of activities and related resources designed to power your play or express your STEAM self — you'll find Spanish language entries as well as materials in English.
There are many professions dedicated to making our personal lives more fulfilling and fun, as well as safer and healthier. Skilled trades such as machinists, operators, craftworkers, distributors, and technicians are critical careers for the future. In our high-tech world, cybersecurity is becoming increasingly important. Materials scientists will be in demand to strengthen or create materials for different products.
BE A CREATIVE PROBLEM SOLVER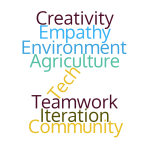 Professionals and hobbyists in communities across the world are tackling challenges with teamwork and persistence that can inspire us all. Perhaps we can celebrate these community helpers — from a drone pilot who helps locate a lost cat, an engineer who treats wastewater, or a gardener who uses their "green thumb" to grow fresh produce for hungry neighbors.
Engineering design challenges foster creativity, persistence, teamwork, and more. Tech-rich activities showcase how coding, LEDs, and video editing can solve real-life challenges. Explore this related collection of creativity activities and resources (which again includes Spanish-language resources).
Looking to the future of STEAM-related careers, there will be demand for engineers, but the tech industry will need expertise in software and app development and data science.
BE CURIOUS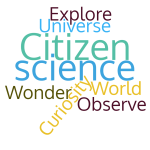 Foster curiosity and you can see the world — and universe beyond — with fresh perspective. It can be amazing to see your own hair through a microscope or venture to a pond at night to hear frog calls.  These observations might lead to questions — you might even think of a question that no one has ever been able to answer, a mystery to be solved. Perhaps you might be inspired to capture what you see as a painting or spin a tale for your friends.
We've assembled a collection of curiosity activities and resources that explore and celebrate our world and the universe. Through citizen science, anyone can go even deeper, carefully documenting their observations and comparing their findings to data collected by others.
Beyond S-T-E-A-M
What does the acronym "S-T-E-A-M" mean to you? What have you found to be effective in promoting your STEAM programs? Have you chatted with your tweens and teens about what makes them curious or community problems they wish they could solve? Please add your thoughts and ideas in the comments!
Updated 8/14/2020 with a call to action to "be your best self." Thank you, Carmen and team at NewPublica for the great suggestion!