STAR_Net has a wealth of resources for public libraries to use in their STEM-related programs, and we brought resources relating to collaboration, plus our newest hands-on activities, to the ALA Annual Conference.
Check out the slides and links from our two sessions below and let us know if you have anything to add!
STEM Collaboration Share a Thon
Saturday, June 25
Three presenters from the Public Libraries & STEM Conference kindly agreed to share their lessons learned and tips for collaboration:
Sue Considine, Executive Director of the Fayetteville Free Library, presented "21st Century Visions of STEAM Learning in Public Libraries."
Ginny Golden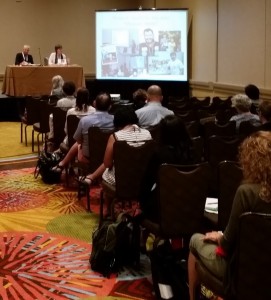 , Senior Community Library Manager at the Contra Costa County Library, presented "Bringing Space Exploration to your Library."
Trevor Owens, Senior Program Officer at IMLS, shared lessons learned and the key elements of sustainable partnerships from the portfolio of IMLS-funded projects.
Find information about STAR_Net and the Collective Impact model in this slide set.
Stellar Hands-on STEM Learning Resources from STAR_Net
Sunday, June 26
We covered several of the newest STAR_Net hands-on activities and gave an overview of results from a recent survey about the state of STEM learning in public libraries. Check out our summary of activities and related resources that we covered.
We made it into Cognotes!  Check out page 8 for a pic of our ""Strange New Planet"" from this session. Plus, be sure to see Jonathan Dolce's entertaining synopsis on the ALSC blog.
For more hands-on activities, check out the blog post NASA Science Resources for Libraries.
STEM in Libraries The STEM in Libraries Member Initiative Group had its first meeting — take advantage of the networking and resource sharing in this group!