Reach Out, Engage and Learn from Your Community!
Public libraries are vital community centers offering resources, activities, and other learning opportunities. In order to best serve their communities, libraries must look outward to discover more about how community members think and feel about important topics and to make connections with local organizations and partners that can help address these issues to achieve a common goal. Community Dialogues are one way in which libraries can more fully engage and learn from the communities that they serve.
While this resource is designed to help libraries address STEM (Science, Technology, Engineering and Math) topics with their communities, the strategy can be applied to any challenging issue that requires community engagement to solve.
Select a topic below to begin your journey in developing successful dialogues within your community!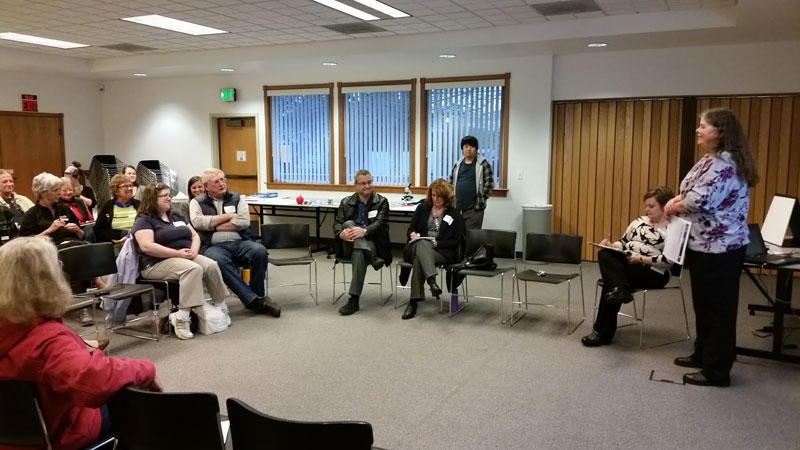 Quick Links:
What Library Staff Say:
"There is no doubt that the Community Dialogues are beneficial to all parties. I think this method should be employed more often when we are considering all kinds of services, initiatives and programs for our community."
"Our first dialogue was with various leaders who work with the target populations. Thanks to the conversation, we are pursuing a STEM Fair and have new connections who promote our services even as we promote their events."
This work is supported by the National Science Foundation (NSF): STAR Net Phase 2 (DRL-1421427) and Project BUILD (DRL-1657593). Additional support came from NASA@ My Library funded under cooperative agreement No. NNX16AE30A and the National Institutes of Health (NIH) under Award Number 8R25GM129203-06. Any opinions, findings, and conclusions or recommendations expressed in this material are those of the author(s) and do not necessarily reflect the views of the National Aeronautics and Space Administration, NSF, or NIH.