Meet Our Team
Below are the team members for the STAR Library Network (STAR Net). Feel free to reach out if you have any questions.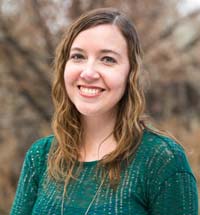 Claire Ratcliffe Adams: Education Coordinator II
Claire Ratcliffe Adams is an Education Coordinator II at the Space Science Institute where she curates STEAM resources and professional development opportunities for library staff. She has a B.A. in Environmental Studies from the University of Utah and an M.S. in Natural Science Education from the University of Wyoming. Claire has over ten years' experience working in informal education settings, including teaching science camps across the country, working as a Marine Naturalist in Hawaii, and directing a teen program for the Boys & Girls Club. Claire also spent several years teaching k-8 STEM in a public school.
In her spare time, Claire enjoys gardening, reading YA fiction, and hiking.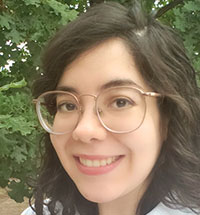 Amy Briones: Graphic Designer/Illustrator
Amy Briones has a B.A. in Graphic Design with a minor in Museum Studies from the University of Texas at El Paso (UTEP). She has over 5 years of experience in graphic design, exhibit design, and illustration. Her previous experience includes working as a Graphic Designer, Preparator, and Curatorial Assistant at UTEP's Centennial Museum and Chihuahuan Desert Gardens. She designed, organized, and developed exhibits along with her team. Amy served as a panelist for the Humanities Education and Research Association (HERA) Conference and Sol Conference in 2021 where she spoke about the development of the Virtual Lhakhang Project. Her publication campaign design for Uncaged Art: Tornillo Children's Detention Camp was awarded the Mitchell A. Wilder Publication Design award by the Texas Association of Museums (TAM). During her free time she collaborated with the El Paso Museum of Art to sell her illustrations in their shop. Amy is also an avid dog lover.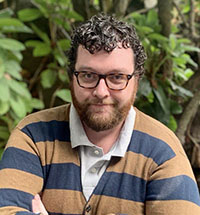 Dillon Connelly: Education Specialist
Dillon Connelly rigorous training in informal science education began at age 5 when he convinced his parents to take him to the National Museum of Natural History in Washington, D.C. for the third time in as many weeks. Since then, he has earned an A.S. in Culinary Arts from Johnson & Wales University, a B.S. in Geology and a B.A. in Biology from the University of Rhode Island, and an M.A. in Museology from the University of Washington. Before joining the NCIL team in August 2021, Dillon contributed to studies and projects at the Seattle Aquarium, the Burke Museum of Natural History and Culture, the Roger Williams Natural History Museum and Planetarium, the Rhode Island Museum of Science and Art, and the Puget Sound Museum at the University of Puget Sound.
When not excitedly talking about science, he can usually be found with his head in a science fiction or fantasy novel shamelessly stealing ideas for his next tabletop RPG campaign or working towards his lifelong Sisyphean quest to bake the perfect macaroni and cheese.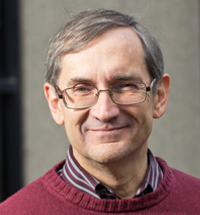 James Harold: Senior Education Associate
James Harold has a research background in space physics (Ph.D. in physics, Univ. of Maryland), and is currently Director of Information Systems and Technology for the Space Science Institute. Jaime has a long interest in the role of computers, simulations, and games in education. He has been involved in a wide range of space science education programs, including the NASA Office of Space Science (now Science Mission Directorate) Education Support Network, which sought to enhance NASA's education involvement through more effective scientist involvement and more cohesive education programs. He was the development lead for the software components of the Alien Earths and Giant Worlds traveling exhibits and accompanying web sites, as well as the Space Weather Center website. He was Co-I on the NASA/HST funded MyStar project (a small stellar evolution game), and the NSF funded Hydrobot project (a 3D Hydrobot simulator game). Jaime is currently Co-I and software development lead for the NSF funded Great Balls of Fire exhibit, PI of the NSF and NASA funded Finding NEO project (developing, among other things, a physics based asteroid deflection game), and PI of Making Space Social, which is creating a social game for Facebook dealing with stellar and planetary evolution.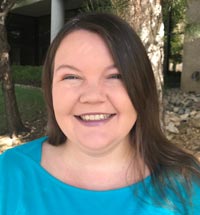 Anne Holland: Community Engagement & Exhibits Manager
Anne's professional training includes a B.S. and a B.A in Astrophysics and English Writing from the University of Hawaii in 2007 (along with minors in math and geology), and a Master's in Science in Space Studies form the University of North Dakota in 2012. She has previously conducted astronomy based outreach for the Mauna Kea Visitor Information Station, Hawaii Forest and Trail, and various youth groups. Anne also worked at the Denver Museum of Nature and Science prior to joining NCIL in Fall 2010.
As Community Engagement Manager at NCIL, Anne manages all the library (STAR Net) and museum (Great Balls of Fire) tours, and serves as Project Manager for many NCIL programs. Anne also leads SSI's outreach efforts, visiting schools, libraries and science centers and conducting hands-on science programs (like stargazing). Anne is Co-I on Phase 2 of the STAR Library Education Network, NASA @ My Library and Discover NASA: From Our Town to Outer Space. Anne is also an active presenter at the American Library Association ,Colorado Association of Libraries and Association of Science and Technology Centers, as well as a core member of the Coalition for the Public Understanding of Science (COPUS).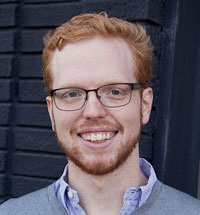 Brooks Mitchell: Education Coordinator II
Whether he's showing dinosaur fossils to an auditorium full of second graders, co-leading a webinar with an astrophysicist for hundreds of librarians, or leading an interpretive snowshoe hike through the Rocky Mountains, Brooks is an advocate for informal STEAM education.
In his current role at the National Center for Interactive Learning (NCIL) at the Space Science Institute (SSI), Brooks coordinates the STAR Net Webinar Series and the STEM Activity Clearinghouse –  both have which quadrupled in number of viewers/users since Brooks joined the team – and facilitates in-person workshops and coaching calls for library staff nationwide. He supports SSI's Professional Development team and the "STEM in Libraries" movement through the NASA@ My Library, Project BUILD, and Partners for Middle School STEM initiatives and will serve as Senior Personnel for the upcoming 'Enhancing STEAM Equity and Learning Opportunities in Libraries and Their Rural Communities' project (generously funded by the National Science Foundation).
Brooks received his B.A. in geology with a minor in anthropology from the University of Alabama in 2012, and began his professional career by leading field trips and designing interactive exhibits for museums and aquariums as well as writing and editing content for science articles.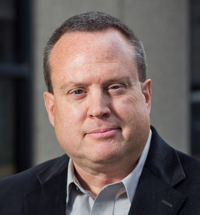 Greg Mosshammer: Web Content Manager
A graduate of Purdue University, Greg earned his B.S. in Technical Graphics (Computer Graphics Technology) from the Purdue Polytechnic Institute, one of the largest and highest ranked technology schools in the U.S.
With over 20 years of professional experience working for large corporations, small-to-medium-size businesses and internet startups, he has developed a diverse skill-set in variety of different areas including web design and development, print design and production, project and content management, email marketing and social media management.
In March of 2016, he joined the Space Science Institute's National Center for Interactive Learning as their Web Content Manager. By June of 2016, he had redesigned, developed and launched the current version of the STAR Net website which added numerous tools and resources to effectively disseminate information to the library community. In September of 2016, he began developing specialized event sections dedicated to providing programming resources directly to public libraries which included International Observe The Moon Night, Engineers Week, Earth Day, Lights on Afterschool, Cassini's Grand Finale, Parker Solar Probe, NASA In-flight Education Downlink, InSight Mars Lander, 2019 Summer of Space and the 2017 Solar Eclipse which has received over 1 Million page-views alone since it was launched in the Fall of 2016.
During this time, Greg has also led the growth and development of STAR Net's social media presence, managed NCIL's STEM Activity Clearinghouse, developed numerous supporting print and exhibition materials and participated on several project teams for STAR Net, NASA@ My Library, Gordon & Betty Moore Foundation/Google and Project BUILD.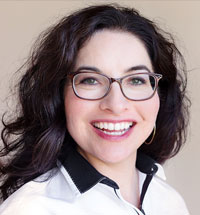 Jessica Santascoy: Project Manager
Jessica received a B.A. in Psychology from the University of Texas at El Paso and an M.A. in Media Studies from the New School in New York City. She has over 10 years of project management and outreach experience. She is the Project Manager for NASA@ My Library and STEAM Equity.
She previously worked at the Astronomical Society of the Pacific, where she designed and implemented the NASA Night Sky Network communication and outreach strategy. She and her team earned a NASA Group Achievement Award for exceptional performance in the creation of an innovative national public engagement program that dramatically increased NASA's visibility in exoplanet exploration. At Astronomers Without Borders she managed their flagship program, Global Astronomy Month, and served as community manager. She was the outreach consultant for the Exploratorium's initiative to reach Latinx audiences for the Total Solar Eclipse: Live From Chile 2019. Jessica completed the Sky Ranger astronomy communication training given by the Astronomical Society of the Pacific. She was an active member of the San Francisco Amateur Astronomers and the Amateur Astronomers Association of New York and she is a member of the Longmont Astronomical Society of Colorado. Jessica serves as the DEIA Advisor for the Boulder Library Champions and is Co-Chair of the Space Science Institute's Diversity Working Group.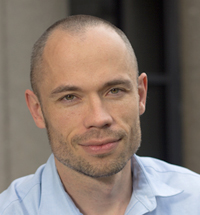 Evaldas Vidugiris: Senior Developer
Evaldas is a graduate in studio arts from the University of Colorado in Boulder with a certificate in Technology, Arts and Media (2003). He joined the Space Science Institute in 2002 and has been the primary programmer for a wide variety of interactive activities and games for NASA and NSF funded projects, including MarsQuest Online, Alien Earths, Giant Worlds, the Space Weather Center, Hydrobot, Great Balls of Fire, and Finding NEO. In addition to development tools such as Flash and Director, his expertise in PHP has allowed us to develop online activities which track user interactions for later evaluation. He also has experience developing multi-touch applications for both Flash and the Microsoft Surface.
Stephanie Vierow-Fields: Education Coordinator I
Stephanie was awarded a BA in Anthropology Magna cum Laude from the University of Northern Colorado in 2011 along with a minor in Theatre Arts.  She received her Master of Arts with Merit in 2013 from the University of Bristol's Archaeology for Screen Media Program in the United Kingdom with extensive experience in a wide range of media and science platforms including museum visuals, film, and archaeological field work. She was the First Assistant Director on the web series "9realms", as well as became the Creative Director for Slant of Light productions, a theatre-based nonprofit based in Milford, CT. Since then she worked in Special Events for Disney Event Group at Walt Disney World as well as a District Executive for the Boy Scouts of America.
Stephanie joined the NCIL team as Education Coordinator in November of 2018, where she will be working as a liaison with project partners to build relationships and proactively determine needs.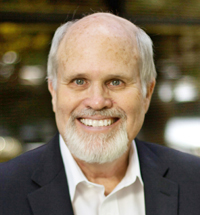 Paul B. Dusenbery: Former NCIL Director
I received my B.A. in Physics from Whitman College in 1972 and my Ph.D. in Physics in 1978 from the University of New Hampshire specializing in space plasma physics. I was a Research Associate at the University of Colorado, Boulder from 1982-1990. In September of 1989, I served as the Program Director of the Magnetospheric Physics Program at the National Science Foundation.
I have given back to the science research and education communities by serving on science research and education committees, agency review panels, and participating as an advisor on many different projects. I co-developed a successful workshop series to help scientists and engineers learn how to implement an effective formal and informal STEM education program (1995-2004). I have also designed and participated in numerous professional development workshops for classroom and informal STEM educators. I led the development of major national traveling exhibitions that reached over 2 million visitors (funded primarily by NSF and NASA): Electric Space, Space Weather Center, MarsQuest, Destination Mars, Alien Earths, Giant Worlds: A Journey to the Outer Solar System, and most recently Great Balls of Fire: Comets, Asteroids, and Meteors. These exhibitions were produced for the science center/science museum community and included workshops for museum educators. The Association of Science-Technology Centers was a strategic partner for many of them.
Currently, I direct the STAR Library Network (STAR Net), a national library education program (in partnership with the American Library Association and many other organizations). Five STAR Net exhibitions have been developed (funded primarily by NSF, NASA, and NIH): Discover Earth, Discover Space, Discover Tech, Discover Health, and Discover NASA (and three smaller Explore exhibitions). I am also PI and Project Director for the following STAR Net projects including NSF-funded STAR Net: Phase 1 and Phase 2, STEM Learning in Libraries Conference (Denver, Colorado, August 20-22, 2015), and Project BUILD. NASA-funded projects include From Our Town To Outer Space and NASA@ My Library. The later project was responsible for providing over 2.1 solar viewing glasses to 7,000 library organizations during the 2017 solar eclipse. A recent focus of STAR Net has been to design education programs that encompass diversity, equity, inclusion, and accessibility principles in partnership with the American Library Association.