Who We Are
The STAR Library Network (STAR Net) is a hands-on learning network for libraries and their communities across the country. STAR Net focuses on helping library professionals build their STEM skills by providing "science-technology activities and resources" (STAR) and training to use those resources.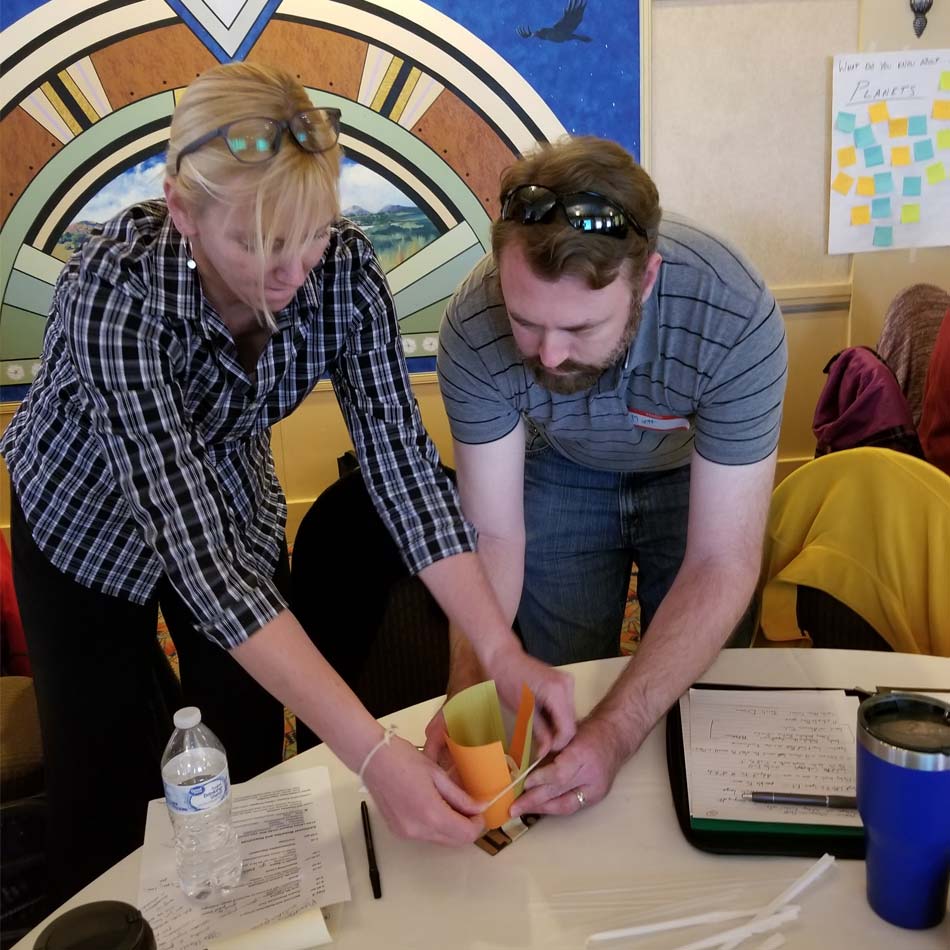 The STAR Library Network (STAR Net) is a community of library and STEM professionals that work together to strengthen STEAM learning in public libraries nationwide.
What We Offer
STAR Net is NCIL's flagship STEM program serving the public library community. It began in 2009 and now numbers over 8,000 members. The community can access webinars, monthly newsletters, blogs, STEAM events, collaboration opportunities, facilitation guides, book recommendations, STAR Net's STEM Activity Clearinghouse, and more. It also has an active social media presence including Facebook, Twitter, YouTube, and Flickr.
STAR Net team members regularly attend both library conferences (e.g., American Library Association's Annual Meeting) and STEM conferences (e.g., American Geophysical Union Fall Meeting). STAR Net projects all have robust evaluation components, and many include educational research to help public libraries use data-based practices to develop and implement effective STEAM programs for their communities.
The Clearinghouse is a one-stop shop for free STEM activities designed specifically for the library setting, based on librarian demand and feedback. Thanks in large part to STAR Net's recent Summer of Space event in 2019, hundreds of STEM activities from NASA and other vetted sources were uploaded to the Clearinghouse, bringing the total number of activities to over 500.
"I think STEM programming does bring in the people…This tells them that there are things at the library besides the books and besides the videos-that we have things that are doable, rather than just readable. We proved that this works…because we're seeing groups that don't normally come."
"It was a great experience for me. The SSI team did a great job of making everything super easy and were always quick to respond whenever we needed help. Getting to work with the exhibit and accompanying programs also really boosted my own confidence in the creation and facilitation of STEM activities."
"I love using STAR Net because the STEM Activity Clearinghouse has so many wonderful ideas for fun and engaging activities! All of the activities are provided with instructions and helpful information like recommended age groups, associated costs…"
Nationwide Reach
Over the last decade, STAR Net exhibitions and STEAM programs have been hosted by many public libraries nationwide as shown in the reach maps below: (1) STEM exhibitions, (2) Libraries participating in the 2019 Summer of Space event, and (3) NASA@ My Library partners.
STAR Net Exhibitions & Host Site Locations
STAR Net's STEM exhibits began touring in 2009 as a pilot experiment in Colorado and have grown to have a nationwide impact. They were funded by NSF and NASA. Millions of people have visited these museum-quality experiences. Hundreds of thousands of people of all ages have attended a variety of programs offered by host libraries and their community partners.
Click on the reach map to your right to get a larger view.
2019 Summer of Space Libraries
NASA@ My Library partnered with the Collaborative Summer Library Program (CSLP) for the 2019 event called Summer of Space/Universe of Stories. The event supported over 4,800 libraries across the United States. It connected CSLP's theme of "A Universe of Stories" to NASA's 50th Anniversary of the Apollo Moon landing.
Click on the reach map to your right to get a larger view.
NASA@ My Library Partners
Through the NASA@ My Library project, 78 public library partners (purple pins) and 18 state library partners (green pins) were selected to work with NASA and other partners to increase and enhance STEM learning opportunities for library patrons throughout the nation. The project also partnered with Portal to Public Network (PoPNet) sites who pioneered virtual connections between NASA-funded scientists and patrons at geographically remote public libraries. NASA STEM Workshops in 12 different states (hosted by the state library; yellow pins) reached almost 800 library professionals and prepared libraries for the 2019 Summer of Space event.
Click on the reach map to your right to get a larger view.
Funders and Partners
The STAR Net Program has received funding from the National Science Foundation, NASA, the National Institutes of Health (SEPA), and the Institute of Museum and Library Services along with several other institutions.

Organizational Partners
Partners include the American Geophysical Union, American Museum of Natural History, Arizona State University, American Library Association's Public Programs Office, American Society of Civil Engineers, Chief Officers of State Library Agencies, Collaborative Summer Library Program, Cornerstones of Science, Education Development Center, Institute for Learning Innovation, Lunar and Planetary Institute, SciStarter, Twin Cities PBS, University of Colorado, University of Virginia, Urban Libraries Council, WGBH, and many others.