Guest Post by Darlene Cavalier (SciStarter)
[photo above] People swabbing microbes from shoes and cellphones at a Philadelphia Phillies game. Samples were sent to the International Space Station for growth rate comparisons. See Space Microbes for more information on this "out of this world" citizen science project.

Citizen science enables people from all walks of life to participate in formal and informal scientific research. Millions of people help scientists monitor our nation's rivers, streams and lakes, measure air quality in their communities and homes, track the migratory paths of wildlife (such as birds and butterflies),  ground-truth satellite data, and even accelerate Alzheimer's research through online games. More than 2,000 projects, organized by universities, federal agencies, and community groups, are searchable on SciStarter.com. With topics ranging from Astronomy to Zoology, there's something for everyone!  Join SciStarter to find, join, and keep track of your contributions to all types of citizen science projects and events.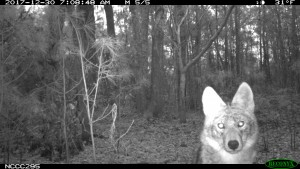 Libraries across the country, particularly those already providing STEM resources and programs, are well-positioned to introduce citizen science to their communities. Candid Critters, for example,  is a partnership between NC State University, NC Museum of Natural Sciences, NC Wildlife Resources Commission, the State Library of NC, NC Cardinal, the Public Libraries of North Carolina, and the Smithsonian. Citizen Scientists borrow camera traps from public libraries to help scientists learn what mammals are living where in North Carolina.  
With support from the Institute of Museum and Library Services, SciStarter, Arizona State University, and NISE Net are working with six public libraries in AZ to create Citizen Science Toolkits in hopes of supporting Libraries as Community Hubs for Citizen Science. Learn more here. The toolkits will be tested from September 2018 through April 2019. Paul Dusenbery (STAR Net Program Director) is an advisor for this project.
SciStarter and STAR Net have formed a partnership to encourage public libraries to be "community hubs for citizen science." We plan to have a dedicated resource page that has valuable resources and highlights of libraries doing cool and important citizen science programs. Look for this page sometime this coming summer.
Contact me at Darlene@SciStarter.com with questions or to share news about your library's current or future involvement in citizen science.