This summer I had my first foray into the camp format of programming. Summer camps are a big thing in our community. Kids will talk about what they've learned from one camp before heading off to another. I wanted our library to get in on this, but I was a little apprehensive of diving into the deep end. So I compromised (with myself) and did a smaller scale program. One week, MWF, for one hour each, focusing on a different activity each day.
*Law and Order DUN DUN music* Monday. Brush Bots.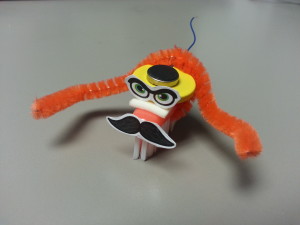 Brush bots can be a great (and cheap) way to introduce simple circuitry concepts. Snap circuits are great, but brush bots gets kids troubleshooting the problems that WILL arise, and get to take something home at the end. In this hour, we watched a quick video explaining the concept of completing a circuit. I led the kids through making the brush bots. Then, we decorated them with paper clips, pipe cleaners, little pom balls, stickers, led lights, and whatever else I had in my drawers. The kids were able reminded to build for speed and/or durability. Once they thought their design was done, they could take their brush creation to the raceway or the fight arena. As expected, most wanted to fight. The goal was to try to knock their friends' bot down. Their attempts may have shown that their bot moved only to the right, or was too heavy to move very fast at all. They were encouraged to troubleshoot their creation until they achieved the desired results in the battles. After the hour, each kid was able to take home their brush bot, and maybe some supplies for their sibling so they could teach what they've learned to others, which is always great.
Wednesday. Ozobots.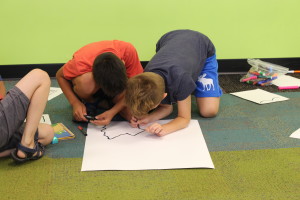 Wednesday's mission was for the kids to work in groups of 4 and recreate a fairy tale told with ozobots. I had pulled a variety of fairy tales for inspiration. They were given a basic ozobot code sheet, a poster board, markers, and an ozobot. The kids were tasked with the objective to recreate the story with the supplies given. Ideally, the kids were to make decorations or a landscape or something else visually pleasing and related to their chosen story. Then the ozobot would follow along the drawn path, read codes, and perform the action that would relate to the story. After the given hour, some groups gave up on the mission, some bit off more than they could chew and didn't finish. Going forward, it can be its own program with more time and perhaps an open house format for the public to see their work at the end.
Friday. Spheros.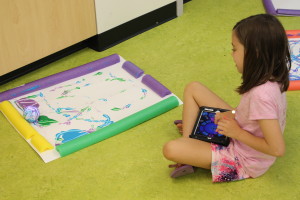 I've done a lot of programming with spheros, but I've never painted with spheros. I realize it's not a new concept at this point, but I'm happy to check it off my programming bucket list. Since I held this camp in the beginning of August, pool noodles were still plentiful and cheap. I bought 12. This was a mistake. I didn't need that many, and lived with a box of noodles under my desk for a few months. (They'll make an appearance in an upcoming blog.) I cut them in half vertically, then trimmed them horizontally to match the dimensions of poster boards. I hot glued them to the poster boards, but even though I predicted the noodle to melt from the heat of the glue gun, it was still annoying. I don't know what would be a completely better method, though. This process gave the poster board bumpers, which helped my anxiety of kids blazing through our still new looking program room with paint covered spheros. If you go this route, I must mention that full speed spheros wheelied over the bumper. Set the speed at under 20%. Some kids can work with that, some need even lower. I used thin acrylic paint, and there was much rejoicing. Again, kids were able to take home their creations, but some kids just tried to do the sphero ramps the entire hour.
And with that, the week of Tinker Kids was completed. I definitely plan on doing it again, but I need to see what new things I can incorporate. I also don't know if I'll have enough time, because I was accepted into a wonderful initiative that might take a lot of my programming capacity for summer. More on that later, too.
I've never finished a Law and Order episode. Do they "dun dun" at the end too? If so, **DUN DUN**