Skokie Public Library's experiential learning space, the BOOMbox, focuses on a different STEAM theme every four months, providing tools and inspiration to learn more about a topic through hands on experimentation. While this space is intended for youth, teens, and adults, it is not developmentally appropriate for children younger than kindergarten So, in conjunction with the BOOMbox theme, we offer a STEAM program designed for preschoolers (ages 3-5 with an adult caregiver) every other month. Science Club Jr., as we shared in a previous post, aims to equip youth participants with background knowledge to understand foundational science concepts at a very basic level. These programs allow the youth to use STEM terminology effectively and accurately.
For the current BOOMbox theme, Architecture, I offered a Science Club Jr. program focused on design and building and themed around the traditional Three Little Pigs fable. Here's what I did.
I began the program by asking kids if they were familiar with one of my favorite stories, The Three Little Pigs, and explained that today, we would be exploring the science behind the story. I then asked the kids if they had ever heard of the word "architecture" before providing a basic definition. I related "architecture" to the design of the program room and library, and we talked a bit about the types of homes everyone lives in. I then explained that we would pay attention to the different structures featured in The Three Little Pigs, focusing on the type of material (what the structure was built with) and the strength of the material.
After reading through most of The Three Little Pigs by Bernadette Watts (I skipped the ending to save time and focus on the science), I asked kids to recall what the three different materials were that the pigs used to build the structures; then we ranked those materials in order from strongest to weakest. Sometimes it is helpful to use a flannelboard and pieces for this quick ranking activity. I had a small group and opted to just flip through the pages of the book. We then talked about where else we see the materials like bricks and wood in our community.
From this discussion, I then transitioned to explain the hands-on component of the program. Participants had access to several different building materials including cardboard boxes, large popsicle sticks, plastic straws, recycled plastic water bottles, pipe cleaners, etc., with tape and scissors to be used by the adults. I proposed two building challenges to choose from: 1) a skyscraper challenge, and 2) a build-and-test challenge. The skyscraper challenge used recyclables, tape, and other decorative supplies like colored paper and pipe cleaners to build a freestanding, tall structure. The build-and-test challenge used different materials related to the straw, wood, and brick from the story. Kids were to design and build a structure, then bring it over to the testing station to use a blow dryer that replaced the wolf's huffing and puffing to blow the structure over.
As children worked with their grownups, I went around and asked which materials they were using, why they chose one material over another, and how strong they thought their structure would be. For those who tested their structures with the artificial wind/wolf's breath, I asked why they thought it fell over (or didn't!). I also handed out magnifying glasses for everyone to examine each other's structures closely and ask what materials they used, etc.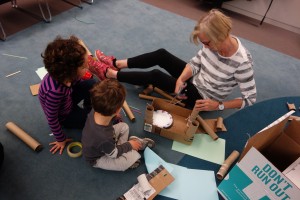 This program was well received by the participants. They children enthusiastically experimented with the different building materials, instructed their grownups to help with certain design features, and were very vocal about their designs and building process. Most participants opted to take their structures home.
Depending on your library's needs and community, this program can be adapted to accommodate a larger age range for pop-up programming. It's relatively easy to collect boxes and other recyclables available in the library for use in the building challenges. I haven't met a paper towel roll tube or empty tape roll I couldn't use. Give it a try and share your experience in the comments!