by Emma Marcucci and Holly Ryer, Space Telescope Science Institute
Research shows that out-of-school-time programs play an important role in supporting learning experiences and shaping youth identity in STEM (science, technology, engineering, and math). Young learners (particularly girls) who participate in STEM activities outside of school are more likely to say they will pursue STEM subjects later in their education.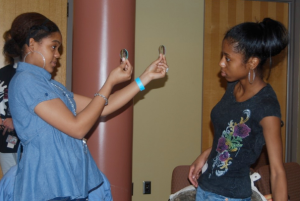 In addition, there is strong evidence that inquiry-based approaches benefit both individual and collective learning and support the development of twenty-first century skills. These approaches encourage youth to solve complex problems, work in teams, communicate findings, and apply knowledge to novel tasks and situations. Even better, they can be used outside of school to foster young, inquiring minds.
This is the impetus behind Girls STEAM Ahead with NASA – an initiative within the NASA's Universe of Learning program. Girls STEAM Ahead with NASA is designed to empower public libraries and community-based organizations to engage girls and their families in current NASA science and STEM. Though focused on engaging girls, events and activities are open to all family members, regardless of gender or age.
Through Girls STEAM Ahead, youth engage, explore, and identify with STEM content via the wonders of the universe. The program provides inquiry-based learning opportunities at informal-education venues like libraries, featuring access to NASA scientists and engineers, plus exhibits and activities that focus on NASA science and technology.
One of our favorite Girls STEAM Ahead activities is Observing with NASA, an activity where participants can experience controlling a robotic telescope and taking their very own, real space images. Youth are also able to preview images in an archive and formulate questions, select their own images for the robotic telescopes to observe, and explore various ways to process and colorize their images. They can also continue the fun by requesting images to process and print at home. The open-ended nature of the activity supports inquiry-learning while also serving as a springboard for future STEM exploration.

Observing with NASA can be used as a stand-alone activity, or coupled with other Girls STEAM Ahead with NASA resources to create a series of scaffolded learning experiences – making it a great resource for the Universe of Stories summer learning event. The project website (https://www.universe-of-learning.org/gsawn) has additional information about the full suite of Girls STEAM Ahead resources, including archived webinars that review the program and demonstrate activities.
Interested in hosting an event or using Girls STEAM Ahead resources for Universe of Stories?  Please contact us at girlsSTEAMahead@universe-of-learning.org.
Learn more through the following links:
This material is based upon work supported by NASA under cooperative agreement award number NNX16AC65A.  Any opinions, findings, and conclusions or recommendations expressed in this material are those of the author(s) and do not necessarily reflect the views of the National Aeronautics and Space Administration.