Kenton County (KY) Public Library's Erlanger Branch has opened their new STREAM (Science, Technology, Reading, Engineering, Arts, Math) of Learning Center! It is the first public maker space in the Northern Kentucky area. After an extensive renovation/addition to the building, the new space and equipment are now available for public use and programming.
With equipment as diverse as button makers and virtual reality equipment, there is a little something for everyone.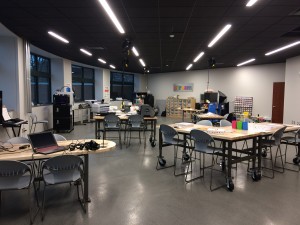 Members of the public can schedule a one-on-one training session for any piece of equipment, following which they may schedule use time in one-hour increments. Group programs and training will also be held for a variety of ages.
Some of the equipment available includes: sewing machine, embroidery machine, serger, poster printer, vinyl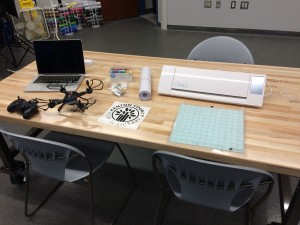 cutters, spiral book binder, 3D Printers, virtual reality equipment, electronic keyboard, 3Doodler, Ozobots, Snap Circuits, button makers, Squishy Circuits, Legos, Raspberry Pi, Arduino, Bloxels, Eggbot, soldering irons, hand tools, lap looms, button makers, a Glowforge, and much more. For a complete list of the items and materials available, click here: https://www.kentonlibrary.org/stream/items. All equipment is free to use. Some pieces may require the user to pay for materials, however.
The opening of the STREAM Center is the culmination of many months of preparation and planning. First, staff had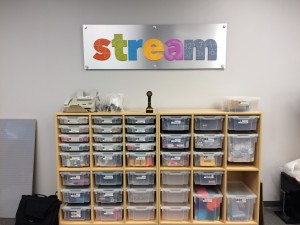 to be selected to be in charge of the facility. The Emerging Technology Programmers already at the Erlanger Branch were charged with choosing items and equipment to offer in the space, which took many many hours of research, testing when possible, and comparisons to ensure a variety of types of equipment would be offered, and to find the best pieces which fit into the budget. Once the equipment was all ordered, additional staff was recruited from among existing branch employees to help staff the space, which is open during library open hours. Staff recruited to be in the new space had to be trained on each of the various pieces of equipment so that knowledgeable staff will be available for public assistance at all times the space is open. And then there was the small matter of the building addition itself! Administration was tasked with finding funding, which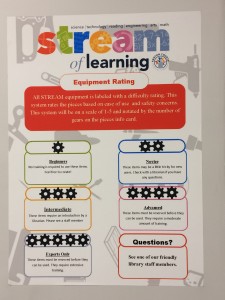 included donors and sponsors. The branch continued to operate through the nearly year-long building of the addition, which also includes new meeting room spaces, conference rooms, and study rooms. This meant months of workers in the public space and in the staff space, parking issues, noise, collection weeding and shifting, shelf removal and eventual return, and many other headaches. However, the finished project was well worth the wait! More information regarding the funding and building of the space may be found in this article: https://www.kentonlibrary.org/2017/duke-energy-becomes-a-partner-in-librarys-stem-efforts
Staff in the STREAM Center is learning and growing right along with members of the public. Since the space is one-of-a-kind in the community, the staff is having to adapt and adjust as they go. The public has been extremely supportive, and a lot of interest has been generated while watching the addition being built and stocked. Teachers are interested in the possibilities for extension of classroom experiences as well as experiences that compliment and complete classroom lessons. Programming is planned and underway to offer training to everyone from families with young children to seniors. There are classes for sewing, coding, playing with Bloxels, and much much more. As members of the public visit and express interest, additional equipment will be added. With the combination of new and exciting equipment and tools, knowledgeable and enthusiastic staff, and ease of access, the STREAM Center is set to become the coolest place in Northern Kentucky to practice hands-on learning! A link to a post on the library's blog, which includes some photos from the Grand Opening, may be found here: https://www.kentonlibrary.org/2018/streamcenter