Youth Services Librarian Caitlin Savage took over STEAM programming for grades K-2 last spring at Skokie Public Library. Under her direction, the bi-monthly Science Club program became monthly and was re-branded as STEAM Engines. This program is becoming a destination for budding scientists and explorers, and serves a bridge to other STEAM opportunities at the library, including the BOOMbox. Here's how it is designed and facilitated.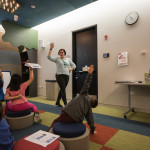 STEAM Engines follows a similar model to Science Club, using picture books, songs, and short slideshows to explore scientific concepts followed by hands-on activities and experiments. The STEAM moniker gives Caitlin a bit more room to play. For example, her theme for October was Monster Math, and she included a game within the program along with a math-based craft project she designed rather than a straight up science experiment. The games and crafts still include STEAM concepts and terminology but make learning more accessible and developmentally appropriate for the target age group.
Picture Books
Picture books are a cornerstone of the STEAM Engines framework. Caitlin selects a picture book that directly relates to program themes and shares the book at the top of the session. She adds clues to the front pages of her short slide presentations, which provide visuals and additional media for the program. She also usually features other related books or library materials within the program room for added exploration. Caitlin shared that she "like[s] to make the kids guess what we'll be doing – it's a fun way to break the ice and also to talk about hypothesizing and educated guessing," which can really increase engagement among program participants.
Songs and Videos
Whenever possible, Caitlin includes a song or short video that backs up what the STEAM Engine program is focusing on to increase learning opportunities for participants. Her favorite to date has been a Korean pop song about how great eggs are; this was the perfect pairing for the egg science session from a few months ago. For snowflake science, participants sang "Let it Go" karaoke and watched a stop motion animation of a snowflake forming.
Slide Presentation
Following the book and song or video, Caitlin presents a brief slide presentation, with about 2-5 slides, that reinforces a key concept related to the theme. The slides may also introduce the hands-on activity, either an art project or science experiment, which is a signal that participants will be changing rooms. Note: the non-messy portion is hosted in our storytime room while the messy portion is hosted in our craft room. These rooms are next to each other so changing locations is relatively easy.
Final Thoughts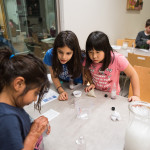 Caitlin believes that the monthly format helps with skills retention as well as with social-emotional learning as the kids who come regularly get to know her and form relationships with each other. The most favorable result has been much more consistency in the attendance. Prior to the monthly sessions, we would have full registration with waiting list, and then only half of the registrants would show up. Now that there are more consistent dates, the attendance has significantly picked up, with full or close to full program sessions. STEAM Engines provides kids the opportunity to have fun and experience STEAM concepts in a meaningful way. The most rewarding moments for Caitlin have been when kids relate the STEAM project from the program with the book shared at the beginning. This is indeed big "aha" excitement and Caitlin encourages you to give a version of STEAM Engines a try at your library.