Moving our STEAM Engines programming to an online, recorded format has been a treat and a learning experience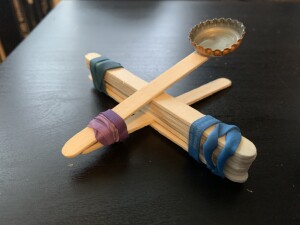 as we struggle to find relatable, interesting content for kids each month. In person, it is important to me to root our STEM concept in art, literature, and music, so I typically begin each program with a read-aloud. As we have moved the program online, copyright has made finding supplementary reading and music more challenging. With that in mind, the format that I've settled into involves a basic STEAM concept, a short, silly, original song or story to reinforce the concept, and a project that can be done at home using materials that are easily found.
As I plan out what to do online, repurposing programs that have been popular and successful in person has been helpful and advantageous. I am also home with two very busy children who have been interested in hurling projectiles in my living room, so catapults felt like a no-brainer. Hence STEAM Engines: Catapults was born.
I am lucky to have my son Desi as an enthusiastic co-presenter, and we began the video with a basic overview of catapults. The whys: projectiles made battle safer (for the offensive side, anyway), and more lethal for the defense, the whens: dating back to ancient civilizations! and finally, the how.
In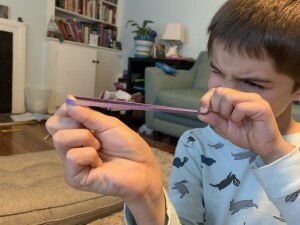 order to function, catapults rely on two types of energy: potential, and kinetic. This became our focal point, and the main takeaway concept for our video. Using clips of the kids running, jumping and somersaulting, we illustrated th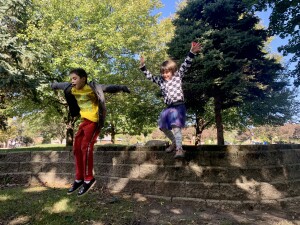 at kinetic energy is energy in motion. Using photos of a swing ready to launch, a rubber band primed to fire, and the kids preparing to jump off a bench, we illustrated potential energy. Energy that is built up, and not yet released. Interesting side note: we noted that when we are expending all that kinetic energy, we often  get all hot and sweaty. That's because the kinetic energy that your body produces when you're getting exercise is converted to thermal or heat energy! Humans are amazing machines!
To drive these concepts home, we sang a (really catchy) song and displayed more illustrative clips.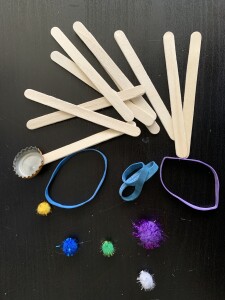 After defining our core concepts, it was time to make catapults. We demonstrated a very simple design, using popsicle sticks and rubber bands, but noted that there is a veritable cornucopia of catapult instruction out there. I hope that kids who are inspired by energy and flinging things will be curious enough to seek them out!