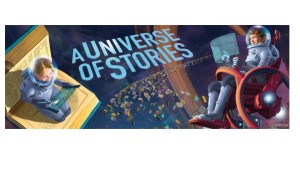 Next Wednesday (January 23) two great resources will be coming together to help teachers and public librarians unite to create a wonderful summer experience for children all across the United States!  STAR_Net, a resource for librarians who provide STREAM programming, is uniting with Infiniscope, a resource used by teachers to teach science concepts, especially those related to space and astronomy.  This new alliance could really bring this summer's theme of "A Universe of Stories" to life for children and youth of all ages, and create a relationship between school and library that could serve to strengthen and reinforce student learning in fun and exciting ways throughout the year.
This webinar will introduce teachers to STAR_Net and it's resources, as well as the Collaborative Summer Reading Program with which many libraries across the country participate each year.  Teachers can learn how libraries work with children and families each summer to keep the learning going in fun and entertaining ways that help prevent summer slide.  The theme for library summer programming this year is "A Universe of Stories," which lends itself to all kinds of subjects, activities, and programs.
Of course, when someone hears the phrase "Universe of Stories," some of the first things that come to mind are astronomy, space, planets, etc.  And that is Infiniscope's specialty!  Members of the Infiniscope team and community will be taking this opportunity to share their resources with librarians during the webinar.  Their fantastic online activities are used by teachers of elementary, middle, and high school students to share science concepts in a fun, engaging, game-like manner.  Making learning fun makes it memorable.  We all remember things we had fun doing, and games we enjoy, much better than lists and facts we are required to memorize.  Infiniscope makes learning science/physics concepts more of an interactive discovery experience than one of memorization.  That game-like quality makes the Infiniscope activities something that could work well in the library atmosphere (we are all probably familiar with the popularity of Roblox, right?).
Most importantly, this webinar will bring teachers and librarians together on a common ground.  It will show how we can all create partnerships that can last beyond the end of summer 2019, and benefit the children, youth, and families we all work with and want to support.
More information about the webinar is here.  The time will be 6:30 EDT, 5:30 CDT, 4:30 MDT, and 3:30 PDT.
The link to register for this webinar is:
Infiniscope and STAR Net: Bringing Teachers and Library Staff Together!
I hope to "see" lots of folks in the chat next Wednesday afternoon for this great new collaborative experience!