This Earth Day, I hope you will be sitting on cloud nine* with these last-minute tips and ideas for bringing NASA GLOBE Observer Clouds and citizen science into your library.  Best of all these are evergreen – not just for April 22!

TIPS AND TRICKS
Brush up on Cloud Observing with these simple tips and tricks from NASA's GLOBE Clouds Team lead, Marilé Colón Robles, to sharpen your cloud observation skills while using the GLOBE Observer App. You can also watch the STAR Net March 6 Webinar with NASA scientists for a refresher.
We've also created a PowerPoint file with the top 10 tips – you can see some of these in the banner images at the top. Display it as a presentation or print out and laminate the individual pages for reference. These also make great shareables on social media (the individual files are included with the PPT file).
ACTIVITIES
STEM Storytime:  Use the Elementary GLOBE storybooks for children's story hour followed by arts and craft activities related to clouds and sky observing using GLOBE Observer app activities like: Cloud Teller and Estimating Cloud Cover activity.
Do You Know That Clouds Have Names (includes ebook for tablets)
In this storybook for children ages 6-9, descriptions of cloud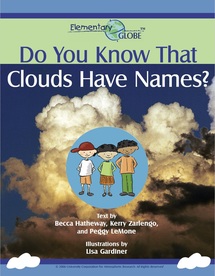 types are combined with analogies related to cloud shapes and are acted out by the GLOBE Kids. Activities give learners the opportunity to describe the shape and appearance of cumulus clouds and learn the types of weather that are associated with cumulus clouds. They identify cloud types using cloud classification names and explore the three types of contrails. Each Elementary GLOBE book is part of a module that includes learning activities. The activities include adaptations for older and younger learners. Also available in Spanish.
What's Up in the Atmosphere? Exploring Colors in the Sky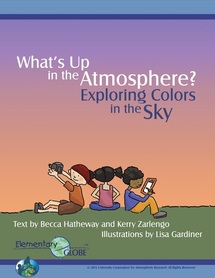 (includes ebook for tablets)
In this storybook for ages 6-9, the GLOBE Kids investigate colors in the sky and learn how air pollution affects sky color and our health. Activities engage learners in describing sky color and conditions in the atmosphere, creating a model to learn how sky color and visibility are affected by aerosols, using prisms to explore properties of light and colors, and collecting aerosol samples.
Arts Activities:
Cloud Painting: Set-up tables with paper, crayons, finger paints, (even shaving cream), or crafts (e.g., cotton balls) and create an image or collage of clouds.  Have patrons paint the sky that day and post all of these on a wall or flip charts to capture a mural of that day's sky.
Cloud Mobile: Clouds made of craft materials are balanced on a mobile, creating a swirling decoration that shows the different cloud types.
Cloud Teller: Based on the popular fortune-telling game, this printable interactive craft and game familiarizes learners with cloud vocabulary and varying degrees of cloud cover.  Print out several for visitors to do on their own or to take-and-make (tip – have a few already folded to demo what it should look like).
Hands-on Investigations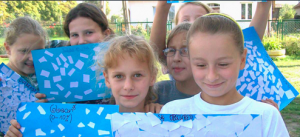 Make a Simple Cloud Cover Model: GLOBE Observers take observations of the percentage of entire sky covered by clouds.  Here's a simple way to practice this observation skill:
Divide a piece of white paper into 10 equal blocks. One block = 10%.
Cut or tear up different numbers of blocks into "clouds" and glue them onto your "sky" – a blue piece of paper (right).
Have several people do this, as clouds come in different sizes and shapes. For example, 50% cloud cover could mean half the sky is clear; or it could mean lots of little cumulus clouds.
What percentage of the blue "sky" cloud cover model (below right) is covered by "clouds"?
Answer: 2 rectangles or 20%
Check out the STAR Net Clearinghouse collection on weather and citizen science http://clearinghouse.starnetlibraries.org/134-weather-and-citizen-science
Investigating Clouds (Cloud in a Bottle)
Visitors create a cloud in a bottle and explore it with laser light. Includes facilitators guide, worksheet and short training videos on how to do the activity. The activity is connected to current and ongoing NASA mission research. Includes English and Spanish versions. This short activity is part of a toolkit for informal science centers and can be done in a library setting as a demo or station activity. Table signs (English, Spanish) can be downloaded and printed to set up activity stations.
I love the following two short videos that NISE Net created to go with the activities – each is only ~3minutes, but packs a lot into that time. The first demonstrates how to do the Investigating Clouds (Cloud in a Bottle) activity, the second explains the science behind the activity.
On Cloud Nine?
Do you know the origin of the phrase "to be on cloud nine," i.e., a high state of happiness or achievement? Check out "The Cloudspotters Guide to the Science, History, and Culture of Clouds" by Gavin Pretor-Pinney, founder of the Cloud Appreciation Society. There's a great story on pages 51-52 that goes back to the 1896 International Year of the Clouds for the origins of this phrase.