Citizen Science and Libraries
With support from the Network of the National Library of Medicine (NNLM) and the Institute for Museum and Library Services, SciStarter and Arizona State University (ASU) are supporting libraries and community-based organizations as hubs for citizen science.
In addition to offering turnkey citizen science kits for libraries, the team provides training and materials, including the Library and Community Guide to Citizen Science (discoverable on SciStarter.org/library-resources), to help build confidence among librarians and community-based organizations (CBOs) so they are well-prepared to introduce citizen science to their communities.
Citizen science projects and programs are available to align with a community's curiosities or concerns. For example, NNLM curated projects and co-created resources with SciStarter and Arizona State University centered around citizen science projects that advance human and environmental health research. Libraries and CBOs guide communities to SciStarter.org/NLM where there are many ways for anyone who is curious or concerned about local or global issues to engage.
Sign up for a free SciStarter account
Access the  "Introduction to Citizen Science" online, self-guided tutorial in English and Spanish
Review and participate in any of the featured citizen science projects
Explore health resources from NNLM and All of Us
Tune in to and watch recordings of ongoing virtual events to meet project scientists, chat with fellow citizen scientists, hear from local community facilitators (librarians)  and engage in real-time citizen science!
"Libraries serve as vital community hubs, and this collaboration presents a perfect opportunity to help the public understand how health research impacts all of us," said Patricia Flatley Brennan, R.N., Ph.D., the director of the National Library of Medicine (see original quote in the "Citizen Science Meets Summer Reading" announcement). "Working with our vast network of public libraries, we hope to contribute to medical breakthroughs that may lead to more tailored disease prevention and treatment solutions for generations to come."
Online Citizen Science Events in Libraries: Now Through CitSciMonth 2021
Libraries are quickly becoming community hubs for citizen science. These online events fit well with the mission to use libraries to strengthen communities and transform lives through education and lifelong learning.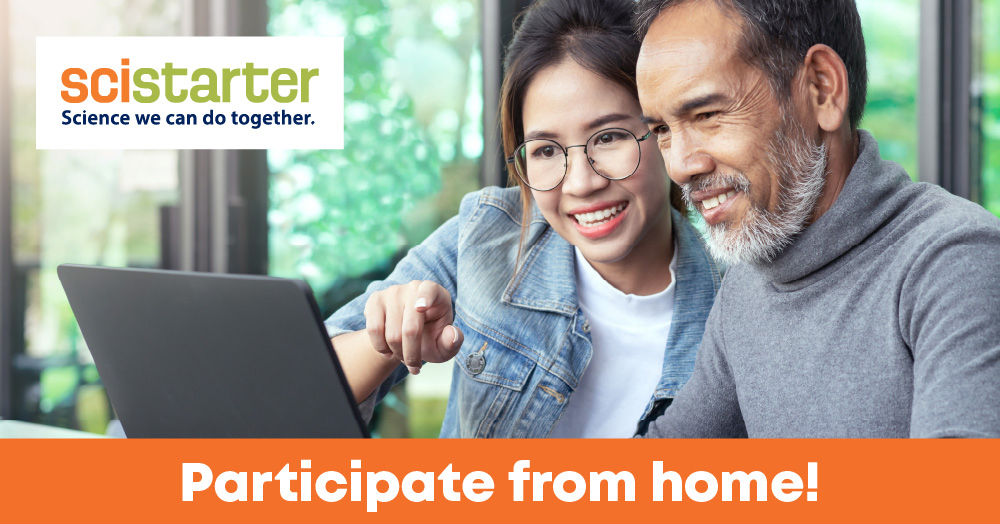 Offering a safe and healthy environment is a top priority for public libraries as they pivot their services to address the health concerns posed by COVID-19. Many libraries are not able to open their doors to large gatherings making the new virtual  programs more valuable than ever.
SciStarter actively works to produce online events in collaboration with public libraries. Find dozens of recorded events at SciStarter.org/Citizen-Science-Videos. These efforts will continue through April 2021, the next Citizen Science Month. Hundreds of events (online and hybrid) will take place during Citizen Science Month in partnership with libraries and CBOs, thanks to support from the National Library of Medicine.  Planning is already underway and we encourage you to join the open, weekly planning calls and access resources available on CitizenScienceMonth.org. Don't miss this opportunity to access free resources and ongoing support to activate citizen science throughout your community! Sign up to stay in the loop on CitizenScienceMonth.org/MailingList.
Supporting, Scaling, and Sustaining Libraries as Community Hubs for Citizen Science
Lastly, we are thrilled to announce that our pilot project, "Libraries as Community Hubs for Citizen Science," which led to the circulation of citizen science kits in Arizona libraries, was just awarded a new grant from the Institute for Museum and Library Services ("Supporting, Scaling, and Sustaining Libraries as Community Hubs for Citizen Science"). SciStarter and ASU, in coordination with community partners and hundreds of libraries, will expand the kits and citizen science programs nationwide.
Bring Citizen Science to Your Library!
We invite you to join our growing network of Citizen Science Libraries if you are interested in:
Learning more about the kits and how to bring them to your library
Collaborating on virtual citizen science events aimed at your community of patrons
Planning Citizen Science Month events at your library
About the Author
Caroline Nickerson
Caroline is a Program Manager at SciStarter where she manages the Citizen Science Month Program, SciStarter's Corporate Volunteer Programs, and other programmatic and outreach efforts, including working with SciStarter's Syndicated Blog Network, which encompasses the Science Connected, Discover Magazine, and SciStarter platforms. She is a Master of Public Policy graduate from American University with a focus on environmental and climate change policy. She is also affiliated with the UF-VA UNESCO Bioethics Unit, the Christensen Project, the DC Gator Club, and the Commission on Local Debates. Caroline is a William K. Reilly Environmental Policy Scholar and the 2019 Cherry Blossom Princess representing the state of Florida.