It's cold outside (OK, in some parts of the country it is)- the time of the year when people think about curling up under a warm quilt with a cup of hot cocoa and a good book, unless you're a kid, of course.  Sitting still under a warm blanket is really hard when you're young and full of the cabin fever wiggles.
But what about reading a great picture book about quilts, enjoying the wonderful illustrations, then creating your own quilt squares out of paper?  There are plenty of books to choose from.  Not too long ago, I did this program with school-aged children as an after-school program.  The books I chose from included:
The Quilt – Ann Jonas                The Keeping Quilt – Patricia Polacco
Luka's Quilt – Georgia Guback                        A Far-Fetched Story – Karin Cates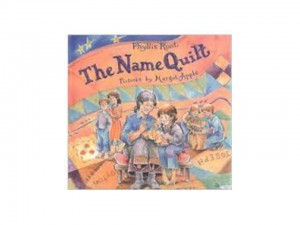 The Name Quilt – Phyllis Root
There were plenty of others around the room for display and available for checkout.  I also had on hand a number of quilting books from the adult collection, so that participants could look at examples of traditional and  modern quilt squares as they designed their own quilts of paper.
After getting comfortable on cushions on the floor and enjoying the stories and pictures, and talking about how quilts are made, it was time to move from receptive to creative activity.  Beforehand, I'd cut mountains of squares and triangles in a few different sizes from every color construction paper that I could find in my library.  I'd also drawn large squares on sheets of art paper, to give the color artists some guides to use in their creative process.  The goal, after all, was to create their very own quilt blocks.  Beyond having the pieces pre-cut and offering a pre-drawn square on the art paper, I gave no instruction or limitation to the kids.  Some used the pieces I'd cut and stayed within the square.  Others filled the whole page with shapes.  Some fit the pieces together like puzzles.  Others overlapped the shapes in places, and left the white of the paper in others.  They all enjoyed themselves, and that's all that matters.
These images are similar to what the kids in my program did: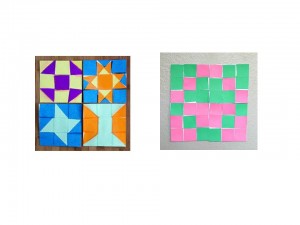 For anyone wanting a bit more info, here are a few of the many available resources online:
Picture Books about Quilts:  http://buggyandbuddy.com/childrens-book-list-picture-books-quilts/
History of quilting in America:  http://www.womenfolk.com/quilting_history/quilting.htm
Paper Quilting activity for kids:  http://buggyandbuddy.com/geometry-kids-nine-square-paper-quilt-design/