My first attempt at a long running kids' club was met with incredible enthusiasm, by kids and parents alike.  After years of watching kids come into the library asking for origami books, and walking out empty-handed, unable to find exactly what they wanted, or unable to decipher the instructions in the books, I decided to try having an origami club.
I put a sign on the reference desk, and started taking registrations.  I'm limiting the ages to the 8-12 year old crowd for the time being.  I knew that there would be some folks who would be excited, but I was surprised by the response I received!  In a month, I had 30 registrants.  And that was from just one flier on the reference desk.  The club received no other publicity that that.
We had our first meeting one Saturday afternoon in October.  Twenty-five folks showed up, including several parents and grandparents who asked if they would be allowed to stay and participate.  There were a few younger siblings who stayed, as well.
I'd created a notebook of basic origami symbols, folds, and the main origami bases, for each member of the club.  We started at the beginning of their notebooks, learning how to "read" origami diagrams.  As I taught them each fold, they did the fold with pieces of cut up magazines (my favorite practice paper) and then glued their examples into their notebooks.  That way, when they practice at home, they will have examples right by each origami symbol to help them remember what the symbols mean and how to do the folds.  We went through the most basic folds – valley, mountain, squash, pleat.  Then we jumped ahead to the simplest of the bases, the preliminary base.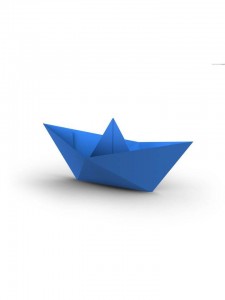 By then we'd used up the first hour of our two hour meeting.  And more importantly, they were ready to start making cool origami creations.  I taught them the origami boat, telling them the story of the sailor's shirt as I went from step to step.  They followed along with me as I taught them.  They loved the magical aspect of the story, when the crippled ship transforms into a shirt.  Not exactly "Halloweeny," but a great first creation.  (I learned that one in kindergarten, myself.)  Then our next creation was a bat.  We went through the steps as a group, using some bulletin board paper that I'd cut into squares.  I went around the room helping out wherever I was needed.  Once everyone had completed one bat, I challenged them to make another.  After they made one on their own, I let them get some of my "real" origami paper to make another.  When I glanced at the clock, I realized our two hours was up!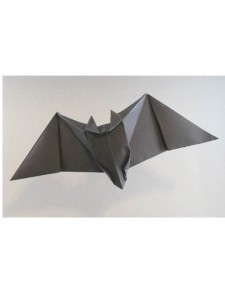 I'd prepared copies of two other, slightly more complicated, patterns.  Anyone who wanted to try them on their own was given the patterns to take home and work on.  I'm eager to see how many master the ghost and vampire by our next meeting in November.
We'll be meeting once every month, except December.  During each two-hour club meeting, I'll start out teaching new folds and techniques, then we'll spend the rest of the meeting putting those techniques to work folding cool and fun origami creations.
I'm also planning to incorporate Kindle apps, such as Paperama, to help participants start seeing how certain folds change the shape of the paper, and how changing the order of the folds affects the resulting shapes.
The only suggestion participants offered after our first meeting was one I should have anticipated – "We want some food, too."