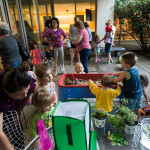 Under the direction of Sue Teller, Children's Librarian/Staff Artist, Skokie Public Library has been bringing informal, nature-based STEAM learning to our youngest patrons via Nature Play. This is a weekly program intended for children ages 3-6 who participate with an adult caregiver. Sue was inspired by a program at one of the annual conferences hosted by the Chicago Botanic Garden and wanted to bring nature into the lives of young children and their caregivers in an accessible and safe way. The program is relatively simple but the positive impact is huge. Here's how it is designed and facilitated.
Nature Play is held in one of the library's courtyards. We are lucky to have such a space that is so close to the youth department and that also has an overhang. So Nature Play really does happen either in rain or shine. The courtyard can accommodate about 30 people comfortably and safely. And the program requires one staff member and a volunteer.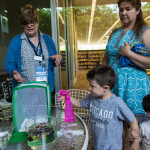 Sue sets up main activities like a sand table, water table, and/or mud table with manipulatives while also rotating out more seasonal activities throughout the summer and fall. This summer, featured activities included releasing praying mantis hatchlings and looking at bugs on wooden logs.
There are many benefits to this type of informal, play-based learning including collaboration, experimentation, and sensory discovery. Further, children are developing fine and gross motor skills along with practicing cooperation and observation skills. Sue tries to tap into these elements in designing activities like using magnifying glasses to take a closer look at leaves and bugs, and providing prompts for adult caregivers to ask their children to explore a little further.
A patron favorite activity is Nature Bingo. This is a homemade Bingo card that is laminated to use with dry erase markers or even crayons. The card includes sensory related experiences like looking at something green or touching something fuzzy.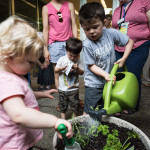 We're looking forward to transitioning Nature Play activities to fall related themes like sorting acorns and identifying the different colors of changing leaves. If you have questions about Nature Play, reach out to Sue Teller directly. She's happy to help and has hopefully inspired to take STEAM play-based learning outdoors.