Folks know what Nature is.
Folks know what a journal is.
But Nature can't write… no thumbs, among other things.
Sooo. . . what is a nature journal?
That depends.
If you are an adult, a nature journal is a fantastic way to get away from the hustle, bustle, and rush, and practice patience, observational skills, and art.  It can be an opportunity to get out and have an outdoor adventure.  Keeping a nature journal is a way to become acquainted or reacquainted with the natural world.  It can become the place where an artist or future artist takes notes and measurements, and creates the color swatches which may later become a finished piece of art.  It could be where a citizen scientist records observations and census counts which will be added to the contributions of others from around the world, and lead to a better understanding of nature and life on Earth.  It could be all of these things.  A nature journal is where observations of the natural world are recorded, and the questions, ruminations, theories, and hypotheses those observations lead to are drafted.
If you are a child, it's getting to go outside and do what a scientists and artists do – explore, observe, record, draw, measure, take notes, and in every way be artistic and scientific, both at the same time.  You get to follow your curiosity and see where it leads you.  There's a place all your own where you can record your discoveries, questions, ideas, theories, hypotheses, and later answers and explanations if you find them.  You get to use a nice sturdy hard-back sketchbook, pencils, paint, colored pencils, pens, rulers, whatever you have available, and maybe even binoculars, all packed neatly in a messenger bag, ready at hand to record your adventures and discoveries as you go.  With your adult's help, you can even add your observations to various citizen science projects and contribute to scientific research around the world.
If you are an educator, a nature journal is a way to combine science, math, writing skills, and art into an activity which will engage and excite students. Journaling activities will get them away from their desks and out of the classroom.  They will be outside where there's exploration, adventure, and discovery awaiting them – in short – nature!
When using a nature journal in a formal learning environment, all the STREAM subjects can be addressed. The act of keeping a nature journal involves science.  The subject or subjects of interest on any particular day will be sketched, with enlargements of interesting details maybe, or a dissection if it's a plant, as well as the surrounding environment perhaps. (Art)  A written description is used to enhance and explain the drawing, and address anything not visible or unclear, as well as describe the location, weather, time of year and day.  There's also labeling to do, using appropriate scientific vocabulary, to further identify parts of the object and strengthen the sketch. Observations can be recorded, as well as questions, perceptions, thoughts, even feelings and poetry. (Language arts)  In order to have an accurate drawing, the subject must be measured accurately. If the subject of the journal entry is too large to draw full size, then an acceptable proportion must be calculated. (Math) That would require adding a scale somewhere on the page.  Taking photos to add to the journal page, or participating in citizen science projects would be ways to incorporate technology.  Building a blind or rigging a way to get photos from a different height or angle would involve engineering.  Perhaps, as a result of the time spent journaling in a particular location, a clean-up may be planned and organized, which would put theory into real world practice.
No matter who is keeping the nature journal and why, the first step is quiet observation. In today's hectic world, most people have to learn to be still and quietly observe.  Many of us have forgotten the hours we sat frozen as young children, watching columns of happy ants carrying our lunch away, one tiny crumb at a time. (Surely I'm not the only person who ever did that.  Right?)  And if you didn't do it as a child, I really recommend you give it a try.
Like any other journal, there really aren't any hard and fast rules for keeping a nature journal.  Journals are as unique as journal writers.  Every person's interests, style, purpose, and priorities are different, and those differences will make every journal different.  One person may be on hands and knees industriously taking note of the creatures living under a stone, while another has carefully reproduced the colors in a field of flowers, and yet a third has sketched every detail of the clouds in the sky above.
In keeping a nature journal, a person could adopt the National Geographic explorer mindset, and address the following questions in their journal:
– What do I see?
– Why is it here in this particular place?
– Why does it matter that this plant/animal/object is here?
– Why should I care?
These questions are part of the National Geographic Society's educational framework of learning about and addressing environmental issues.  The Society offers a number of free courses that introduce and teach their learning platform and philosophy.  The goal of these courses is to teach educators how to use National Geographic resources to educate young people to look at the world around them and see potential, to see problems and actively seek solutions.  These programs encourage keeping journals of observations and ideas, but not specifically nature journals.
Another approach is that of John Muir Laws, a scientist and artist who is dedicated to teaching the benefits of nature journaling. He suggests using the following prompts when writing in a nature journal:
– I notice
– I wonder
– It reminds me of
John Muir Laws has written books on both art and teaching STREAM through the use of nature journaling, as well as created a curriculum to help teachers incorporate nature journaling into their teaching practice.  Amazingly, most of these materials can be downloaded for free from his website, as well as quite a few other resources he has created for educators. They can also be purchased in print form.  He also offers multiple webinars every week – for educators on Wednesdays, for anyone interested in nature journaling on Thursdays, and he has a question and answer program called 'Ask John' on Tuesdays. Many of his webinars are recorded and posted on his website afterward. He also offers a blog and countless tutorials and wonderful resources for the nature journalist, aspiring artist, parent, educator, student, and environmentalist.  One resource that could really lend itself to library programming is his series of short videos teaching the concepts of nature journaling, The Nature Journal Connection.  Currently it has 25 episodes available to view.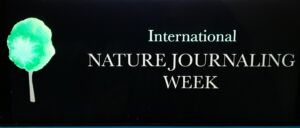 Next week, June 1-7, is International Nature Journaling Week. There will be a virtual conference celebrating and teaching about the benefits of nature journaling. Free webinars will take place each day, and be posted on the website afterward for anyone who is interested in watching.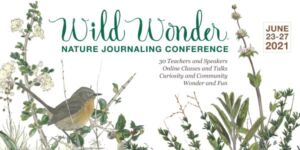 Later in the month there will be another virtual conference, the Wild Wonder Nature Journaling Conference, June 23-27.  A special teacher's conference will proceed it on June 21-22. For this conference there is a fee, but it will be a full schedule of  great programs and activities, and well worth the expense.
There are many more resources available in print and online these days to help you learn about and start keeping a nature journal.  Here are just a few I found:
Books:
"Laws Guide to Nature Drawing & Journaling" – John Muir Laws
"How to Teach Nature Journaling" – John Muir Laws & Emilie Lygren
"How to Keep a Sketchbook Journal" – Claudia Nice
"Sketching in Nature" – Cathy Johnson
"Keeping a Nature Journal" – Clare Walker Leslie & Charles E. Roth
"Drawn to Nature" – Clare Walker Leslie
"The Field Guide to Sketching Animals" – Tim Pond
"How to Keep a Naturalist's Notebook – Susan Leigh Tomlinson
"Nature Journaling for a Wild Life" – Roseann Beggy Hanson
Websites:
Treehugger:  How to Keep a Nature Journal – Great article to get you started nature journaling!
Project Learning Tree Blog: Nature Journaling Ideas – this is a blog post on the Project Learning Tree site. They charge for their materials, but they aren't very expensive, and they look really interesting.  The info in the blog is free, of course!
Beginner's Guide to Nature Journalimg: 12 Tips for a Better Nature Journal – This is a commercial site, but the article is great.
Marley Peifer: Nature Journaling Kid – Here's an article, complete with a video interview, about a young person I came in contact with through John Muir Laws Thursday webinars. Raybonto nature journals every single day. Amazing kid! Marley Peifer has a YouTube channel, called 'The Nature Journal Show,' which is definitely worth watching.