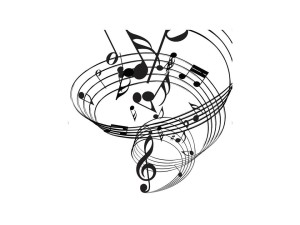 To start off our Summer, which has the theme "Libraries Rock" this year, I decided to have a "make your own music" program.  I enjoy programs where participants learn to create using items they will most likely find around their own homes.  For this program, I decided that we would make our own kazoos and then play group tunes with some palm pipes.
My first plan had included making Pan's Pipes, but a large group signed up, which changed the program dynamic a bit.  Plus, I suddenly knew that I didn't have enough supplies for everyone to be able to do that craft.  I've done Pan's Pipes in the past in programs for 6-12 year old's, but there were more parents in attendance who could participate and help out.  Here's the design I like the best, except that I double the number of straws and make two of each length, similar to the second picture.  That makes them easier for learners to play.  When I expect smaller groups and/or older participants, I will mark the cutting lines on the straws, and let the children cut the various lengths themselves.  When I anticipate younger children or large groups, I cut all the straws ahead of time and have them in bundles at each place at the crafting table, along with all the rest of the supplies for the craft.
Here are some great websites for the craft, including some explanations of the science behind the sound:
Museum of Science and Industry:  Hands-On Science
The musical pipes are a really great craft to do with 8-12 year old's, who usually start playing tunes on them right away. Most can figure out how to play simple tunes they already know within a few minutes.  A string can also be attached so that they can wear the pipes around their necks.  If there's time and the resources, a pouch can be made from scrap fabric.  The pouch can have a neck strap or a belt loop, whichever the budding musician wants.
After the pipes were completed, we made kazoos.  The pattern I used is simple, requiring only 2 craft sticks, a few rubber bands, and a couple of strips of paper.  Here's a picture of a kazoo like the ones we made: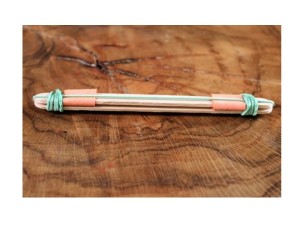 I had cut the paper strips and sorted out the materials beforehand, so all I needed to do was hand each participant a paper plate.  Before we started assembling our instruments, we decorated them with markers (Unless you want colorful lips and tongues, use permanent markers.).  After one side of each craft stick has been colored, two strips of paper, roughly the size of standard sized band-aids are wrapped around the two sticks together and taped so that they are free to slide along the sticks.  Then one stick is slid free of the papers.  A rubber band is wrapped long-ways around the stick that has the paper loops on it.  Finally, a rubber band is wrapped around each end of the two sticks together until it is snug.  Make sure the paper is still free to slide along the stick, and not trapped under a rubber band.  Now, place your mouth along the side and blow!
The kids had a great time trying out their new instruments and experimenting with all the sounds they could make and songs they could play.
The site "Craft Club" has step by step photo directions for the kazoo craft.  A simple Google search will result in a number of variations of this pattern.
Lastly, we divided into groups and tried playing simple folksongs with palm pipes.  Each child would get a piece of pvc pipe that I'd cut and labelled ahead of time.  I'd printed out the tunes for the children to look at while they played.  Rather than musical scores, the songs were written out as letters of the scale, which corresponded with the letters on the pieces of pipe.  Each child was a note on the musical scale.  This activity was full of laughter and fun!  After every child had the opportunity to try playing the pipes in a group, we got the daycare teachers and parents to give it a try, as well.  We had a great time with the pipes!
Here are some sites showing palm pipes, how to make them, and some tunes to play with them:
Relentlessly Fun, Deceptively Educational
East Bay Educational Collaborative
If you get the chance, give these great musical crafts a try.  They are loads of fun!