Note: This blog is Part 2 of a previous post, Make Every Tree Count: Getting Started in Sustainability Programming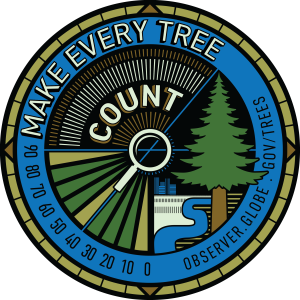 Host a Community Tree Walk.
Because the destination must be easily accessible for library patrons of all abilities, the site, whether the library's property, a community park, or someplace further that might require driving, such as a conservation area, should be considered with the patron in mind. Local resources, such as the state extension office or conservation department, can often offer no/low cost facilitators to lead your walk. The program can include information on tree identification by shape, bark and leaf, information about tree health and what trees need to grow, the many contributions that trees make, and information about other plants and animals that depend on particular trees for food and shelter.
During the walk, participants will use the GLOBE Observer: Trees tool to measure the height and circumference of various trees and send their observations to NASA. They'll also learn more about the important contribution that citizen science observers make when providing this data to NASA.
Extend It…Afford It
Beyond the GLOBE Observer app, walk participants will need paper, pencil and a method for determining their average stride (optional) and measuring the circumference of the trees, which will be entered into the GLOBE Observer app. If the library's budget cannot include measuring tapes for everyone, simple non-stretchy twine can be used to measure tree circumference. Participants pinch the twine and measure against a meter stick that is nearby. Inexpensive ribbon can be a novel and useful math tool; kids can, if time permits, create and take home a meter measuring tape by marking off centimeters and meters on the ribbon or can simply use it as the twine mentioned above. In either case, math and metric measure — the measure of science — are involved, an added feature for classroom use.
Tree walks can be recurring events (monthly, seasonally, annually). This popular programming could initially incorporate planting seedlings, often available at no/low cost from the state conservation department or from local non-profit groups like The Tree People. With the knowledge obtained from library programming, participants will learn how to plant and care for the seedlings, and the GLOBE Observer: Trees tool will enable them to measure their tree's growth in successive years. Even more, the Tree Walks will continue to provide NASA with important data that only citizen science observers can furnish.
More Ideas
Numbers are not the only observations that participants can make. They can take bark rubbings and leaves can be sketched. Provide crayons, paper, pencils and inexpensive dollar store clipboards. These art components can be used for additional program activities like Tree Walk scrapbooks, wall art, or a  collage with natural materials. Offer a Tree Walk seasonally; from leafless through spring buds, full leaf and autumn colors, trees have much to offer throughout the year.
If budget permits, librarians can scan participant artwork and print a personalized set of six note cards for each patron or select one patron's artwork to make an iron-on transfer for creating an Earth Day 50th Anniversary book bag for carrying Earth Day books. The key to making these ideas affordable and manageable, is to limit the number of participants. Plain laser printable note cards can be economical when 10 or 15 participants receive a set of six. Book bags can be affordable when purchasing a limited number of thinner muslin bags (which are surprisingly strong and durable) and iron-on transfers can be cost-effective by using a half-sheet per bag.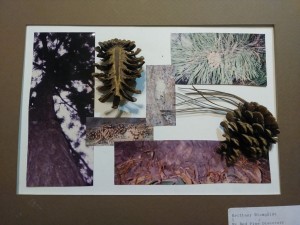 Beyond the bark and leaves, trees provide an abundance of visual beauty. Observe both up close and far away by looking at roots, seeds, pods, needles, and overall tree shape. The beauty of these objects can be preserved in macro-photography and a photo collage. Community resources, such as local photography studios or clubs – even high school and community college departments — can assist novice photographers. Like the sketches and rubbings, photos can be used to create lasting memories in other art forms.
Especially for kids, participants can make their own Fandex-type card tree guide. Using information gathered on a Tree Walk and using the GLOBE Observer Tree Tool, kids create simple two-sided tag cards that include a particular tree's details. Using card stock, information is hand-written on the cards and copies of the images created, e.g., bark rubbings, leaf sketches, are affixed to the cards. Cards are connected using twist ties, zip ties, craft key rings or chenille strips formed into small rings. Measurements taken with the Trees tool and recorded on the cards can be updated regularly.
Bring Trees Indoors
One thing that librarians can't control is the weather. It is best to have a "plan B" for a Tree Walk event, so plan a rain date. Ensure participant satisfaction by also offering an indoor alternative. Don't have a local tree expert available for your program? A program of recorded TED Talks can provide a fascinating (and indoor) look at trees and the intrinsic way in which they are interwoven with life on Earth. Here are a few favorites and the general link to the topic of "Trees."
Kindness Rocks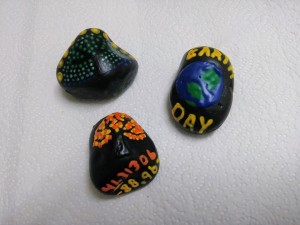 Rock painting programs are very popular among all age groups. Palm-size river stones are used with acrylic paint to decorate rocks that are then clear-coated for durability. Trees can be the theme for the rock painting art. Our experience is that two adults can manage a youth program limited to 20, ages 5 years and up, with kids under the age of 8 years requiring an adult parent or guardian. Two events limited to 20 participants each is preferable to one event of 40 participants. Limiting participation also respects your program budget. Appeal to area landscapers or home improvement stores for donated supplies. Limit wasted paint by asking participants to share provided paints, dolloped out on paper plates, among users at their table.
Going Beyond Earth Day: Year-Round Programs
While Earth Day is celebrated in the springtime, tree-themed programming can be interesting throughout the year. For example, a fall program about fruit trees, orchards and pollinators can be delicious as well as informative when tied-in with the local farmers market produce like apples or peaches.
Tree programs often focus on deciduous trees, but coniferous trees offer much in programming, too, and the GLOBE Observer: Trees tool measures coniferous trees in the same way. Because evergreen trees and conifers are often associated with winter, at least in the northern climates, they can be the focus of winter tree programming. Plan a program that compares and contrasts pines, spruces, firs, hemlocks, larches, and true cedars. Like so much in nature, taking a closer look, especially at pollination and the production of seeds would be both engaging and informative.
Resources for building interest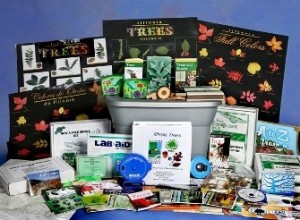 Build interest in tree programming by borrowing and displaying the tree-themed traveling trunks from your local Department of Natural Resources or nature center. Using online resources, make a pictures/captions display about the oldest, tallest, etc. trees in your state, North America, and the world and use it to showcase your tree book collection; don't forget to dust off biographies and poetry that fit the theme. Check out the GLOBE Observer Toolkit for Informal Educators for starter lists in WorldCat of books for children, youth, and adults as well as other promotional resources.
(photo courtesy of the Department of Illinois Resources)
About the Authors:
Donna Blomquist, Programming Librarian/Youth Services Librarian and Brittany Blomquist, Program Facilitator, at the LaSalle Public Library, serve a small town, rural population in central Illinois. Together, they develop and host library programming for children, adults, families and classroom outreach.
Theresa Schwerin is Vice President of Education at the Institute for Global Environmental Strategies (IGES), a non-profit organization with the mission to promote understanding of our Earth through science, observations, and education. She leads the NASA Earth Science Education Collaborative (NASA Award #). Ms. Schwerin earned her Master of Library and Information Science degree from the University of Maryland, College Park, and worked in public libraries in Charleston, South Carolina.