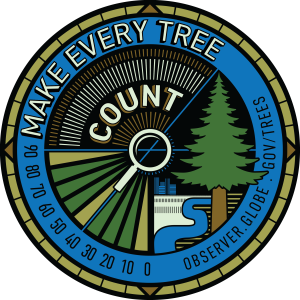 Trees provide one of the most versatile themes for library programs. Whether your audience is families, adults, children or classrooms/youth groups, "Trees" can provide a foundation for affordable and useful programs for libraries of all sizes — uniting art and community with citizen science.
Now is an ideal time to plan "tree-themed" programming for 2020. Not only is April 2020 Citizen Science Month, it's also the 50th anniversary of Earth Day, and NASA GLOBE Observer is planning an international Trees Challenge (see below) in honor of the 25th anniversary of the GLOBE Program.
In January 2019, the American Library Association adopted sustainability as a core value of librarianship, recognizing that libraries are uniquely positioned and essential to building the capacity of the communities they serve to become sustainable, resilient, and regenerative. This ALA focus, the "trees" theme, and upcoming events in April (and beyond) provide librarians with an important framework for engaging, affordable, and manageable, programming.
[tagline_box backgroundcolor="#ebebeb" shadow="no" shadowopacity="0.1″ border="1px" bordercolor="" highlightposition="top" content_alignment="left" link="" linktarget="_self" modal="" button_size="" button_shape="" button_type="" buttoncolor="" button="" title="" description="NASA Trees Challenge 2020: Make Every Tree Count
Along with producing the oxygen that we breathe and providing habitats for animals, healthy forests are also an important carbon sink– meaning that they store carbon. Tree height is a primary indicator of how well an ecosystem can grow trees. NASA scientists study trees from space using satellites and instruments like ICESat-2 and GEDI, which measure forests using lasers. Citizen scientists are measuring tree height and circumference using NASA's GLOBE Observer app, which can serve as comparison data for the satellite observations and help scientists understand how carbon moves through ecosystems.
To celebrate Earth Day's 50th anniversary, GLOBE Observer is hosting a month-long citizen science challenge in April 2020. Volunteers are invited to measure the height of as many different trees as possible throughout the month using the Trees tool in the GLOBE Observer app. The individuals, schools, and registered teams that measure the most trees will be recognized as top observers of the challenge.
Libraries are invited to incorporate the challenge into their Earth Day planning. In addition to the ideas in this blog, plan to attend a webinar on February 19 at 2:00 EST (or watch the recording later) to learn more about the challenge and resources to support your programs." margin_top="" margin_bottom="" animation_type="0″ animation_direction="down" animation_speed="0.1″ animation_offset="" class="" id=""][/tagline_box]Learn More About NASA's Tree Challenge!
How to Get Started
Begin by downloading and becoming familiar with the GLOBE Observer: Trees tool. This free and easy-to-use app is the centerpiece to your sustainability community programming and uses commonly available technology – an Android or iOS phone or tablet. In addition to helping NASA science, contributing to this citizen science program will build a sense of community, wonder in the natural environment, and an excellent opportunity for participants to get outdoors.
Click here for Part 2 of this blog series, "Programs You Can Use"
About the Authors:
Donna Blomquist, Programming Librarian/Youth Services Librarian and Brittany Blomquist, Program Facilitator, at the LaSalle Public Library, serve a small town, rural population in central Illinois. Together, they develop and host library programming for children, adults, families and classroom outreach.
Theresa Schwerin is Vice President of Education at the Institute for Global Environmental Strategies (IGES), a non-profit organization with the mission to promote understanding of our Earth through science, observations, and education. She leads the NASA Earth Science Education Collaborative (NASA Award #). Ms. Schwerin earned her Master of Library and Information Science degree from the University of Maryland, College Park, and worked in public libraries in Charleston, South Carolina.