This is the time of the year when children in most every part of the country look forward to awakening to a fluffy white blanket of snow in which to play, to sled, to scoop into a bowl for snowcream, and most importantly, to get them out of a day at school.  In my part of the country these days, snow is fairly rare, and pretty much everything comes to a grinding halt as soon as there are a few inches on the ground.
When I was a child, it seemed like there was a lot more of the icy white stuff to enjoy.  I used to love standing on the porch watching it fall to the ground.  I learned that there are different kinds of snow, and each is good for a different purpose.  The giant fluffy flakes that drifted slowly to the ground made the best snowcream.  I'd go find the biggest bowl or pot I could find and place it in the yard to catch as many flakes as possible.  The tiny flakes that fell straight and fast meant I should be waxing the runners on my sled.  The hill I lived on would be the perfect ice track in a few hours' time.  The snowfall that was a mix of the two types of flakes would make a more crunchy snowcream and a slower, but still fun, track for my sled to glide on down the steep hill.
Why was that?
Because not all snow is the same.  In fact, there are 35 different kinds of snow crystals!  The shape of each crystal is determined by a number of variables, including the temperature and humidity in the cloud where it forms, the amount of change in temperature and humidity it encounters on its journey to the ground, and the amount of time that passes during its journey.  The creation of a snow crystal can be a very complicated process.
The beautiful, lacy, hexagonal shapes we associate with the word "snowflake" are actually among the rarest of snow crystal shapes, only forming when the humidity is high and the temperature is 5-10 degrees F.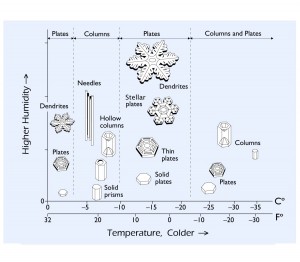 The website SnowCrystals.com is chock-full of great information, including descriptions of the different kinds of snowflakes, videos of natural and "designer" snow crystal formation, the science behind how each type of snow crystal forms, a history of  snow crystal research, a short bibliography of books of snowflake and crystal photos, and a variety of crafts, including a craft for trapping a snowflake in a superglue "amber.  It also has the image of what may be the largest snowflake ever photographed, and a comparison of that snow crystal with others and a penny, to give folks an idea of just how big it was.
Most any library should have plenty of books to use in a snow themed program, including Snowflake Bentley, the Caldecott Award winning book about Wilson A Bentley, the first person to actually photograph snowflakes.  A simple google search will bring up a multitude of the photographs he made with his camera and microscope.
There are plenty of sites which offer suggestions for snowflake crafts.  Here are a few that I found:
I also came across the site of an artist who combines paper snowflakes and his favorite movies into a single craft.  Here are a few of Anthony Herrera's designs, based on characters from the Star Wars universe.  He's also created designs from "Guardians of the Galaxy" and "Frozen."  Go to his site for more, plus, he offers free pdf's of the patterns, so anyone can cut them out.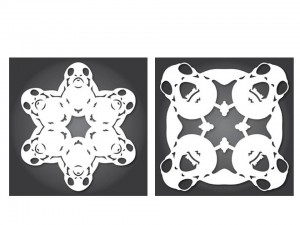 Happy snow days!!