By Sarah Lawler

Director of Partnerships & Outreach
Fayetteville Free Library
At the Fayetteville Free Library (FFL), it is a priority to offer informal STEAM learning opportunities. We strive to offer this type of programming to patrons of all ages and skill levels. Lego robotics programming is especially popular. During these programs, participants work together to build a robot out of Legos, and then they program the robot to perform specified actions, such as building a sled dog to carry cargo or creating a model to kick a ball. FFL patrons especially love to participate in Lego robotics learning opportunities. Because our patrons find this type of programming to be valuable, we strive to offer as many opportunities as possible.
In my role as the Director of Partnerships and Outreach at the FFL, STEAM activities are almost always a part of my day. As a part of my responsibilities, I regularly offer instructional opportunities around technology, in addition to managing the library's collection of iPads, Nooks, and Kindles. I also develop and implement services and opportunities for adults on a regular basis. In the library's outreach efforts, I often spend a great deal of time speaking to community members and local community organizations about the STEAM learning opportunities we offer at the library. However, until this year, I spent virtually no time planning and executing STEAM programming for children.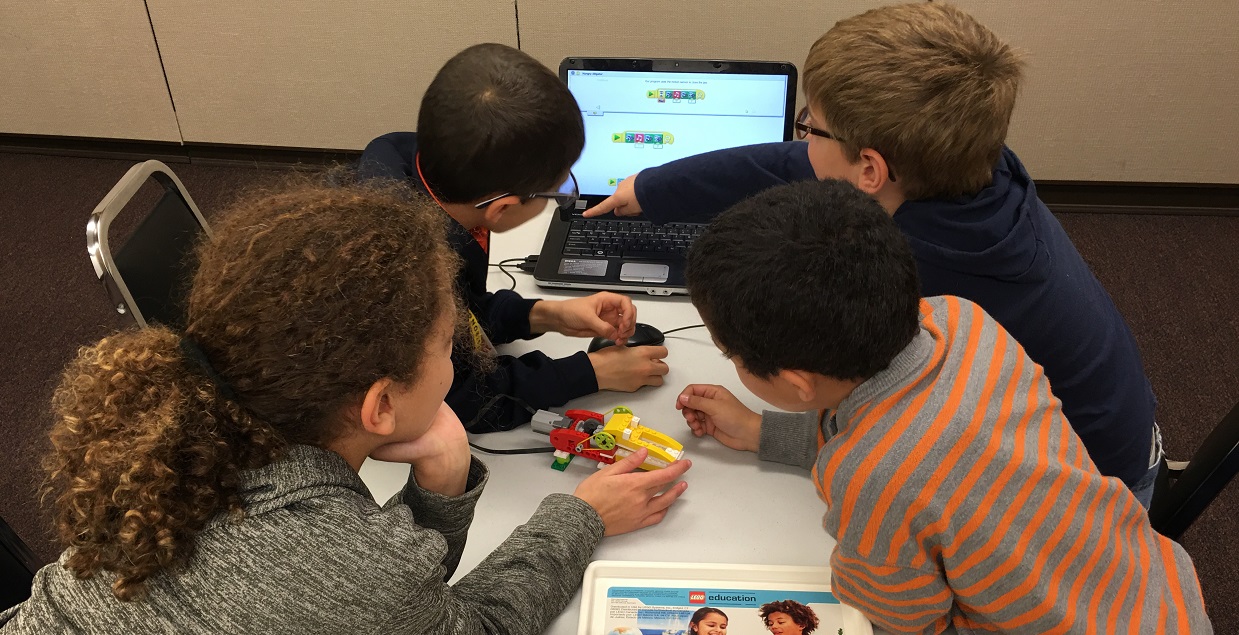 Simply put, this is not an area of interest for me. I am not naturally confident in my ability to understand Lego robotics concepts, let alone teach them to others. So, this winter, when one of the librarians who often facilitates these opportunities for children and teens asked for help, I was apprehensive.
As I mentioned above, Lego robotics learning opportunities are very popular at the FFL. We often have long waiting lists for programs, and often we are simply unable to accommodate all the children and teens who would like to participate. As a result, this winter, the staff members who lead programming such as this were feeling a little overwhelmed and overburdened by the task of satisfying the incredible demand.
The librarians on staff were asked if we would be willing to pair off with another staff member to offer one Lego robotics program per month. The Lego robotics experts on our staff assured us that they would provide instruction and support throughout the staff training process. With this promised, we all agreed.
The entire staff participated in a group training session, followed by one-on-one help for staff members who wanted extra learning time. After these opportunities, I found that I understood more than I thought I would. It turns out, I was holding on to many misconceptions about Lego robotics. I was also discounting my own abilities.
I was a little nervous going into my first program, but knowing I had the support and assistance of another staff member really helped. Also, the staff who conducted the training sessions made sure they were available in the hours leading up to our first program to answer any last minute questions we might have. During the program, there were a few things I didn't know, but we all worked as a group to figure out the answer. I was nervous that a participant would ask me a question I didn't know the answer to. However, instead of being a shortcoming, this presents an opportunity for participants to work together to find the answer. There is almost always another participant who knows the answer to the question being asked, so there is no reason to feel that you need to know the answer to every question.
I have been successfully offering Lego robotics programming for about four months now. While I still have moments of uncertainty, I've found it to be a rewarding experience. I'm working with children more than I ever have, and I'm learning a ton of new concepts. I'm also finding that participating directly with this type of programming makes it easier for me to describe it to others during my outreach efforts. It doesn't require a special skill set to offer Lego robotics programming, just a willingness to learn. You also don't need to know the answer to every question. You just have to give it a shot!