Hello again!
I wanted to point out two online resources that I failed to mention yesterday.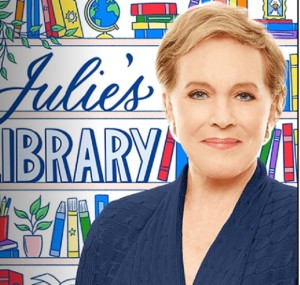 One is Julie's Library.   Julie Andrews and her daughter, Emma Walton Hamilton have begun offering podcast storytimes.  I first knew of  Julie Andrews as the main character in the movie "The Sound of Music," but by the time she performed in that movie she was already famous.  She'd already performed in "My Fair Lady" and "Camelot" on Broadway, in "Cinderella," a made for television musical, and "Mary Poppins," on the big screen.  She has also written quite a number of noteworthy books for children, including:
The Adventures of Bonnie Boadicea series
The Dumpy series
The Very Fairy Princess books
"The Last of the Really Great Wangdoodles"
"Dragon: Hound of Honor"
"The Great American Mousical"
And others…
Now she and her daughter are working together, remotely, to read to people who are sheltering in place.  So far they have read:
"Bears Don't Eat Egg Sandwiches"
"The Wolf, the Duck and the Mouse"
"From the Stars in the Sky to the Fish in the Sea"
"Tia Isa Wants a Car"
The second resource is really cool.  BirdBrain Technologies recognizes that many families do not have their robotics kits (or any others, for that matter) at home, so they came up with a solution.  People can go to BirdBrain's website and go to the Remote Robots page, and remotely control one of the four robots they have prepared just for that purpose.  It's a lot like what the scientists at NASA are doing with the Mars rovers!  There's a dragon, which is the one I logged into and controlled.  I made it flap its wings and look around and open and close its mouth.  Lots of fun!  There are also a gnome, a creature called LB, and another called Twonky, and a city.  They are also offering live classes twice every week, and are offering recordings of previous classes and webinars here.
Here are pictures of the robots from the livecam feed:
Sooo, take break from tv, listen to a great story read by an incredible team of women, and then try out remote controlling a robot!
Stay healthy everyone!
Resource List – Collection of online resources for families sheltering in place and learning at home