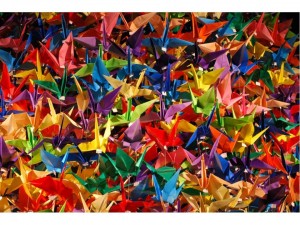 I know International Peace Day seems like a long way off, but when you're planning to string 1000 cranes contributed from folders all over the world to display in locations equally as diverse, you can never start too early.
The United Nation's International Day of Peace is every September 21.  This year, in recognition of the holiday, the International Peace Crane Project is planning a travelling exhibit of 1000 cranes to promote peace among the peoples and cultures of the world.  Each crane in the display will come from a different part of the world.  People everywhere have been invited to fold a crane to contribute to the display.
When I read about the display, I thought it would be a great thing to have where I am, so I emailed and asked.  I immediately received a very enthusiastic reply.  Apparently, no library had asked to play host, yet.  The website has been adjusted now to say that libraries are welcomed to host the display, as well.  All you need is enough space for the display and accompanying literature.  I am going to have printed instructions for folding peace cranes, and colored paper for people to use to try one for themselves.  I am also considering a way for anyone who wants to fold a crane to add to my display here to do so.  When the travelling display's time here is up, I will be responsible for packing it away safely in the box in which it arrived, and sending it on to it's next destination.  So far, I think there are only a handful of organizations requesting the exhibit, so if you think you have the space, it would be a great opportunity, and an impressive demonstration of people's desire for world peace.
Along with the international display, there is the opportunity to have a Peace Crane swap with other paper folders around the world, much like the idea behind "pen pals" when I was a kid.  Groups register here.  There is a list of exchange groups from all over the world.  Once you're registered and you've folded and decorated some cranes, doves, and/or hearts, you contact another registered group to see if they'd like to swap cranes, doves, and/or hearts with your group.  You can do so by email, if you like, or through real post.  Most members of my origami club have committed to folding as many cranes as they can over the next several months to both swap with other people around the world and to contribute to the 1000 crane travelling display.  The exchange is open year round, and I'm hoping that the members of the Origami Club will eventually have quite a collection of international cranes, and hopefully new friends all over the world.
This would be a great passive program idea for those children and teens who hang around, waiting for an opportunity to use the computers, or who have nowhere else to go during the summer break.  If materials and instructions were readily available, or offered to them by librarians who know they don't have anything to keep them entertained, they could possibly participate in an email exchange, in not a postal one.  That could be a wonderful experience for some of our youth, making a connection with someone in a different country and/or different continent.  We really aren't that different, or that far apart, any more.
For more information about how the Peace Crane Project got started, take a look here.  It's a very interesting story.