By Claire Ratcliffe, Education Coordinator @ NCIL/SSI
STAR Net recently launched a national traveling exhibition, Exploring Space: Smart Spacecraft, Big Data, and Modeling Reality. It will be hosted at four different libraries across the country over the course of the next year and showcases the evolving role of computing in space science and astronomy. The four host libraries include Westminster Public Library in Colorado, Brentwood Public Library in Tennessee, Algona Public Library in Iowa, and Marshall-Lyon County Library in Minnesota.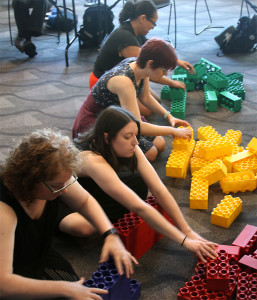 Two representatives from each of the four host libraries met with the NCIL team for a workshop about the exhibit and the hands-on activities that accompany it at the College Hill Branch of Westminster Public Library in Colorado on July 23rd and 24th. The workshop allowed the host libraries to practice setting up and breaking down the exhibit components, gain confidence in facilitating hands-on computational thinking activities at their libraries, and time to network with others involved in facilitating computation-rich space science programs.
The workshop participants defined "Computational Thinking" as thought processes used to solve complex problems, which are skills that are becoming more and more important in our growing technological world. They explored ways that computing concepts are being used not only in exploring space, but also how they are used in our daily lives from detecting bank fraud to programming robotics. Participants reflected on how libraries can play an important role in helping their community develop computational thinking skills. When asked why libraries should focus on Computational Thinking, one participant answered, "We are shaping the minds of our youth and making learning fun. [These] hands-on experiences can build on school experiences."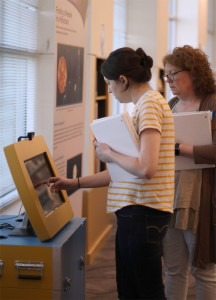 During the workshop, participants became familiar with the Exploring Space exhibit's multimedia components, which include a 42'' touch table where visitors can build their own artificial solar system, a Discovery Table where people can play with programmable robots, a space weather kiosk, interactive displays about exoplanets, and so much more.
The participants also actively engaged in five hands-on STAR Net activities that showcased computational thinking skills without using a computer. These activities were developed to be used in programs during the three months the exhibit will be at each host site. The featured activities, such as Jump to Jupiter, demonstrate how models, artificial intelligence, and anomaly detection are used to explore and learn about space. All of the workshop activities will be featured on STAR Net's STEM Activity Clearinghouse, along with many more in the Computational Thinking Collection.
This project was made possible through support from the National Science Foundation.