By Sarah Lawler, Director of Partnerships & Outreach, Fayetteville Free Library
At the Fayetteville Free Library (FFL), digital resources are a priority. We work tirelessly to discover and implement online resources that patrons are looking for. The library's digital resource collection includes Overdrive, Cloud Library, Freegal, Mango Languages, Flipster, and more. Promotion of these services is essential to their success. At the FFL, we are lucky to have a marketing department that implements eye-catching displays and signage throughout the library as well as on our website. However, we've found that some of our patrons, despite being active library users, are not aware of our digital content. To help inform and assist patrons where they are, we implemented a Digital Learning Day event.
Digital Learning Day is celebrated nationally every year in February or March to "promote any instructional practice that effectively uses technology to strengthen a student's learning experience" (Alliance for Excellent Education, n.d.). On Digital Learning Day, staff sets up a table in the lobby of the library with flyers and information about the library's digital offerings. It is also staffed by a member of the library's professional staff, and each staff member takes one 2-hour shift during the day. That staff member is tasked with engaging patrons entering the library around digital content. Topics include Overdrive, Cloud Library, Freegal, Mango Languages, Flipster, the library's circulating devices collection, and one-on-one patron appointments for patron instruction. Once a conversation is initiated, the staff member has an opportunity to get the patron's device set up with a new service, discuss what resources are available, or resolve an issue the patron is experiencing with the technology.
The first time the FFL offered Digital Learning Day, staff expected that patrons may not want to stop and speak to a staff member without incentive.
With this in mind, we raffled off a Kindle, and allowed patrons to enter the raffle after downloading a library a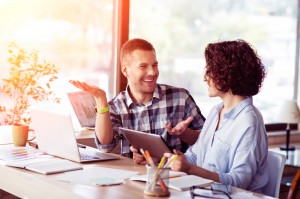 pp to their device. It turned out, that learning more about the library's offerings was incentive enough to stop and talk. Patrons were excited to learn more, get started right away, and fix any issues they experienced while using the apps at home.
On average, library staff speaks to between 40 and 50 patrons throughout Digital Learning Day. Because of the event's success, the FFL added an additional Digital Learning Day in the summer, when the library is busiest. We realized that there's no reason to wait until National Digital Learning Day to promote our services. Every day is a good day to promote digital learning.
References
Alliance for Excellent Education. (n.d.). About digital learning day. Retrieved from http://www.digitallearningday.org/about-dlday