What is Citizen Science?
As we face global challenges, we may want to find local ways to make a difference in protecting endangered species, safeguarding water sources, preventing disease, or accelerating medical research. Science needs more eyes, ears and perspectives than any scientist possesses. Enter citizen science: a collaboration between scientists and those of us who are just curious or concerned and motivated to make a difference.
For researchers, citizen science provides expanded opportunities for engaging with the public and vice versa. Citizen science is an invitation to everyone to participate in real science–on topics they care about–typically by following protocols for data collection, analysis, and reporting. Citizen science can be fun, but it is also serious science.
"Where can I get started?" you ask?
SciStarter–a web-based research affiliate of the School for the Future of Innovation in Society at the Arizona State University–is where millions of people discover opportunities to participate in this movement that's sweeping the globe, making citizen science a perfect addition to formal and informal programs in schools, museums, libraries, senior centers, parks, and at home! There's something for everyone.
Another place to start is during Citizen Science Month in April 2020.
In just a couple of years, Global Citizen Science Month (April 2020) has grown from a single day of events, to a coordinated effort supported by SciStarter, the National Library of Medicine, Arizona State University, the Citizen Science Association, Science Friday, National Geographic, and many other collaborators from around the world. Global Citizen Science Month is now an annual event to celebrate and promote all things citizen science: amazing discoveries, incredible volunteers, hardworking practitioners, inspiring projects, and anything else citizen science-related!
Citizen Science Month in Libraries
With support from the National Library of Medicine, SciStarter and Arizona State University have developed free resources, event planning and promotional support, and an event calendar to help you promote your activities and/or help introduce citizen science to your communities.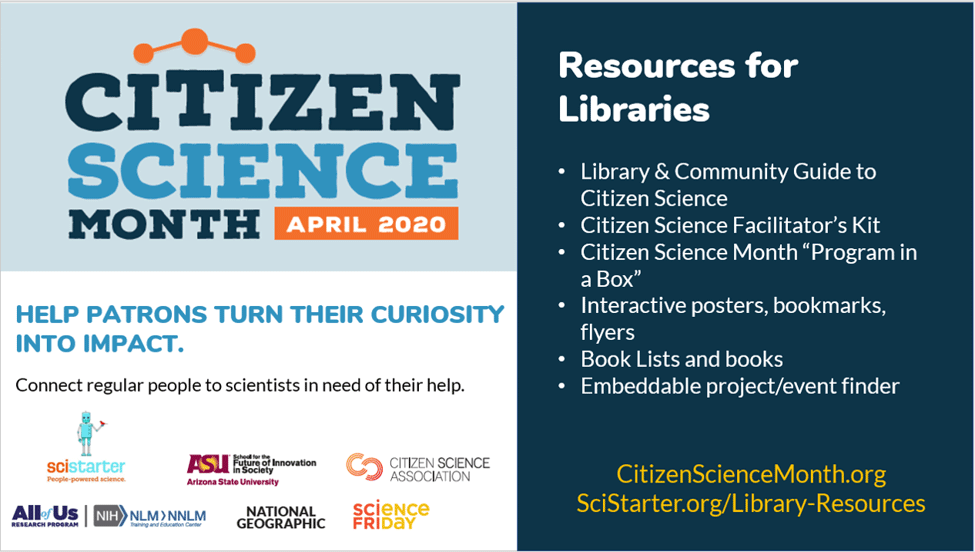 On February 17, SciStarter will unveil CitizenScienceMonth.org with customizable, downloadable resources including posters, bookmarks, fliers, Programs-in-a-Box, Facilitator's Guides and more.
How can you prepare now?
How to Celebrate Citizen Science Month in Your Library
Looking for more tips on how you might celebrate Citizen Science Month in your library? Vivienne Byrd, STEAM Librarian Librarian III/STEAM Librarian in the Exploration and Creativity Department at the Los Angeles Public Library, and Dan Stanton, Associate Librarian in the Engagement and Learning Services Department of the Arizona State University Library, came up with the below ideas!
1) Consider making a book display from this book list.
BOOKS
Help your patrons discover citizen science by creating a display of these books and
others, which describe how to engage in citizen science and the impacts that the public
has had on scientific investigations.
Learn more at SciStarter.org/library-resources
Apt Russel, Sharman. Diary of a Citizen Scientist: Chasing Tiger Beetles and Other New
Ways of Engaging the World. Oregon State University Press, 2014.
Busch, Akiko and Debby Cotter Kaspari (Illustrations). The Incidental Steward:
Reflections on Citizen Science. Yale University Press, 2013.
Buzzeo, Toni and Holly Berry. A Passion for Elephants: The Real Life Adventure
of Field Scientist Cynthia Moss. New York, NY: Dial Books (Penguin Young
Readers), 2015.
Cavalier, Darlene and Eric B. Kennedy. The Rightful Place of Science: Citizen Science.
Consortium for Science, Policy & Outcomes, Arizona State University, 2016.
Cavalier, Darlene; Hoffman, Catherine; Cooper, Caren. The Field Guide to Citizen
Science How You Can Contribute to Scientific Research and Make a Difference.
Timber Creek Press, 2020. Pre-order here: http://bit.ly/FieldGuideCitSci
Coburn, Jason. Street Science: Community Knowledge and Environmental Health
Justice. MIT Press, 2005.
Cooper, Caren. Citizen Science: How Ordinary People are Changing the Face of
Discovery. New York: Overlook Press, 2016.
Cousteau, Phillippe, Deborah Hopkinson and Meilo So. Follow the Moon Home:
A Tale of One Idea, Twenty Kids, and a Hundred Sea Turtles. San Francisco, CA:
Chronicle, Books, LLC, 2016.
Dickinson, Janis L., Rick Bonney and Richard E. Bonney. Citizen Science: Public
Participation in Environmental Research. Ithaca: Cornell University Press, 2012.
Griffin Burns, Loree and Ellen Harasimowicz. Citizen Scientists: Be a Part of
Scientific Discovery from Your Own Backyard. New York: Henry Holt and
Company, LLC, 2012.
BOOKS FOR CHILDREN
Bathala, Neeti, Jennifer Keats Curtis and Veronica V. Jones (Illustrator). Moonlight
Crab Count. Arbordale Publishing, 2017.
Cousteau, Philippe, Deborah Hopkinson, and Meilo So (Illustrator). Follow the
Moon Home: A Tale of One Idea, Twenty Kids, and a Hundred Sea Turtles. Chronicle
Books, 2016.
Forrester, Anna. Bat Count: A Citizen Science Story. Arbordale Publishing, 2017.
Fontichiaro, Kristin. Citizen Science. Cherry Lake Publishing, 2018.
Griffin Burns, Loree and Ellen Harasimowicz (Photographer). Citizen Scientists: Be a
Part of Scientific Discovery from Your Own Backyard. Henry Holt, LLC, 2012.
Kovacs, Vic. Get into Citizen Science. Crabtree Publishing Company, 2018.
Lee Heinecke, Liz. Outdoor Science Lab for Kids: 52 Family-Friendly Experiments for
the Yard, Garden, Playground, and Park. Quarry Books, 2016.
Hannibal, Mary Ellen. Citizen Scientist: Searching for Heroes and Hope in an Age of
Extinction. New York: The Experiment, 2016.
Kurlansky, Mark and Frank Stockton. World Without Fish. New York, NY: Workman
Publishing Company, 2011.
Landgraf, Greg. Citizen Science Guide for Families: Taking Part in Real Science.
Chicago, IL: American Library Association, Huron Street Press, 2013.
Trautmann, Nancy M. Citizen Science: 15 Lessons That Bring Biology to Life, 6-12.
Arlington, Virginia : NSTA Press, National Science Teachers Association, 2013.
2) Consider cross promotions with existing programs.
For example, organize group participation in one of the Citizen Science Month featured projects on Earth Day! Join a local Citizen Nature Challenge and bioblitz areas you're curious or concerned about.
April is already a big month for Citizen Science! NASA STAR Net, SciStarter, Earth Day 2020, City Nature Challenge, and many other initiatives have public engagement in science as the keystone of their efforts in April.
Citizen Science Month is your opportunity to both participate in and facilitate events and projects that create a sustainable environment, lead to new discoveries, improve health and wellbeing, and protect the planet.
Here is a sample of Citizen Science Month Events taking place April 1-April 30, 2020:
NASA's Our Planet: Earth Campaign (collaboration with ALA & Earth Day Network) (April 1-30, 2020)
50th Anniversary of Earth Day (April 22, 2020)
City Nature Challenge (April 24-27, 2020)
International Plant Appreciation Day (April 13, 2020)
NASA GLOBE's Make Trees Count Campaign (April 1-30, 2020)
National Library Week (April 19-25, 2020)
Earth Challenge 2020 (April 1-30, 2020)
American Library Association's Sustainability Round Table's 50 for 50 Campaign
On February 17th, SciStarter will unveil event ideas and featured projects for every day in April. Watch CitizenScienceMonth.org for these updates, and in the meantime, start planning around the National Library of Medicine's featured projects, which address environmental and human health. Once you decide on your program idea, please add your event to SciStarter.
3) Seeking more program ideas?
You can introduce citizen science to the younger audiences through themed storytimes, such as animals, urban wildlife, water/rain, my community, etc. If time allows and you have a tablet that you can connect to a projector, project a citizen science app on a big screen and do a citizen science project from SciStarter together. There are more than 3,000 projects to choose from!
Connect Citizen Science to environmental-themed days and campaigns.
 Citizen Science projects can easily be integrated into many different STEM programs. If you host STEM programs regularly at your library, use SciStarter to find a relevant project.
 If your library has teen council, you can consider making your teen council members the citizen science ambassadors who can introduce citizen science to others, using the Introduction to Citizen Science Facilitator's Kit you will find on SciStarter.org/Library-Resources.
 Academic and school libraries can work with student groups/clubs to not only accomplish citizen science projects, but also to facilitate citizen science events in the community and introduce citizen science using the Facilitator's Kit found on

SciStarter.org/Library-Resources

.
 If your library offers Game Day regularly, consider hosting a game-a-thon using gamified citizen science projects, such as Stall Catchers.
 If your library hosts gardening programs, there are many citizen science projects out there on soil, trees, and plants! Check out SciStarter.org/NLM for a few.
 Contact the outreach coordinators of your local sanitation departments, department of water and power, parks and recreation centers, city/county's Vector Control, public health departments to co-host a citizen science program with you! Oftentimes, they will provide subject matter experts to come out and give lectures or talks. Depending on the amount of time you have, you can add a hands-on activity after the lecture to quickly introduce the audience to various citizen science programs.
 Too late to submit your program for the library's calendar of events? Consider offering a pop-up workshop or program! You can simply offer an information session about some citizen science projects you think would interest the community you serve.
 Consider moving Citizen Science Kits into circulation in your library! Learn more about the kits, related resources, and grants to support kits in your library: SciStarter.org/Library-Resources and SciStarter.org/Library-kits
Citizen science is for everyone, and your library can become a hub for citizen science.
What's next? We're here to help you get started!
This April, let's get everyone doing citizen science!
About the Authors
Caroline Nickerson
Caroline is a Master of Public Policy student at American University with a focus on environmental and climate change policy. She is also affiliated with the UF-VA UNESCO Bioethics Unit, the Christensen Project, the DC Gator Club, and the Commission on Local Debates. Caroline is a Reilly Environmental Policy Scholar and the 2019 Cherry Blossom Princess representing the state of Florida. Caroline manages SciStarter's Syndicated Blog Network, which encompasses the Science Connected, Discover Magazine, and SciStarter platforms, and manages SciStarter's Citizen Science Month program and other programmatic and outreach efforts.
Dan Stanton
Dan is an Associate Librarian in the Engagement and Learning Services Department of the Arizona State University Library. Dan has over twenty-five years of academic library experience, but is fairly new to citizen science. Dan works with ASU and SciStarter to develop citizen science kits and other resources in partnership with public libraries.
Vivienne Byrd
Librarian III/STEAM Librarian in the Exploration and Creativity Department at the Los Angeles Public Library, Vivienne leads the systemwide Neighborhood Science program and Full STEAM Ahead initiative. She currently serves as a member of the American Library Association's Sustainability Round Table's Programming Committee. Vivienne is also the lead producer of the DTLA Mini Maker Faires and serves as a Climate Reality Leader for the Climate Reality Leadership Corps.