Guest Post by Darlene Cavalier (SciStarter)
Citizen Science Day (April 14), presented by SciStarter and the Citizen Science Association, is an annual event to celebrate volunteers, practitioners, and projects, and to introduce more people to opportunities to get involved in local or global projects in need of their help.
[youtube id="yWZ6wybgHl4″ width="800″ height="450″ autoplay="no" api_params="" class=""]
Libraries across the country can join in the celebration!
We've provided some examples, descriptions, links, and "how to" resources to help you get started. If you're already planning to participate, consider sharing your ideas in the comments below or via Twitter using the hashtag #CitSciDay2018.  We'd love to hear from you!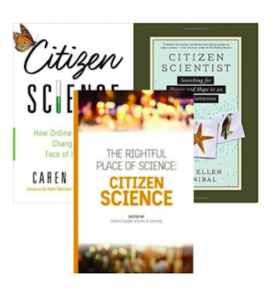 Reading list.
The Citizen Science Association has compiled a list of books for citizen science enthusiasts of all ages. Display books from the list or host a citizen science book discussion at your library.
Interested in hosting a 2018 Citizen Science Day event?
The Citizen Science Association provides many ideas to help you celebrate "from tweets to festivals, from showing videos to hosting data collecting events, from hosting a webinar to holding a workshop, and so many things in between!" If you organize an event, add it to SciStarter's calendar and map so that it can be promoted widely and participants can find it. Once the event is on SciStarter, you can use the People Finder to invite citizen scientists to attend your event. You can also use the People Finder to discover and invite  local citizen scientists and practitioners to come speak about their projects!
Promote your event using the free resources available on the Citizen Science Association website:
We hope these resources make it easier for your library to participate in Citizen Science Day or to engage communities in citizen science more generally.
Contact Darlene at Darlene@SciStarter.com with questions or to share news about your library's current or future involvement in citizen science.