Hello everyone!  I hope everyone is healthy and at home.
To start off, I want to share this really cool resource I found this morning, and which has kept me distracted (granted that isn't hard to do) for longer than I care to admit.  It's an online game in which you get to create your own solar system, and watch it develop through time.  Thankfully it isn't real time, or we'd be waiting for interesting developments for a veeerrrry loooooooong time.  Instead, it passes through a million years every minute. That's 1,000,000 years every minute.  Keep an eye on it the first 30 minutes or so, or you won't get to have any moons around your planet. 🙁  But after that, it got pretty quiet in my little solar system.  What makes this game so great is that it is scientifically accurate.  It's called Starchitect.  There are options to register and be able to access it from different computers, or you can play as a guest.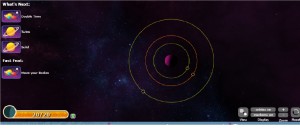 Don't I have a cute little gas giant?
This is something that it would be fun to start and then check on every day to see how things are progressing, rather like planting a seed and checking on it to watch it sprout and grow.
I also found a cute animated series for kids, the Octonauts that is really entertaining.  They even have their own version of the alphabet song (except U and X) using only aquatic animals.  See how many of the animals in the song you know.  Sea Creatures A to Z
In preparation for the upcoming summer reading club theme: "Imagine Your Story – Fairy Tales, Mythology, and Fantasy," you might want to check out "Tinga, Tinga Tales" on youtube.  These cute animated programs relate African folktales and myths.
It's spring in my part of the world, I've been thinking about all the birds singing in my back yard, which could lead someone to think about dinosaurs and what sounds they may have made…  Anyway, here are some links about dinosaurs and birds:
Dinosaurs:
I'm a Dinosaur educational animated video series
Kids Dinosaurs – There is some great info, but a lot of ads for items for sale, too
American Museum of Natural History – Articles and pictures from the museum
Kiddle – An online encyclopedia just for kids
Birds:
Bird Academy Play Lab – Online games about birds for kids on the Cornell Lab website
Bird Academy Video Archive – Loads of videos from the same site
All About Birds – Learn how to identify wild birds and help them out
Bird Pictures and Facts – From the National Geographic Society
I apologize for being away so long after saying that I would provide resources as close to weekly as I could.  Time has been flying by for me as I search the web and evaluate various sites for the resource list.  I also decided to revamp what I am doing, or more correctly, how I present it.  I am taking a course on creating databases, but I'd need a place host it if I did that, so I decided to transform the list to a spreadsheet, and move it to Google Sheets.  I have revisited nearly every site on the list, and added information about whether or not they require/request registration, offer live interaction/programs, if they have interactive resources or printouts, what age ranges they serve best, and what STREAM subjects they address plus the subject History.  Take a look and see what you think.  Please let me know if you have suggestions or an issue with a link.  I am still focusing my efforts on sites that are always free, rather than those that will begin to charge fees at some point in the future.
It is an active document now, which gets updated with new material at least once a week, so check back often!
Online Resources and Links for Families and Educators
As summer begins, I plan to post several activities every week related to the theme for this summer.
Until my next post, stay safe and healthy!