There has been a movement towards bringing the natural world into programming more. More often than not, this involves bringing "nature" indoors in some fashion, whether by working with natural leaves, sticks, or other materials or even animals; or by doing activities which imitate nature in some way. It could be argued, however, that it is far better to take the indoors out… to move the program out "into nature" or at least to an open air outdoor setting!
In June, the Kenton County (KY) Public Library debuted an outdoor environmental education program series at a local city park. By partnering with the City of Erlanger and staff from the Erlanger/Elsmere School District, the programs not only provided education and recreation, but also nutrition! The program series was held at the Erlanger Railroad Depot Park, http://www.ci.erlanger.ky.us/content/3437/791.aspx  which includes a museum, (which was open during and after the programs), a restored train caboose, a playground, and a large, open space. Through the Kentucky Department of Education's Summer Food Service Program, nutritionally balanced meals were available at no cost to children under age 18, and at minimal cost to adults over 18 who attended the programs. While lunch was enjoyed in the park shelter, participants heard library and city announcements, followed by literary introductions to each week's program theme. Picture book read-alouds designed to introduce and enhance the understanding of the topic also served to highlight the library's resources and encourage individual learning following the programs. The themes each week included activities to encourage active participation by the children in attendance.
A variety of environmental topics and scientific concepts were addressed by the series. Concepts that at first glance seem very advanced for kids as young as 4 or 5 were covered; and while complete understanding of all the concepts may not have happened, at least the basics were well understood.
In one program, activities were used to study adaptations in animal groups by using different household and kitchen tools to represent different kinds of birds' beaks. Attendees learned proper scientific terminology while doing fun things like trying to grab tossed popcorn (flying insects) out of the air with chopsticks, "drinking" water (nectar) from a narrow vase with eye droppers, and scooping tiny bits of foam (water plants) from a "pond" with a sieve.
In another, attendees were introduced to dendrochronology- marking time with the study of tree rings- and how one can get a snapshot of the life of a tree by studying the rings in a "tree cookie."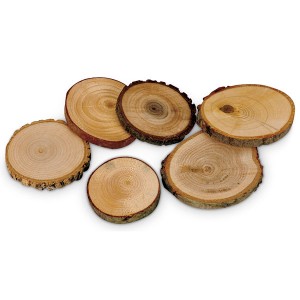 Kids and adults became parts of a tree, and a tree was "built" from the inside out while learning what function each part serves.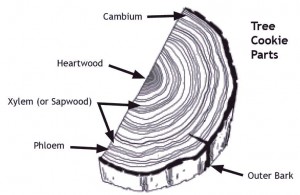 Hikes around the park property included tree identification, the comparisons of tree leaves and bark, how trees provide habitat needs for animals, and more.
In a third program, the scientific concept of carrying capacity was introduced. By playing games in which the participants "became" deer or various habitat needs (food, water, shelter), children as young as 5 and 6 were able to understand the concept and learn how changing environmental factors can limit a population. Dying dramatic stage deaths as the habitat ran out of food or water helped to solidify the idea in a fun, entertaining way, without making it upsetting or disturbing to even the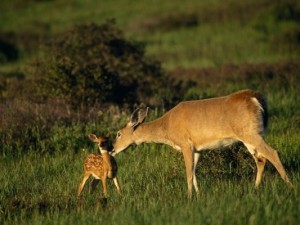 youngest attendees. The concept of habitat, which is in the school curriculum, was covered. This is a perfect example of reinforcing and expanding upon a science topic learned in school, but in a way that is likely to be remembered long after the program. One young attendee, Jocelyn, was so excited by the upcoming opportunity to learn about deer that she created a watercolor painting of a deer at home in advance of the program and brought it with her to share!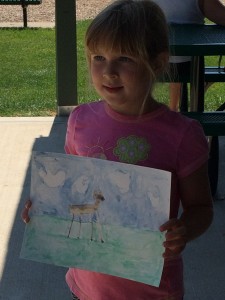 Some of these children have never seen living deer in the "wild." Also covered in the program were different members of the deer family (diversity), which were included on a coloring sheet to take home.
In the fourth program of the series, hiking techniques, safety, and equipment were discussed. Attendees played a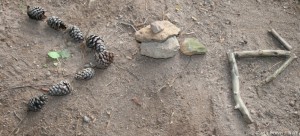 backpack packing game, and in the process learned trail safety, the idea of "leave no trace," and how to prepare for a trek. In many cases, these are city kids who have never been hiking, so the opportunity to "hike" around the park property was a grand adventure. Different types of trail markers were also learned and practiced hands-on with rocks, sticks, and other natural materials. Scientific concepts like cardinal directions, elevation, and habitat loss were addressed.
At all four of the programs in the series, which was billed as "environmental education in the park," the entirety of the program happened outside. While there is a small museum building in the park we used, and the shelter space was used for lunch, the majority of each program was spent in the grassy and open parts of the park. The most common comments on the end-of-series survey were that the series should have run all summer instead of just in June; and that being outside and moving around were part of what made the program so wonderful. Both children and adults were actively engaged, making use of the park space, and using multiple senses in their learning. And they were having so much fun, it didn't seem like learning!