by Christopher Mick
Sojourner, Opportunity, Spirit, Curiosity, all famous Mars exploration rovers.
NASA's latest Mars rover is continuing to be prepped for its July 17 – August 5 "launch window" later this Summer. The "launch window" is the time frame that the rover must be launched by in order to arrive at Mars at the correct time and location for mission success.
With a lot of schools and businesses temporarily shut down due to health concerns  surrounding COVID -19 , you might think that not much would be happening with the rover right now, but you would be wrong. While most of NASA's staff are working from home, several mission-critical employees at NASA's Jet Propulsion Lab in Pasadena, CA. and at the Kennedy Space Center in Florida are continuing to test and prepare the rover for launch atop an Atlas V rocket.
Just last month the Mars 2020 Rover received a name. Perseverance was the winning name submitted by 13-year-old Alexander Mather, a middle-school student from Burke, Virginia. (Full disclosure, I was a first-round judge for the naming contest). Alexander along with more than 28,000 other students submitted essays as part of the "Name the Rover Contest."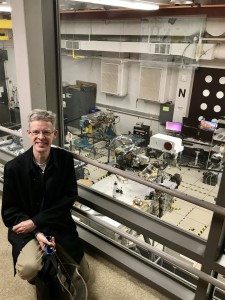 And Perseverance won't be the only name going to Mars, 10,932,295 names of individuals who submitted their names during the "Send Your Name  to Mars" campaign have been stenciled on to three silicon chips that have been attached to the rover.
If all goes according to plan, Perseverance will land inside 28 mile-wide Jezero crater on February 18, 2021. Perseverance will join the Curiosity rover which has been exploring Mars since landing in 2012. Both rovers look almost  identical to each other from a distance, but upon closer inspection you would notice a few interesting differences.
The first, is that Perseverance will be carrying a small solar-powered helicopter that will be used as a "technology demonstration" to prove that a helicopter can operate in the very thin Martian atmosphere(100 times thinner than Earth's). Another exciting addition is a "sample caching" device that will store drilled rock samples in tubes to be collected and returned to Earth by a future Sample Return Mission that is being developed as a joint program between NASA and the European Space Agency (ESA).
So weather you submitted an essay to name the rover, your name is attached to Perseverance for the 43 million mile journey to the red planet, or if this is the first you are hearing about this latest rover mission; No matter what you call it, this will be an amazing mission of science and exploration at its finest.
to learn more visit:
https://www.mars.nasa.gov/mars2020/spacecraft/rover