Skokie Public Library has previously offered multiple day programs over school breaks to engage learners in a deeper dive of a specific content. Boot camp style programs tend to do well with higher tech topics like coding. This year during Spring Break, Ben, one of our Experiential Learning Specialists, designed a two day boot camp style program on 3D design and printing for kids in grades 3-5. The program was co-facilitated by Erica, another Experiential Learning Specialist. Both Ben and Erica primarily work in SPL's youth computer lab. Here's what they did.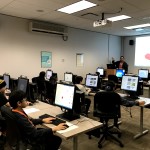 Ben decided to frame this program around Tinkercad, a free, web-based 3D design software that is easily accessible to beginners of any age. It has built in tutorials that participants can revisit after taking a class at the library. We provide generic logins for programs and in our Lab. We encourage participants to ask their adult caregivers to help create their own accounts for continued access.
On day one, Ben provided an overview of what 3D printing is. He brought up our MakerBot Replicator+ as a visual for the printing process, explaining how the filament is loaded, how the printer extrudes layer by layer until the object is complete. After the overview, Ben had intended on giving a demonstration of Tinkercad followed by designing key chains using the built in tutorial as a group. Because many participants were late to the program, many had questions following the 3D printing overview. Ben decided to facilitate a group discussion around those questions as they were interesting and relevant to the class. He then quickly provided an overview of the basics of Tinkercad at the end of day one, and asked the kids to spend time that night to think of something they'd like to design on day two. Ben did provide some ideas like a cookie cutter, key chain, or creature.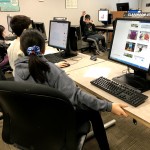 Day two then welcomed much more experimentation and free design for the participants, and essentially functioned like a workshop. In addition to working in Tinkercad, Ben introduced participants to Thingiverse, a free online library of print files, and went through searching exercises with the group in order to show how to download the files and even modify designs in Tinkercad. After the more formal instruction, kids were able to design freely in Tinkercad and also search Thingiverse while Ben and Erica were available to help troubleshoot and answer questions. When there was a question that seemed relevant to the group, Ben would return to the front of the room to answer the question for everyone since the information was beneficial.
The program concluded by Ben and Erica explaining how participants can continue to have their 3D designs printed at the library by showing the online request form and explaining the library's restrictions. Participants were eager to submit their designs, including cookie cutters, coasters, and even a 3D representation of a participant eating an ice cream cone while wearing a jet pack.
We really value this type of program since it provides context and skill building related to a trendy tech tool, hopefully inspiring continued learning and 3D design over simple duplication of others' designs.