-Shared from our friends at GLOBE-
Are you lookin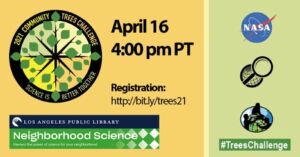 g for programming ideas for Earth Day or Citizen Science Month?
Libraries are invited to join the 2021 Community Trees Challenge when the GLOBE Program is asking the public to observe, learn, engage, and create as they track their progress on the Trees Challenge activity tracker from April 15-May 15. Learn more at https://observer.globe.gov/trees-2021. While getting out and taking observations might not be possible for everyone, this challenge provides multiple ways to participate and learn all about trees.
Register for a family-friendly webinar on April 16 webinar hosted by Los Angeles Public Library with NASA and GLOBE Program personnel, who will highlight the trees challenge and explainwhy trees and tree height are so important to NASA, California, and the entire planet. Come learn how to build a hand-held instrument to measure tree height, using simple, everyday materials, and learn all about the NASA GLOBE Observer Trees Tool. Register at: http://bit.ly/trees21
Gratitude Rocks: Where Art Meets Science: Learn how LaSalle Public Library is using GLOBE Observer: Trees to extend popular rock painting into your library STEAM program. Rocks provide an endless canvas for creativity – check out their blog post for ideas to get you started.