Rocket Launches with NASA's Mars Perseverance Rover!
Join NASA's Countdown to Mars!
NASA is inviting the public to help take part in virtual activities and events ahead of the launch of the Mars 2020 Perseverance Rover.
Perseverance is NASA's latest Red Planet Rover, designed to search for evidence of ancient microbial life on Mars. Following a seven-month journey, it will land on Feb. 18, 2021. This rover will carry the Ingenuity Mars Helicopter, a technology demonstration that will be the first attempt at powered, controlled flight on another planet.
Perseverance Rover Launch
The launch period is approximately three weeks, from July 30 to August 15. The duration of the daily launch window varies from day to day. The windows will last approximately two hours, with a unique launch opportunity every five minutes.
The Mars 2020 spacecraft with its Perseverance Rover will launch on an Atlas V-541 rocket from Launch Complex 41 at Cape Canaveral Air Force Station, Florida. The Atlas V is one of the largest rockets available for interplanetary flight.
Take a Virtual Journey with Perseverance!
The Perseverance Rover will launch between July 30 and Aug. 15, 2020 and head to Jezero Crater, where it will land at the foot of a river delta which was clearly a lake at the time microbial life was flourishing on Earth.
On June 30th, the American Museum of Natural History's Director of Astrovisualization, Carter Emmart, led the public on an exploration of this exciting landing site as we flew over it using OpenSpace, NASA-supported software. We saw why Jezero Crater was chosen and the features it has to offer for this latest in NASA's series of Mars rovers to investigate past conditions which could have supported life.
This live OpenSpace webcast was brought to you by the STAR Library Network's NASA@ My Library program in partnership with the Lunar and Planetary Institute, the American Library Association, and the American Museum of Natural History.
Digital App: Fly to Mars
We can only send spacecraft to Mars every two years. Have you ever wondered why? This simple simulation lets you launch a spacecraft from Earth to Mars. All you have to do is decide when to launch and we take care of the amount and direction of thrust. Easy, right?
Available on smartphones and tablets!
NASA STEM @ Home Resources
Below we have assembled a collection of NASA STEM @ Home resources that are "ready to share" with patrons.
NASA's Mars 2020 Mission
The Mars 2020 mission with its Perseverance rover is part of NASA's Mars Exploration Program, a long-term effort of robotic exploration of the Red Planet. The Mars 2020 mission addresses high-priority science goals for Mars exploration.
Main Objective: The Perseverance rover will seek signs of ancient life and collect rock and soil samples for possible return to Earth.
Webinar Opportunity*
Take Your Patrons to Mars
Tuesday, July 7, 2020 at 3:00 p.m. (ET), 2:00 p.m. (CT), 1:00 p.m. (MT), 12:00 p.m. (PT)
NASA is about to launch the Mars 2020 mission – and now is the time to get your patrons excited! The Perseverance rover will launch between July 17-August 11, 2020, and will land on Mars in February 2021.
Invite your patrons to participate in its journey! Hear from NASA Mars scientists, learn some activities you can conduct online or in-person, and make plans to hold your own virtual (or in-person) launch or landing parties!
* Library staff only – not to be shared with patrons.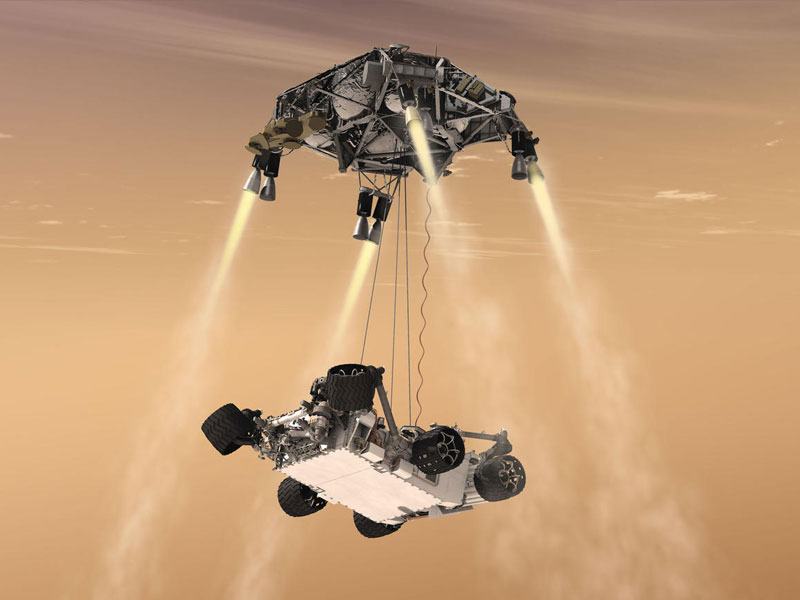 The Detective Onboard
Mars is a long way from 221B Baker Street, but one of fiction's best-known detectives will be represented on the Red Planet after NASA's Perseverance rover touches down on Feb. 18, 2021.
An instrument called SHERLOC will, with the help of its partner WATSON, hunt for signs of ancient life by detecting organic molecules and minerals.
Additional Resources
Below we have assembled a collection of resources that are "ready to share" with patrons that your library can utilize.