This Campaign Event Has Ended
Humanity's First Step Onto Another World
What was the sequence of this incredible mission? Where on the Moon did they land? And how did they return safely to Earth?
Watch a guided recreation (video to your right) of Apollo 11's journey to see how this mission was executed by crew members and mission control in Houston.
Did your library view the live or recorded webcast? If so, please take a moment to complete the AMNH OpenSpace Audience Survey.
This live OpenSpace webcast was brought to you by the STAR Library Network's NASA@ My Library program in partnership with the American Museum of Natural History.
The Challenge and Launch
July 1969. It's a little over eight years since the first humans were sent into space, followed quickly by President Kennedy's challenge to put a man on the moon before the decade is out.
On the morning of July 16, Apollo 11 astronauts Neil Armstrong, Buzz Aldrin and Michael Collins sit atop of their Saturn V rocket at Launch Complex 39A at the Kennedy Space Center. The three-stage 363-foot rocket will use its 7.5 million pounds of thrust to propel them into space and into history.
At 9:32 a.m. EDT, the engines fire and Apollo 11 clears the tower. About 12 minutes later, the crew is in Earth orbit.
The Journey and Decent
After one and a half orbits, Apollo 11 gets a "go" for what mission controllers call "Translunar Injection" – in other words, it's time to head for the moon. Three days later the crew is in lunar orbit. A day after that, Armstrong and Aldrin climb into the lunar module Eagle and begin the descent, while Collins orbits in the command module.
July 20. The descent was punctuated by a series of alarms caused by radar-tracking problems and computer overload. Armstrong overrode the automatic landing system when the astronauts saw that it was taking them to a dangerously rocky region. The fuel gauge read disturbingly low and dust, which the rocket engine blasted off the ground, obscured their view.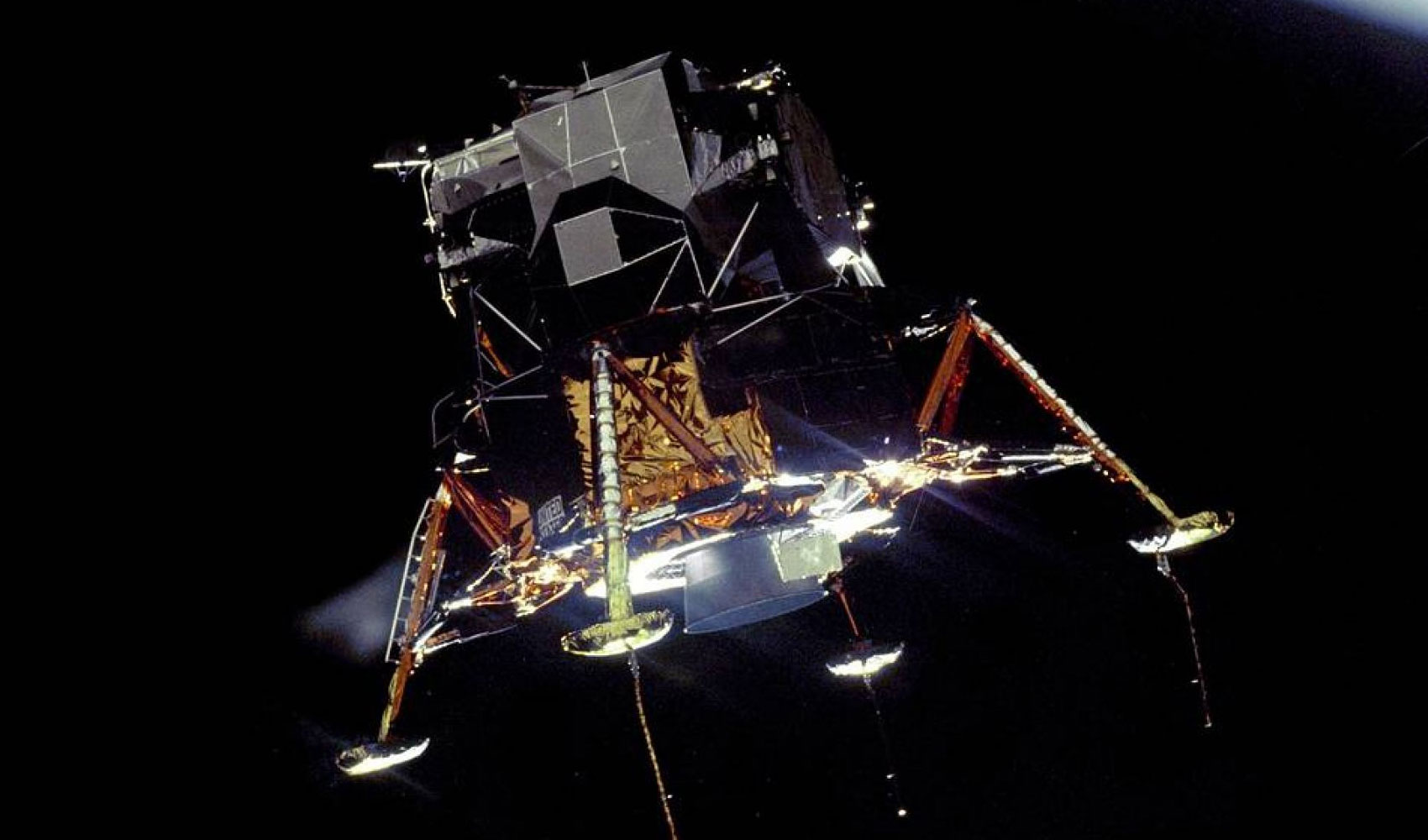 The Landing and One Giant Leap…
When the lunar module lands at 4:18 p.m EDT on July 20, only 30 seconds of fuel remain. Armstrong, with his heart racing at 150 beats per minute instead of his usual 60, coolly radioed, "Houston, Tranquility Base here. The Eagle has landed."
Armstrong stepped onto the lunar surface at 10:56 p.m. EDT with the words, "That's one small step for man, one giant leap for mankind." Aldrin joins him shortly, and offers a simple but powerful description of the lunar surface: "magnificent desolation."
They explore the surface for 2 1/2 hours, collecting samples and taking photos. They leave behind an American flag, a patch honoring the fallen Apollo 1 crew, and a plaque on one of Eagle's legs. It reads, "Here men from the planet Earth first set foot upon the moon. July 1969 A.D. We came in peace for all mankind."
Below we have assembled a collection of resources that include vetted STEM activities, printable materials, gallery items and important webpages that your library can utilize for your 50th anniversary celebration of Apollo 11's Historic Moon Landing. Don't forget to take advantage of STAR Net's Universe of Stories Collection on our STEM Activity Clearinghouse.