Solar Eclipse Activities for Libraries
SEAL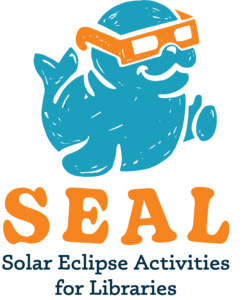 Two Solar Eclipses Coming to North America! An Annular Eclipse in 2023 and a Total Eclipse in 2024
Librarians – let's get ready! We'll support your eclipse efforts by providing eclipse glasses AND training.
Remember, whenever any part of the Sun's surface is showing, you will need protective glasses or filters!
Annular Eclipse, Saturday, October 14, 2023
For the U.S., the annular eclipse path begins in Oregon at 9:13 am PDT and ends in Texas at 12:03 pm CDT.
All the rest of North America (except for NW Alaska) will experience a nice partial eclipse in the morning that day.
Find out if your specific location is on the 2023 path using Eclipse Simulator.
In an annular eclipse, the Sun never goes dark. At maximum eclipse, you can see a dramatic "ring of fire" around the dark sphere of the Moon.
Just like for a total eclipse, you need to be in a narrow path to see the ring.
Because the full Sun never goes dark, you will need special protective glasses or filters throughout the eclipse.
Total Eclipse, Monday, April 8, 2024
An excellent TOTAL eclipse of the Sun will be visible the U.S. in 2024.
Totality will be visible first in Mexico, coming to Texas just after noon local time.
The eclipse then moves northeast through Oklahoma, Missouri, Ohio, New York, and Maine, to name just a few of the states, and into Canada.
In the Northeast, totality will be around 3:00 to 3:30 pm, so, in most of the U.S., students may be in school for the eclipse.
In Mexico and South Texas the total eclipse will last over 4 minutes, which is good for a total eclipse.
All the rest of North America will see a partial eclipse.
Find out if your specific location is on the 2024 path using Eclipse Simulator.
The path of totality, where the Sun is blocked out completely by the Moon getting exactly in front of it, is over 100 miles wide, and passes over more cities than the eclipse in 2017.
Plan ahead – 32 million people live along the path of totality, and many millions will try to get there on April 7th and 8th.
By the way, the next total eclipse to cross the continental US will not be until Aug. 12, 2045, so don't miss this one!
Keep your eyes protected when looking at the Sun. You can't use regular sunglasses, you need eclipse glasses or to look through a telescope with a solar filter. Check our many activities for safe eclipse viewing.
See the American Astronomical Society site about safe eclipse viewing for reliable information.
We are excited to provide eclipse glasses as part of this project! You can now register!
Text by Andrew Fraknoi, SEAL Project Team
Exciting eclipse activities the project team will conduct:
Deliver eclipse glasses, educational materials, and online training to 6,000 library systems

Provide circulating solar science kits to all 50 State Library Agencies

 

Offer in-person workshops in coordination with all 50 State Library Agencies

Eclipse education activities in non-library community sites will also be conducted
Days until annular eclipse:
Days until total eclipse:
Project Vision
By training librarians to do eclipse activities, we'll increase the learning opportunities for library patrons throughout the United States. 
To learn more about this exciting program, please read the full press release, available HERE.
Project Team
Anne Holland (NCIL/SSI)

James Harold (NCIL/SSI)

Andrew Fraknoi (From Institute, Astronomical Society of the Pacific)

Dennis Schatz (Institute for Learning Innovation)

Amy Briones (NCIL/SSI)

Beatrice Chavez (NCIL/SSI)

Dillon Connelly (NCIL/SSI)

Brooks Mitchell (NCIL/SSI)

Claire Ratcliffe Adams (NCIL/SSI)

Evaldas Vidugiris (NCIL/SSI)

Stephanie Vierow-Fields (NCIL/SSI)