About Our Guide and Program
This guide provides information for public libraries on how to host and conduct Community Dialogues. It was originally developed as part of the STAR Library Network and it's NASA@ My Library initiative. See Appendix A for more information about STAR Net. This guide is a tested and vetted resource for all public libraries to begin the conversations that can lead to building strong, durable relationships with their community. Read on to find out how opening your doors can open new doors!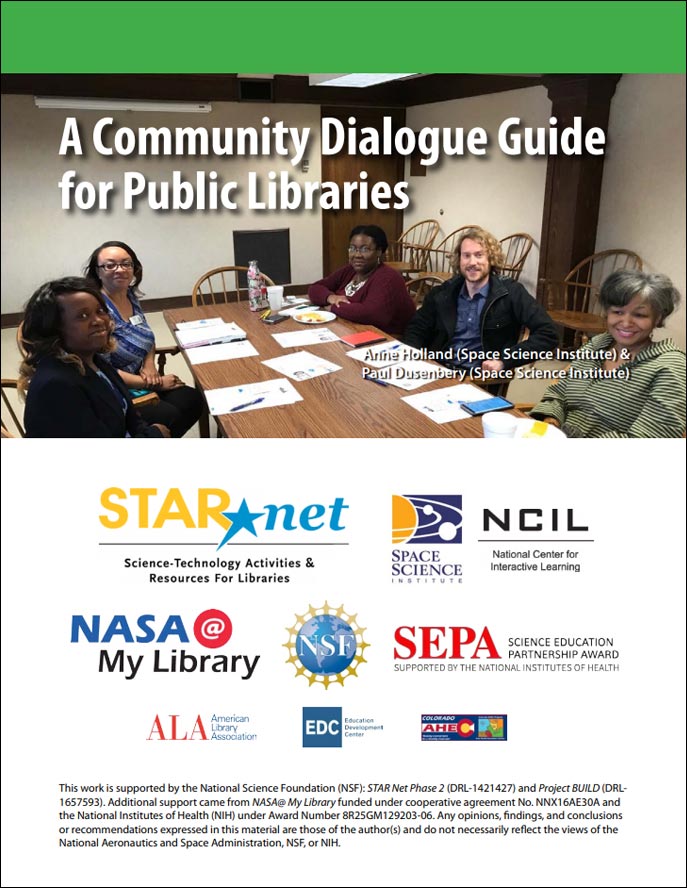 What Is A Community Dialogue?
A Community Dialogue is a loosely facilitated discussion that provides the opportunity for library staff and community leaders or members to discuss common, community-based challenges or aspirations.
Community Dialogues can help your library:
Expand your understanding of patrons' feelings about their local library and its programs, including programming related to STEM
Obtain meaningful feedback from the community on who visits the library and why
Have a conversation about how the library can better serve ethnically, economically, and geographically underserved and underrepresented audiences
Better connect with local organizations and potential future partnersthat have shared interests with the library and community
These events are about more than leaving the room with a list of to-dos and answers to all the questions. Rather, they are about discussing topics and issues in an inclusive and uninhibited environment, with community representatives and stakeholders.
Community Dialogue Goals
Strengthen librarians' roles in establishing a STEM Learning Environment
Identify underrepresented community groups
Identify possible collaborations and partnerships within the community
Contribute to developing a flexible Community Dialogue framework that all libraries can use