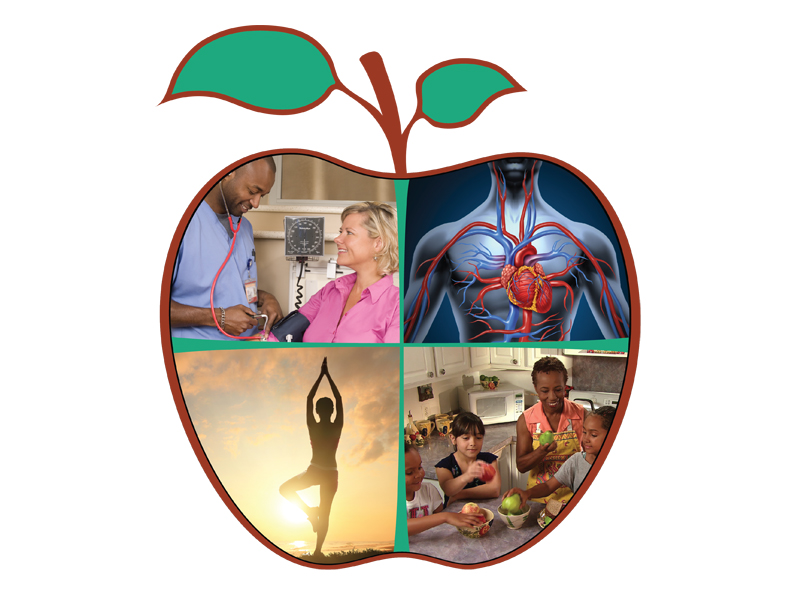 Key Staff
Dr. Jennifer Hellier (PI), Associate Director of Programs, Colorado AHEC Program Office, University of Colorado Anschutz Medical Campus
 Dr. Paul Dusenbery (Co-I), Director, National Center for Interactive Learning
Anne Holland, Public Engagement Manager, National Center for Interactive Learning
Evaldas Vidugiris, Senior Software Developer, National Center for Interactive Learning
 Dr. Robert Russell, Education Consultant (Front-end Evaluation; Media Plan)
 Marina la Grave, Media and Community Relations Consultant
Valerie Knight Williams, President, Knight Williams, Inc. (Summative Evaluation)
Exhibition Schedule
Click on the button below to view all the tour dates and locations for our Discover Health exhibition.
Exhibition Posters
Click on the button below to view and download posters from our Discover Health exhibition.

The University of Colorado's Area Health Education Centers (AHEC) Program Office, in collaboration with the STAR Library Education Network (STAR_Net) team, and CLACE present Discover Health/Descubre la Salud (DH/DS), a bi-lingual informal education program funded by the National Institutes of Health/Science Education Partnership Award.
This traveling exhibition addresses the nation's most serious public health issues, especially among underserved and rural populations (diabetes, obesity, and cardiovascular health). It also encourages youth, especially those from at-risk communities to pursue careers in health care professions.
Marina La Grave, a Discover Health/Descubre la Salud team member, organized a media event on June 13, 2017 at the Riverside Library and Cultural Center in Colorado along with Telemundo, the second largest Spanish-language television station in Denver. Three segments were filmed that will air on Telemundo this summer. Telemundo's media anchor, Pamela Padilla, and Alejandro Marin, a medical student at University of Colorado, Denver, participated in the event. The exhibition next goes to the Aurora Public Library in July, 2017.
Project Goals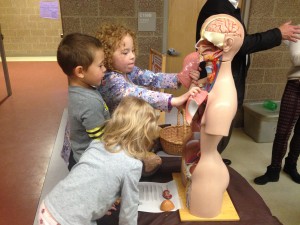 Goal 1. Increase Latino and rural adult and family public library patrons' interest in, knowledge of, and engagement with health science topics relating to their bodies and how to keep them healthy. The focus will be on preventing diabetes, obesity, and cardiovascular disease.
Goal 2. Increase Latino and rural adult and family public library patrons' participation in STEM activities at their local libraries.
Goal 3. Build the capacity of libraries and library staff in Colorado to deliver inspiring and effective health science learning experiences for their local Latino and rural communities.
Goal 4. Increase the interest and capacity of libraries to collaborate with a variety of health science professionals and educators (in Colorado and beyond) to establish effective, on-going health education programs.
Goal 5: Promote opportunities and best practices for partnership building by leveraging resources and connections on the STAR_Net online learning community website.
Goal 6: Build a deeper understanding of how public libraries can develop and conduct effective STEM programs to underserved populations through project documentation and evaluation
Deliverables
Library Exhibit. The traveling exhibit is about 800 sq. ft. in size. It will include suitcase-sized, table-top interactives, engaging anatomical models, compelling media pieces, computer-based interactives, and portable graphic panels.
Library Tour. The exhibit will tour 12 libraries in Colorado in Years 3-5 of the project. A core library in each of the six AHEC regions has been selected. See map. The remaining 6 libraries will be selected by December 2016.
A Strategic Media Plan. Recruit significant media, health, and community partners to serve as integral partners in the project's overall "air and ground" strategy. The project plans to surround the general public with messages about how the body works and how to keep it healthy.
Programming Activities and Events. Develop new active learning activities and re-propose existing informal education activities for host and non-host libraries in collaboration with health science education organizations. A variety of community events will be developed and implemented such as health fairs, career events, family nights, and a Frontiers of Health seminar series, to engage students, families, and adults.
Training Program. Conduct online and in-person workshops (for host exhibit library staff and library attendees at the annual Colorado Library Association conference) to prepare library staff to host the exhibits, implement programming ideas, and become integrated into the STAR_Net online community. Conduct a series of webinars about the project for libraries nationwide.
Professional Learning Community. Expand the scope and reach of the STAR_Net online learning community to include health education topics and programs.
Library & AHEC Partners
All 6 AHEC regions are committed to the project. The first cohort of 6 partner libraries has been selected. The locations of the AHEC Regions and the first cohort of libraries is shown in the map below. The remaining 6 libraries will be selected by December 2016.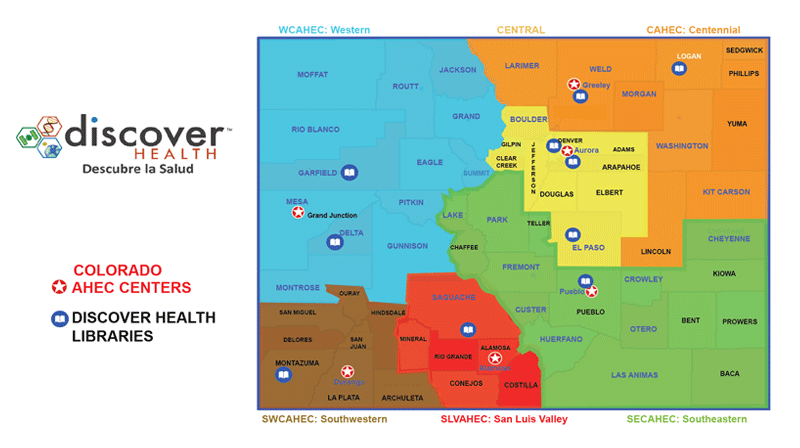 Community Health Dialogues
Community Health Dialogues have been scheduled in each of the 6 AHEC regions to better understand the health issues facing each region, which varies from region to region. The dialogues include library staff, AHEC regional representatives and other community representatives from several health-based organizations. These meetings can foster partnerships between host libraries and local health agencies and organizations not only during the run of the exhibit, which may be months away, but also during the 2016 library Summer Learning Program, which focuses on health, sports and activity.
Exhibition Development
Exhibit design is underway for the DH/DS project. A fabricator has been chosen (Condit Exhibits), and an exhibit outline is finalized. The exhibit will consist of two major areas: Healthy Living and Body Works, as well as an introductory area with quiz games and general health info.
The key focus of Body Works is on the function of the digestive and cardiovascular systems, while Healthy Living focuses on ways to maintain and improve cardiovascular fitness and overall health.
The DH/DS exhibit is scheduled to open Fall 2016, with an inaugural library site in Aurora, CO immediately followed by the librarian professional development and training, November 30 & December 1, 2016. The 3-month tour begins in early January, 2017 and goes through the beginning of 2019.
Big Idea Statement
Healthy living begins with understanding how my body works and the power of simple daily choices.
Evaluation Program
Purpose: Develop and evaluate the impacts of a bilingual DH/DS library health exhibition and related community education resources and events as well as a collaborative model for reaching underserved populations using libraries as the anchor for a community-focused strategy.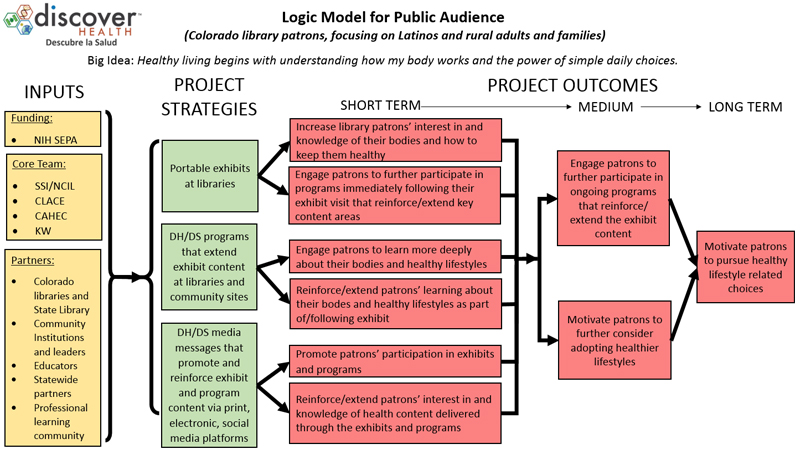 Summary of Front-End Research
The project has completed data collection for front-end research for the project. Bi-lingual surveys were developed that asked prospective library patrons about their library use, what health issues are most important to them, how they access health care, where they get information about health, and what kinds of exhibits, programs and activities they would like to find at their local libraries.
Approximately 100 Latinos and 100 English-language participants filled out the written surveys. Several focus groups focusing on the same topics were held at four libraries, 2 with predominantly English-language participants and 4 with Spanish-language participants. The data is currently being analyzed and will inform the project's educational content, messaging, and program options
The project will begin an iterative evaluation of media products in June 2016, where members of the general Hispanic and English-speaking public will evaluate radio segments, newspaper editorial features, magazine content, and television segments.
This project was supported by the Office of the Director, National Institutes of Health under Award Number 7R25OD016482-03. The content is solely the responsibility of the authors and does not necessarily represent the official views of the National Institutes of Health.
Media, Health & Community Parnters
The project has recruited significant media, health and community partners to serve as integral partners in the project's overall "air and ground" strategy. The project plans to surround the general public with messages about how the body works and how to keep it healthy. Media partners have been recruited, including Telemundo (television), radio (1280 AM Spanish-language music and news channel), La Buena Vida Magazine (monthly health and lifestyle magazine), and Channel 9 health fairs. The project will also make weekly use of social media channels including Facebook, Twitter, and Instagram to highlight events and to disseminate project messages.
 The messaging will typically include educational content (e.g., how does the heart work) and what you can do to keep it healthy (e.g., specific ideas about staying active, cooking/eating healthy, etc.).  This is a prototype of what we plan to run in La Buena Vida Magazine (see PDF).  Below is a summary of the major media activities for DH/DS:
Local Telemundo television affiliate:  regular, brief news segments (maybe featuring Marina) that highlight a health message associated with the project; regular appearances on weather program to highlight seasonally relevant activities (exercise, gardening, cooking local foods as they are available).
Radio 1280 AM:  Monthly 1-2 minute radio segments with health messaging to educate and motivate, some purely informational and some structured as radionovelas with short "stories" to engage listeners and motivate them to take action.
La Buena Vida Magazine: Monthly, 1-2 full color pages educating readers on how different bodily systems work and how to keep them healthy.  A one-pager with project logos will appear in the May 2016 issue.  The magazine is a lifestyle publication with articles on fashion, health, food, exercise and cooking.
La Voz Newspaper:  The oldest Spanish-language paper in Denver, the paper will run regular newspaper articles produced by the project on health issues. The paper is bilingual and weekly, so we will produce the articles in Spanish & English.
Channel 9 Health Fairs:  Channel 9 supports a couple hundred health fairs across the state.  They are interested in collaborating with DH/DS on media and on the project present some of its mobile exhibits at selected health fair events.
Social media:  Suggest the project use a range of social media including Facebook, Twitter, and Instagram, highlighting project events and media content on a weekly basis.