Event Planning > Outreach
Some people mistakenly believe that the most important eclipse-related programming occurs on the day of the eclipse. Nothing could be further from the truth. On Monday, Aug. 21, 2017, people will be at work, at school, or at home and it may be difficult for them to attend a library program. The important time for library programming is during the months and weeks leading up to the eclipse! The public needs to know when and where the eclipse will occur and to have time prepare for observing it safely, no matter where they are during the eclipse.
Engaging Your Community in the Months Leading up to the Eclipse
Online and Physical Eclipse Displays
Set up an eclipse display area, with books, posters, handouts, and an exhibit showing safe viewing methods. Download resources from the STAR_Net Eclipse Resource Center, to create informative displays about the Sun, Moon, and eclipses, such as:
Video displays with eclipse videos, animations, and images on a loop.
Posters, handouts, and even exhibit panels set up for patrons to read.
Lists of books and videos are also available in the STAR_Net resource area to help you create displays of library resources available for checkout.
Daytime Children's and Youth/Family Programs
Schedule a daytime family program that includes time to go outside and practice looking at the Sun using safe viewing techniques. Encourage families to attend together, promising one pair of eclipse glasses free for each family (given out at the end of the program). Make an effort to 4 Ideas for Eclipse Events for Libraries 14 The "All-American" Eclipse A Guide for Public Libraries and Their Communities include people who are underrepresented in science (e.g. African Americans, Latinos, the economically disadvantaged, people with disabilities, and women and girls).
Discuss the basics of eclipses, read from a children's book on eclipses, and then explain and demonstrate ways to observe the eclipse safely with or without glasses. Include videos, animations, and images from the Eclipse Resource Center. Describe the details of your eclipse day event (if you are having one), including when the eclipse will be visible in the community and where people will be gathering that day.
At the end, leave enough time to practice using the glasses and other safe viewing methods outside, if the Sun is visible. Fun and educational eclipse-related activities can be found at:
STAR_Net STEM Activity Clearinghouse: http://clearinghouse.starnetlibraries.org/
Evening or Weekend Eclipse Talk and Training
Invite a local astronomer, amateur astronomer, science teacher, or museum educator to give a short talk on the upcoming eclipse and how to view it safely (see section 5 on finding partners.) Include a demonstration of various safe viewing techniques and promise one pair of eclipse glasses for each family (given out at the end.)
Include a question and answer period. Practice using the glasses and other safe viewing methods outside, if the event is during the daytime.
Make and Take Activity
Provide supplies for each patron (or family) to make a "pinhole viewer." Pinhole viewers can be used at home for projecting an image of the Sun on eclipse day. (See safe viewing strategies in section 2 for how to make simple pinhole projectors).
Sun Party Events
Amateur astronomers enjoy bringing their telescopes to public outreach events, called "star parties" when done at night. Many amateur astronomers have a filter for their telescope that makes it safe to view the Sun during the daytime. Ask the local amateur club to put on a "sun party" in front of the library. Museum educators may also be able to help provide a sun party.
During or afterwards there could be a place where families can pick up eclipse glasses and learn how to use them, or get to practice other techniques for safe Sun viewing.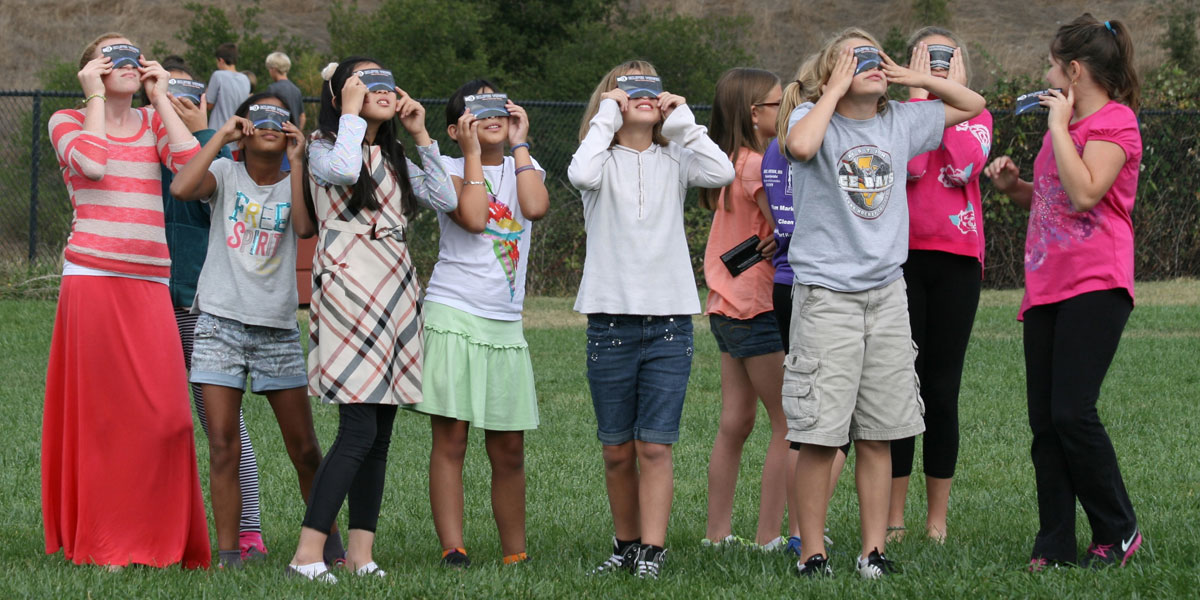 Library and School Collaboration Event
Consider doing an eclipse training session for teachers, daycare, and other educators in cooperation with a local astronomer, veteran science teacher, or science museum/nature center educator helping to lead it. Coordinate advertising the event with the local school district and encourage teachers and others who do not have a science background to attend. In addition to the topics listed above, have a discussion on how best to work with a group of students, so everyone is viewing the eclipse safely. Include information on how teachers and schools can purchase eclipse glasses. See page 19 for suggestions of partners for helping with your eclipse events.
An Important Note About Selling Glasses
By the rules established by the Moore Foundation, libraries may not sell the glasses they receive free from this project. But many libraries are likely to find that the local demand for glasses far outstrips their free supply (especially if they get the word out via the local media.) In that case, libraries can order more glasses at bulk rates (see below) and then sell them for a reasonable fee (such as $2 each.) Income could go to your Friends of the Library or similar group.
We have arranged with one of the manufacturers of certified eclipse glasses to make glasses in quantity available to educational institutions (like libraries) at highly discounted rates. To order your own supply of glasses through this program, go to: http://www.eclipsediscount.com. Close to the eclipse date, this offer may no longer be available; so it will be important to order glasses as soon as possible
Events on the Day of the Eclipse
Eclipse Viewing Training Before the Eclipse Begins
The partial eclipse on Monday, Aug. 21, starts just after 9 am on the West Coast, but after 1:15 pm on the East Coast. For libraries in the eastern half of the U.S., it may be possible to squeeze in a pre-eclipse session where people get glasses (if any are left) or train on other ways to view the eclipse, and then go and see the eclipse with family, friends or colleagues.
Planning Your Eclipse-day Party
First, determine in advance if there is a safe, comfortable place on or near the library grounds where the Sun will not be behind a hill, a building, a grove of trees, etc. during the time of the August 21 eclipse. A local astronomer or science educator can help you determine where the Sun will be in the sky and whether it will be visible from the library. (Informative maps with the eclipse circumstances can be found at: https://www.greatamericaneclipse.com/nation/)
If there is a good viewing site at the library, invite the public (and the local media) to watch the eclipse from there. Have glasses available and other methods for safe viewing (See safe viewing strategies in section 2 earlier.) If your library does not have a good viewing site, you might partner with others in city government, schools, community centers, nature centers, science centers or local business to arrange for a place where the community can gather to watch the eclipse and have access to vetted information and options for safe viewing.
Have someone ready to explain what is happening, and provide some running narration, since the partial phases of the eclipse take a long time (roughly 2.5 hours, with maximum coverage about halfway through this time). Perhaps someone else can distribute and collect viewing materials, since people may come and go during this long period. (Make sure bathrooms are ready for a larger than usual crowd if the library or other site has limited facilities. Maybe another institution nearby can take bathroom overflow – if you pardon the expression.)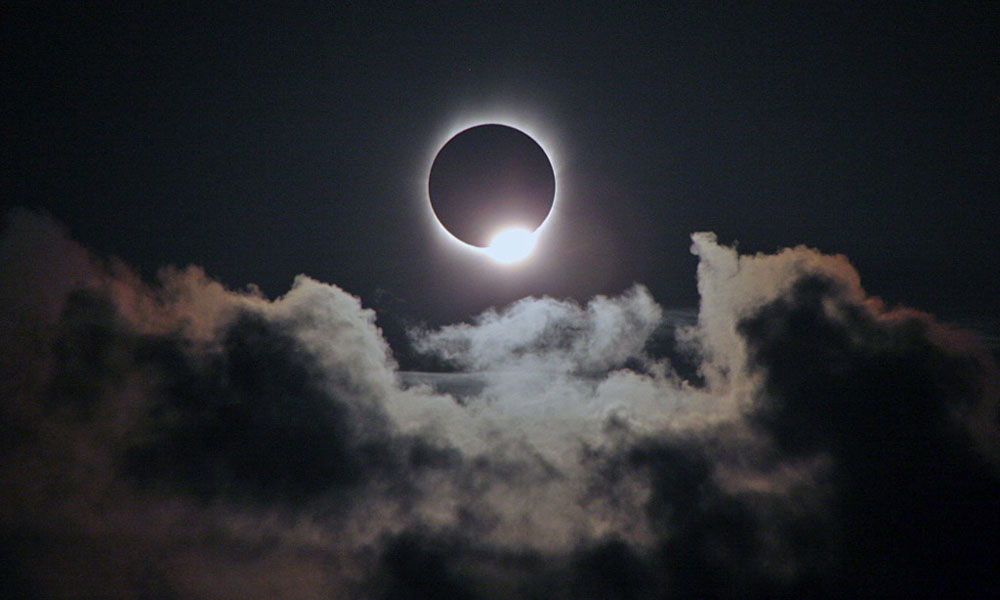 What to Do if it's Cloudy on Eclipse Day
Include hands-on activities as part of your plans – these can engage your patrons in case of poor weather conditions, and they can keep young and old alike busy for the duration of your event. Download a variety of eclipse activities from the STAR_Net STEM Activity Clearinghouse.
Arrange to have a live feed from NASA eclipse viewing locations on the NASA TV Channel and through the Exploratorium (a science museum in San Francisco). Google, through its Megamovie project (https://eclipsemega.movie/), will stitch together images of the eclipse as it moves across the country.
If it's partly cloudy, remember that the partial eclipse lasts over two hours, so glimpses of the Sun may be possible as the cloud cover changes.
If the Sun seems to have no chance of peeking through, don't despair. Access to cable TV or the Internet will provide ways to see live views of the eclipse. Console your eclipse audience by letting them know that while the previous eclipse that crossed the entire country was back in 1918, the next eclipse going across the U.S. will be on April 8, 2024. It will cross a different set of states, but should again be visible as a partial eclipse everywhere in North America.