Nearly all of us remember having to do them in school.  Some us dreaded them.  Others had a great time devoting hours to planning and tending to every tiny detail.  Nowadays, those of us in public libraries regularly encounter anxious parents who have come to the library wanting to know what they are, how to make them, and a quick and easy plan for getting it done because their child has just told them about the assignment, which is, of course, due tomorrow.
What in the world am I writing about?  Dioramas, of course.
Right now, with the weather less than pleasant for outdoor excursions, doing something creative and potentially educational indoors could be a good way to pass the time and avoid going stir crazy.
Typically, a diorama for a school project starts with an empty shoe box.  The box is turned on its side, and a scene is created inside the box.  What the scene portrays is, of course determined by the creator.  A diorama can show a  period in human or geological history, can represent different biomes or environments around the world, can be used to show a scene from a favorite book or story, or could be a totally original creation.
Museums have used extremely detailed and scientifically accurate dioramas in their exhibit halls since the late nineteenth century.  The Yale Peabody Museum of Natural History is thought to have some of the most exquisite dioramas in the museum world.  Unfortunately, they can't be viewed online.  They do, however offer a video showing one of their experts preparing a diorama for public viewing:  "A Diorama Takes Shape."  The New York Museum of  Natural History has published a short YouTube video showing some of the dioramas their visitors can enjoy.
The Natural History Museum of Los Angeles offers two short videos showing how their dioramas are created, which could be used in a program with older children and/or teens to show just how complex and detailed a diorama can be, and perhaps ignite an interest in pursuing such a hobby or career.
Natural History Museum of Los Angeles:
Of course, no one without years of training and practice could create such works of art. It's good though, to show children master works so that they see what can be achieved with hard work, diligence, and commitment to an art form, or anything else, for that matter.  Although there are no set rules for creating dioramas, here is some guidance for children wanting to create a diorama in a shoe box:
The Bright Hub Education site has instructions and guidance for building several differently themed dioramas, including dinosaurs, biomes, and various types of forests, as well as general guidelines and instructions.
For older children, teens, and interested adults, www.stormthecastle.com has gone a step farther, and has patterns for Tatebanko, an ancient Japanese form of diorama.  Tatebanko are different from other dioramas in that they are created entirely of paper.  This type of craft would reduce the amount of supplies needed considerably, but could increase the amount of time and skill needed to draw, cut out the scenery and pieces, and glue the parts together.  Some of the patterns offered free on the site include: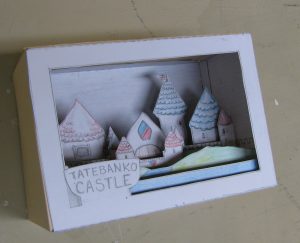 Last year I used the castle pattern for a Crafternoon program.  With a bit of help, each of the participants left with a completed Tatebanko to show off to family and friends.
This site has recently added instructions on how to create stop motion films using Tatebanko.  That might be a great makerspace activity for libraries with the resources to create animation.
At the website, Teens That Craft, Wyatt and Colson Ayars have posted their own instructions for creating Tatebanko boxes, complete with step by step pictures.
I also found a site that offers three free printable prehistoric tatebankos, although there are no instructions in English, so one would have to have some knowledge of the artform and pay attention to the pictures to complete the scenes.
Another form of diorama, that I have used with my school-aged programming involves toilet paper rolls.  I showed the kids some images of incredible artwork done by Anastassisa Elias with the cardboard centers from toilet paper, gave them supplies to work with, and helped each one create a unique diorama to take home.  They had a great time, and did some really creative work.  One of the sites I showed them was Miniature Worlds Created Inside Toilet Paper Rolls.  More of her incredible tiny works can be seen here.
There's one final type of paper diorama that I'll mention:  the peep show.  Robert Saduka offers a demonstration and a printable example on his website, which can be printed, colored, and put together. to create a scene of a winter's day in New York.  The National Park Service has also created a peepshow which demonstrates karst topography.  The NPS site offers complete lesson plans and two models – one in black and white for the builders to color, and another printable in full color.
More sites and articles that may be of interest:
Three Arts of Dioramas in the Wall Street Journal
Natural History Dioramas:  Seeing Through to the Other Side
The Invisible Art:  The Yale Peabody Museum Dioramas
The History of Dioramas at the American Museum of Natural History (From the "Wonderstruck" website)
Painting Diorama Backgrounds (Also from the "Wonderstruck" website)
A Short History of Dioramas and Miniature Scenes
Paper Model History 1873 Japanese Tatebanko
A Prezi Presentation of Tatebanko by Rene Kocurek