Engaging Families
In this section, you'll find resources curated by the Afterschool Alliance, American Society of Civil Engineers, Global Family Research Project, and other leaders in the field to help you support STEM learning ecologies with families front and center.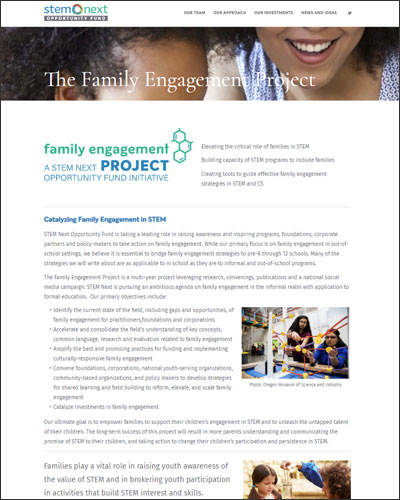 The Family Engagement Project
The Family Engagement Project, developed by the STEM Next Opportunity Fund and based on research by Linda Kekelis and Kara Sammet, provides invaluable insights on how to meaningfully engage families in the STEM learning process. The Project includes a huge variety of resources, include case studies, promising practices, and a blog.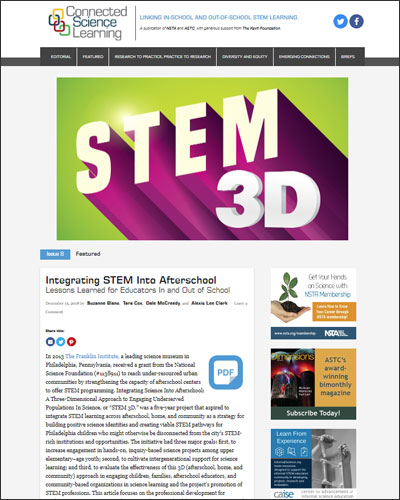 Integrating STEM Into Afterschool: Lessons Learned for Educators In and Out of School

Connected Science Learning, a publication of NSTA and ASTC, has an article on the Franklin Institute's STEM 3D initiative. Funded by a National Science Foundation grant, the initiative aims to connect STEM learning across three dimensions (STEM 3D) – afterschool, home, and communities. The article provides insight into the initiatives professional development focus on educators, and also includes information on family engagement strategies undertaken at the program sites.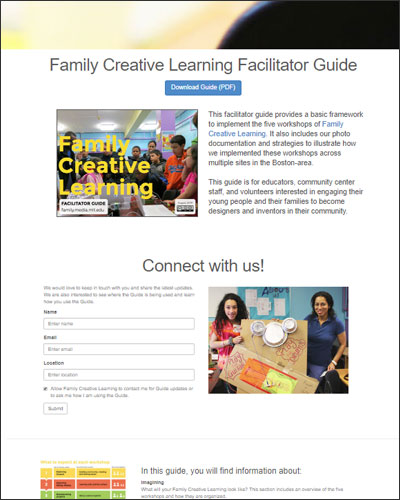 Family Creative Learning
Family Creative Learning is a workshop series that engages youth and their families in high-quality, hands-on STEM learning through the use of creative technologies. Designed by the Creative Communities research group at the University of Colorado Boulder, directed by Ricarose Roque, the workshops are held in collaboration and coordination with community organizations, afterschool programs, and public libraries. The facilitator Guide was released in 2014 for educators and community members to adapt these workshops into their own settings.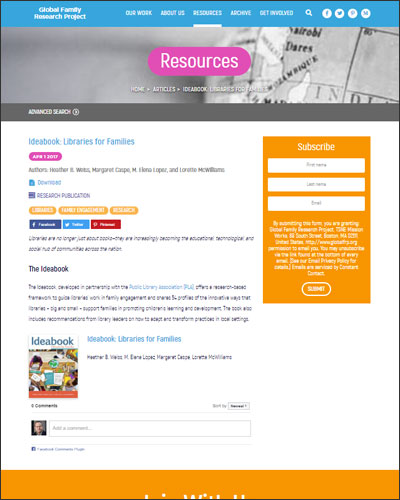 Ideabook: Libraries for Families
To support librarians in designing cohesive family engagement systems, both broadly and for STEM specifically, Global Family Research Project developed Ideabook: Libraries for Families in partnership with the Public Library Association. The report includes over 60 ideas from libraries big and small from across the country many of which focus on STEM learning. The digital extension of this resource – The Living Ideabook – creates an opportunity for librarians and others to share and dialogue about their family engagement ideas.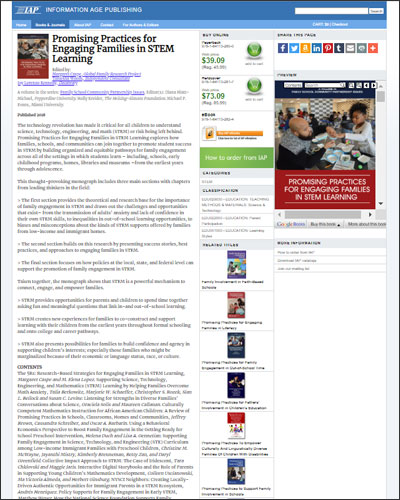 Promising Practices for Engaging Families in STEM Learning
This research-to-practice monograph includes three main sections with chapters from leading thinkers in the field. The first section provides the theoretical and research base for the importance of family engagement in STEM and draws out the challenges and opportunities that exist.  The second section builds on this research by presenting success stories, best practices, and approaches to engaging families in STEM. The final section focuses on how policies at the local, state, and federal level can support the promotion of family engagement in STEM.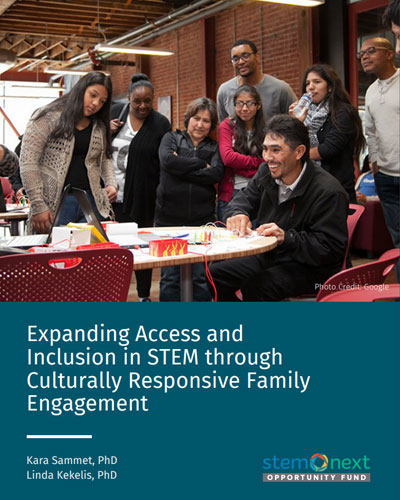 Expanding Access and Inclusion in STEM through Culturally Responsive Family Engagement
This brief by Kara Sammet and Linda Kekelis, released as a part of The Family Engagement Project, provides some critical context and research around how culturally responsive family engagement strategies can have a hugely positive impact of STEM programming. By focusing in on two particular organizations, Techbridge Girls and Code Next, Kekelis and Sammet do a great job of assessing how their programs' design and operation lead to their success and provide critical lessons learned along the way.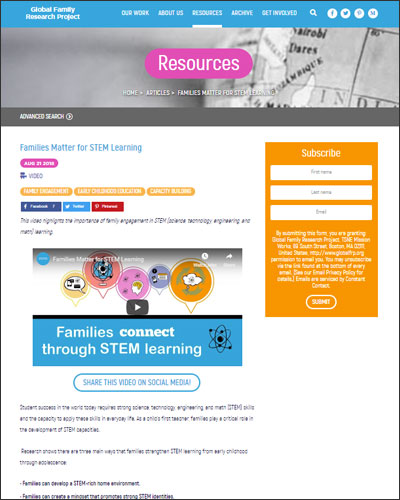 Families Matter for STEM Learning
This video highlights how families can strengthen children's STEM learning and capacities.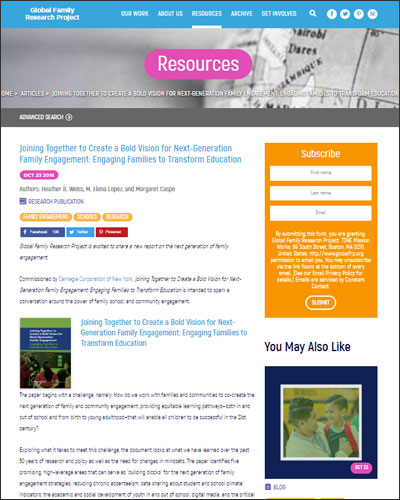 Joining Together to Create a Bold Vision for Next-Generation Family Engagement: Engaging Families to Transform Education
Commissioned by Carnegie Corporation of New York, this report is intended to spark a conversation around the power of family, school, and community engagement. The paper identifies five promising, high-leverage areas that can serve as "building blocks" for the next generation of family engagement strategies, including STEM.

Community Relationships to Build Family Access to STEM Learning
In this blog post, STAR Library Network (STAR Net) shares how community dialogues, with a focus on STEM, support public libraries in understanding their families' desires and needs and in prompting ideas for community partnerships. Tips for conducting community dialogues and related resources are shared as well.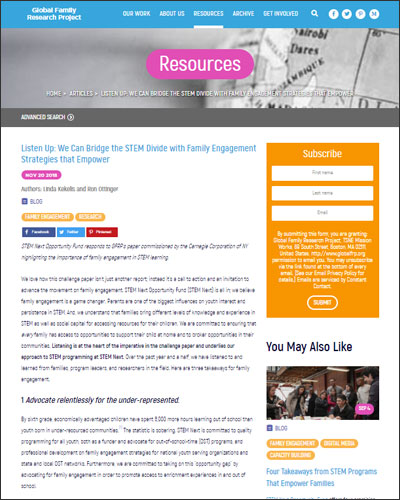 Listen Up: We Can Bridge the STEM Divide with Family Engagement Strategies That Empower
This article discusses advocating for underrepresented youth, helping parents feel empowered about engaging their children in STEM activities, and making a commitment to family engagement.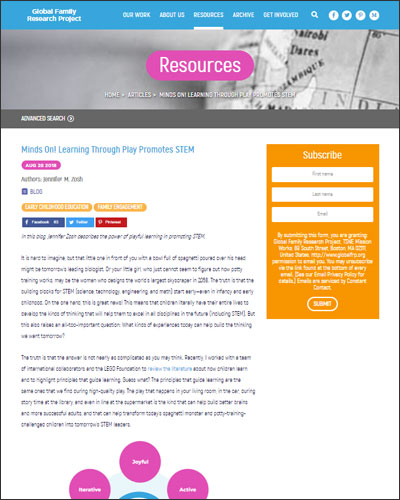 Minds On! Learning Through Play Promotes STEM
Jennifer Zosh considers how powerful play can be for promoting young children's STEM skills. The six elements of play, including that it is joyful, meaningful, and socially interactive, are described in detail.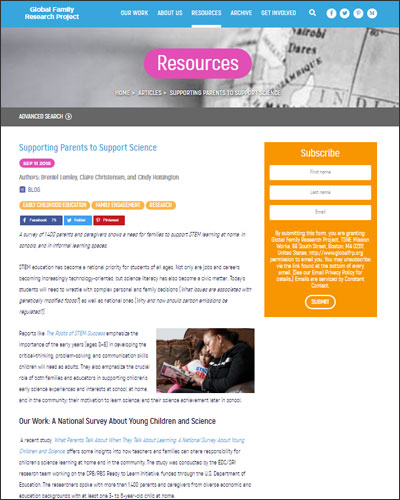 Supporting Parents to Support Science
This blog post highlights the results of a survey conducted with parents and caregivers of young children regarding their children's science experiences. It shares implications for educators about working to support families around science learning.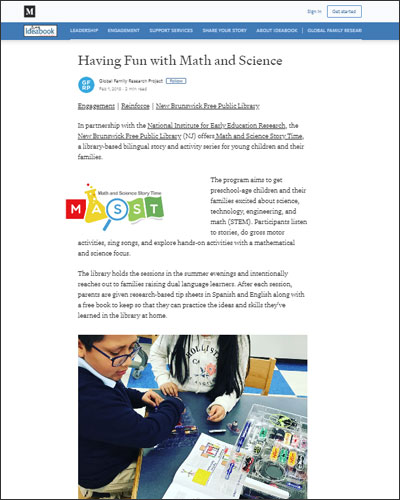 Having Fun with Math and Science
The New Brunswick Free Public Library holds a bilingual story and activity series focused on math and science. The library specifically targets families raising dual language learners (English and Spanish).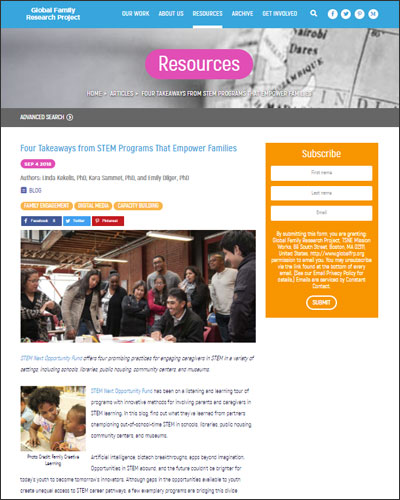 Four Takeaways from STEM Programs That Empower Families
STEM Next Opportunity Fund offers four promising practices for engaging caregivers in STEM in a variety of settings, including schools, libraries, public housing, community centers, and museums.  These include listening and learning with families, being mindful of access and equity, being culturally responsive, and empowering parents with resources.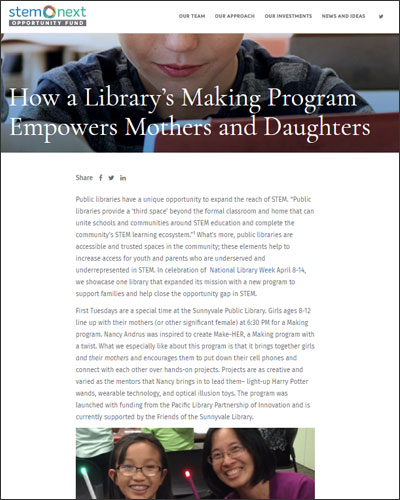 How a Library's Making Program Empowers Mothers and Daughters
In this article from the STEM Next Opportunity Fund


NCIL, in partnership with the Lunar and Planetary Institute, received funding from the National Science Foundation for the first-ever Public Libraries & STEM conference that took place at the Sheraton Denver Downtown Hotel in Colorado, August 20-22, 2015. This invitation-only conference brought 150+ library and STEM professionals and funders together to build productive relationships; explore promising practices in designing effective programs; help define a 21st century vision of STEM learning in public libraries; and develop the foundation for a future evaluation and research agenda for libraries and their partners engaged in STEM education efforts. The conference background reports, presentation files, and results were used as the foundation of the resources compiled For more information, download the following documents.
Conference Summary | Conference Evaluation Report | Public Libraries and STEM
This material is based upon work supported by the National Science Foundation under Grant Numbers DRL-1413783 and DRL-1421427. Any opinions, findings, and conclusions or recommendations expressed in this material are those of the authors and do not necessarily reflect the views of the National Science Foundation.