Strategies
Learn about approaches for initiating, managing, and sustaining collaborations through the resources below.
Preparing Scientists to Work with Library Patrons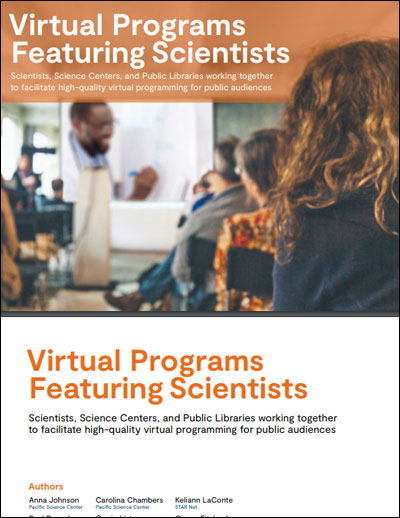 Anna Johnson, et al. (2019)
Virtual Programs Featuring Scientists: A Programming Guide
NASA@ My Library Program
Collective Impact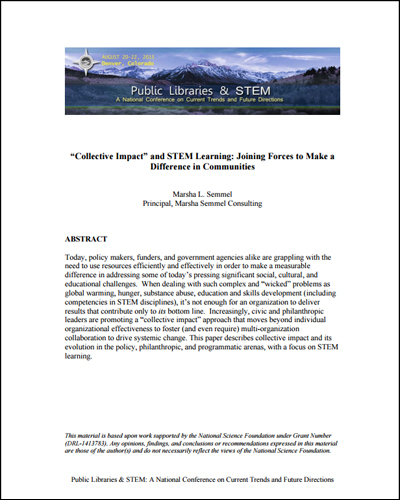 Marsha L. Semmel (2015)
"Collective Impact" and STEM Learning: Joining Forces to Make a Difference in Communities
Principal, Marsha Semmel Consulting
*Presented at the 2015 Public Libraries & STEM Conference. View Conference Program
This report describes collective impact and its evolution in the policy, philanthropic, and programmatic arenas, with a specific focus on STEM learning.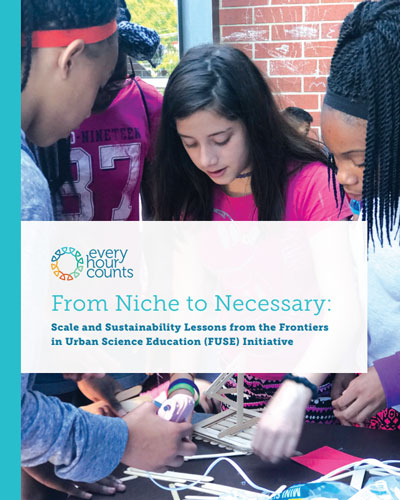 Kathleen Traphagen (2018)
From Niche to Necessary: Scale and Sustainability Lessons from the Frontiers in Urban Science Education (FUSE) Initiative
Every Hour Counts
This report includes data on the impact of the initiative in four cities (Providence, New York, Boston, and Nashville) and lessons learned around scaling and sustaining STEM programs in urban areas.
Library & Afterschool Partnerships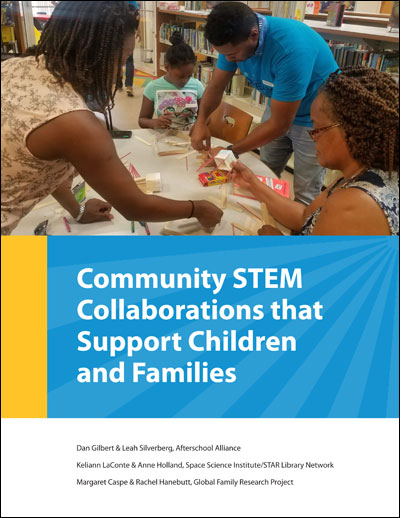 Dan Gilbert, Leah Silverberg, Keliann LaConte, Anne Holland, Margaret Caspe & Rachel Hanebutt (2019)
Community STEM Collaborations that Support Children and Families 
STAR Net Phase 2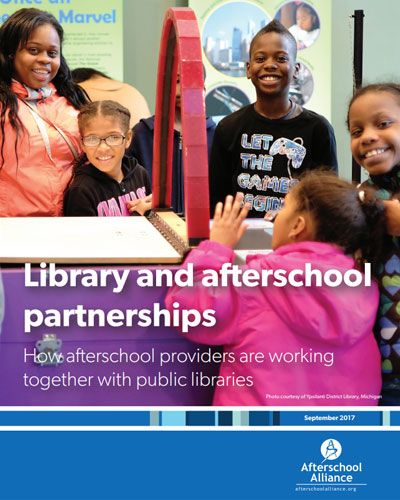 Afterschool Alliance (2017)
Library and Afterschool Partnerships
This report from the Afterschool Alliance highlights how afterschool programs and public libraries are working together to provide learning opportunities for students. Surveying the field, the report found that libraries and afterschool programs partner in a multitude of ways, but more growth can happen surrounding partnerships for STEM learning.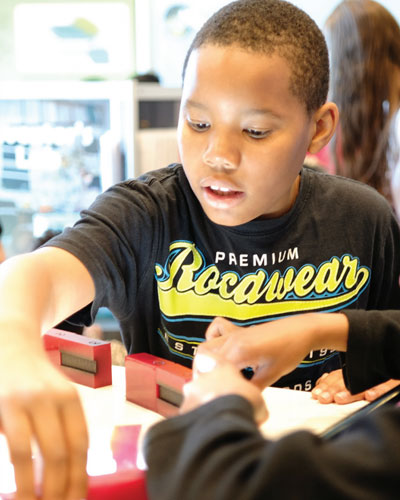 Afterschool Alliance (2016)
How Afterschool-library Partnerships are Engaging Kids in STEM
This blog from the Afterschool Alliance highlights the work of the Ypsilanti District Library engaging their community and youth with the STAR Net library exhibits.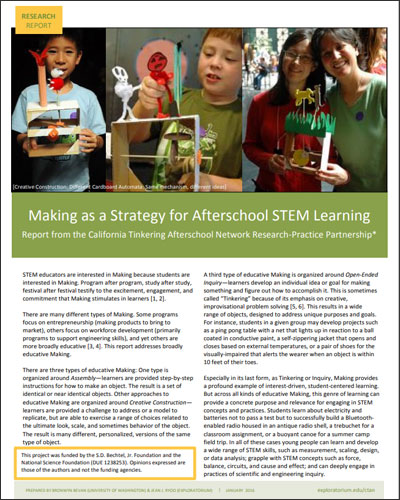 Bronwyn Bevan, University of Washington) & Jean J. Ryoo, Exploratorium (2016)
Making as a Strategy for Afterschool STEM Learning
This report from the Research + Practice Collaboratory and its accompanying case studies are the result of a three-year research-practice partnership, and features a cross-case analysis of what made different making-focused programs successful, what supports they needed to succeed, and what obstacles they tended to encounter along the way. The partnership also produced a set of tools that can be found at www.exploratorium.edu/ctan and www.researchandpractice.org.
Museum & Community Partnerships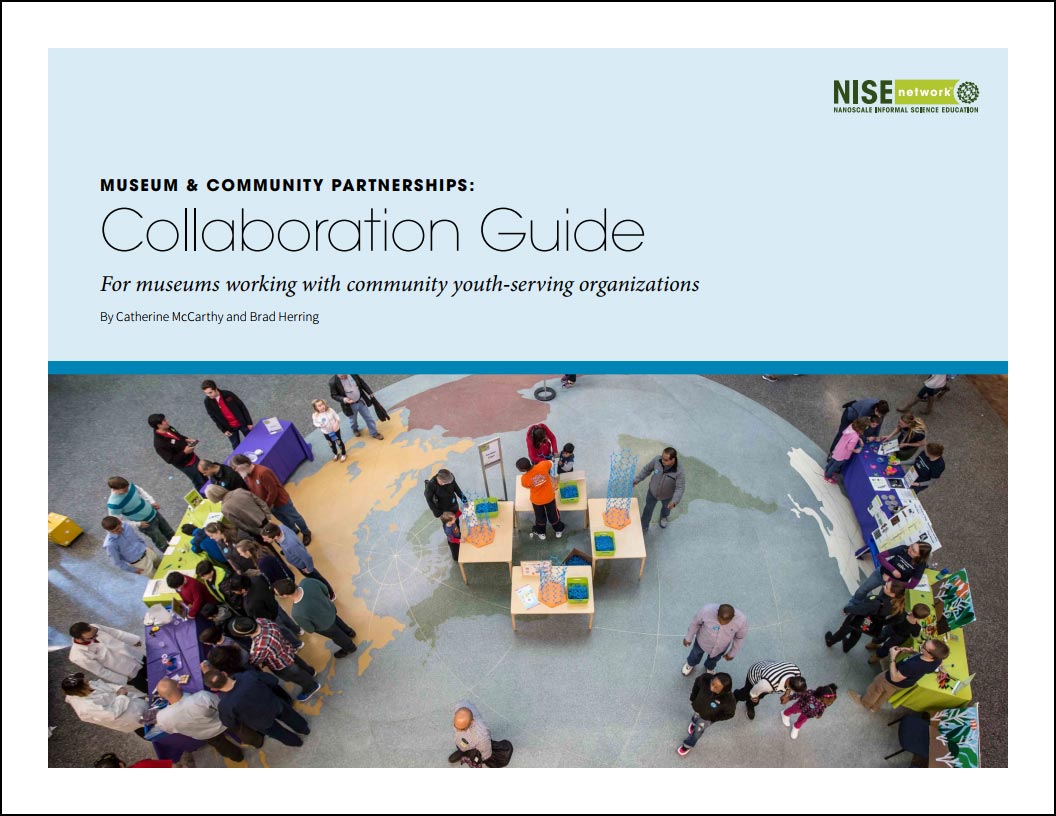 NISE Net: Catherine McCarthy and Brad Herring (2015)
Collaboration Guide: For museums working with community youth-serving organizations
Convening Community Conversations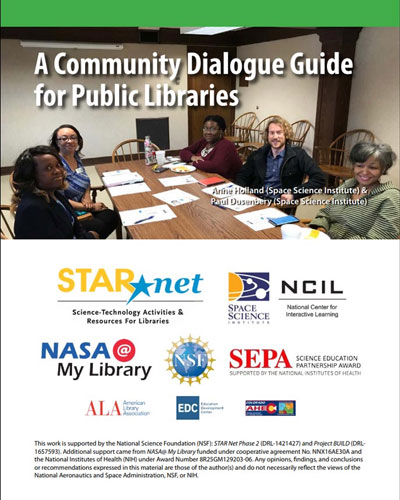 Anne Holland and Paul Dusenbery (2018)
A Community Dialogue Guide for Public Libraries
Space Science Institute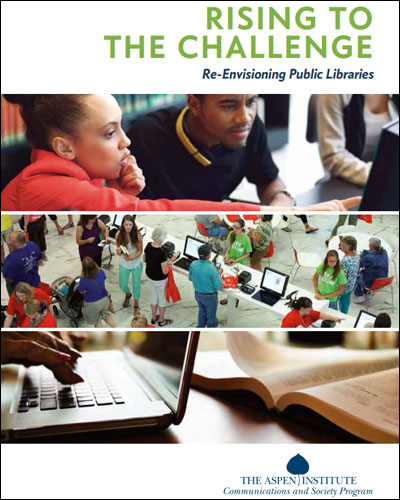 Amy K. Garmer (2014)
Rising to the Challenge: Re-envisioning Public Libraries 
The Aspen Institute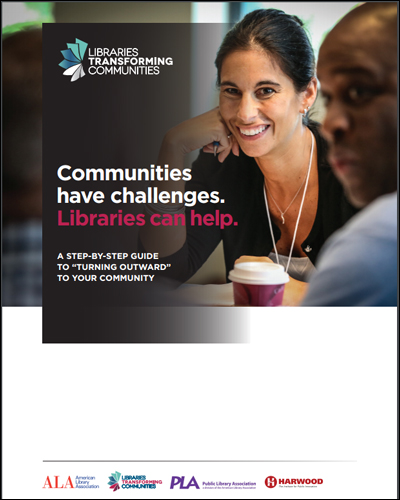 The Harwood Institute for Public Innovation (2015)
Libraries Transforming Communities: A step-by-step guide to "turning outward" to your community.


NCIL, in partnership with the Lunar and Planetary Institute, received funding from the National Science Foundation for the first-ever Public Libraries & STEM conference that took place at the Sheraton Denver Downtown Hotel in Colorado, August 20-22, 2015. This invitation-only conference brought 150+ library and STEM professionals and funders together to build productive relationships; explore promising practices in designing effective programs; help define a 21st century vision of STEM learning in public libraries; and develop the foundation for a future evaluation and research agenda for libraries and their partners engaged in STEM education efforts. The conference background reports, presentation files, and results were used as the foundation of the resources compiled For more information, download the following documents.
Conference Summary | Conference Evaluation Report | Public Libraries and STEM
This material is based upon work supported by the National Science Foundation under Grant Numbers DRL-1413783 and DRL-1421427. Any opinions, findings, and conclusions or recommendations expressed in this material are those of the authors and do not necessarily reflect the views of the National Science Foundation.