Examples from the Field
The following are examples of ways in which public libraries and STEM organizations (e.g., science museums, STEM professional associations, universities/colleges, schools, research institutions, state and federal agencies) are working together to increase access to and availability of quality STEM learning opportunities in urban, rural, and low-income communities.
Background Reports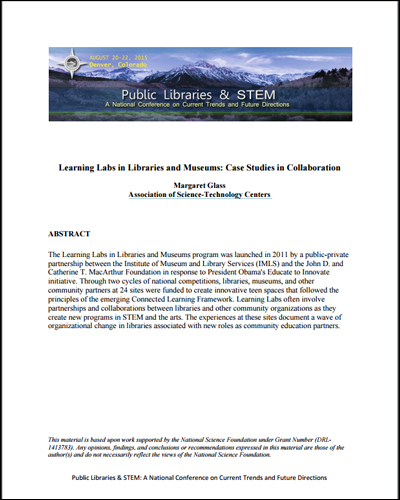 Margaret Glass (2015)
Learning Labs in Libraries and Museums: Case Studies in Collaboration
Association of Science-Technology Centers
*Presented at the 2015 Public Libraries & STEM Conference. View Conference Program
The Learning Labs in Libraries and Museums program was launched in 2011 by a public-private partnership between the Institute of Museum and Library Services (IMLS) and the John D. and Catherine T. MacArthur Foundation in response to President Obama's Educate to Innovate initiative. Through two cycles of national competitions, libraries, museums, and other community partners at 24 sites were funded to create innovative teen spaces that followed the principles of the emerging Connected Learning Framework. Learning Labs often involve partnerships and collaborations between libraries and other community organizations as they create new programs in STEM and the arts. The experiences at these sites document a wave of organizational change in libraries associated with new roles as community education partners.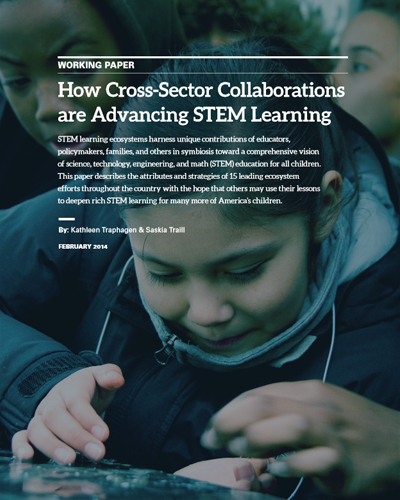 Kathleen Traphagen & Saskia Traill (2014)
How Cross-Sector Collaborations are Advancing STEM Learning
The Noyce Foundation
Standard Reports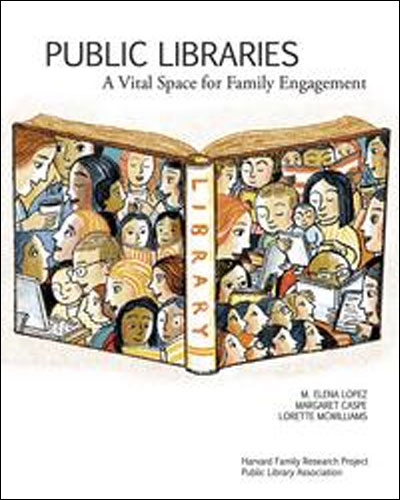 M. Elena Lopez, Margaret Caspe, Lorette McWilliams (2016)
Public Libraries: A Vital Space for Family Engagement
Global Family Research Project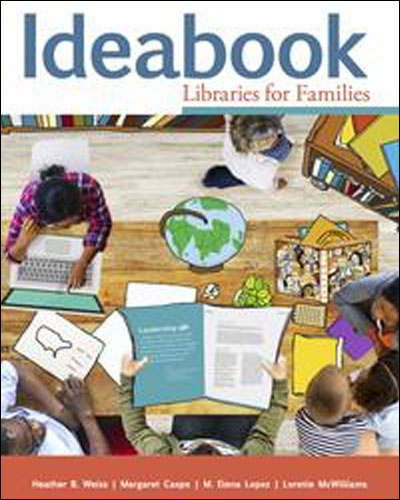 Heather B. Weiss, M. Elena Lopez, Margaret Caspe, Lorette McWilliams
Living Ideabook: Libraries for Families
Global Family Research Project
Presentations
Sue Considine (2015)
21st Century Visions of STEAM Learning in Public Libraries
Executive Director, Fayetteville Free Library
Ginny Golden (2015)
Bringing Space Exploration to your Library
Senior Community Library Manager at the Contra Costa County Library
Trevor Owens (2015)
Lessons Learned and the Key Elements of Sustainable Partnerships
Senior Program Officer at IMLS


NCIL, in partnership with the Lunar and Planetary Institute, received funding from the National Science Foundation for the first-ever Public Libraries & STEM conference that took place at the Sheraton Denver Downtown Hotel in Colorado, August 20-22, 2015. This invitation-only conference brought 150+ library and STEM professionals and funders together to build productive relationships; explore promising practices in designing effective programs; help define a 21st century vision of STEM learning in public libraries; and develop the foundation for a future evaluation and research agenda for libraries and their partners engaged in STEM education efforts. The conference background reports, presentation files, and results were used as the foundation of the resources compiled For more information, download the following documents.
Conference Summary | Conference Evaluation Report | Public Libraries and STEM
This material is based upon work supported by the National Science Foundation under Grant Numbers DRL-1413783 and DRL-1421427. Any opinions, findings, and conclusions or recommendations expressed in this material are those of the authors and do not necessarily reflect the views of the National Science Foundation.