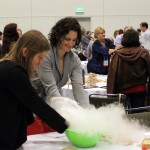 The Space Science Institute (and NCIL) will be moving to a new office location as early as this upcoming weekend (08/17/2019).
This move will require the transfer of our web servers and will affect the availability of our online STEM Activity Clearinghouse for a day or two. So if your library needs to access any resources from the Clearinghouse website, we advise that you download any activities that you may need before the date posted above. If there is a change in our projected downtime, we will post an update to this page.
Thanks for your patience during this process!
STAR Net Team