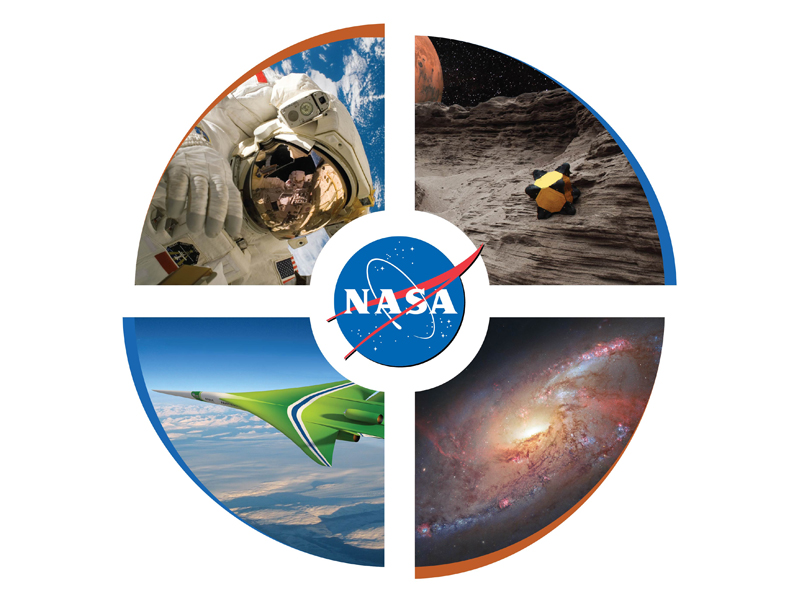 Discover NASA Exhibition (KS)
February 1, 2017

-

April 19, 2017
The Discover NASA exhibition focuses on what NASA does and its plans for the future. NASA programs cover the following areas: Earth, International Space Station, Journey to Mars, Solar System and Beyond, Aeronautics, and Technology. Work aboard the International Space Station advances scientific knowledge in Earth, space, physical, and biological sciences, for the benefit of people living on our home planet. NASA is looking to answer key questions about our home planet, neighboring planets in our Solar System and the universe beyond including how did the universe begin and evolve and what is its destiny? NASA is working to make aviation more Earth friendly, reduce delays while maintaining safety, and explore the benefits of aircraft that look very different from what we see today.
Getting young people interested in science and technology can be a challenge, but Discover NASA strives to make it fun and inspirational. The exhibit includes stunning imagery, hands-on activities, and multimedia experiences such as an immersive experience of astronauts living on-board the International Space Station; a 42" touch table interactive where users can build their own solar systems; and a Wind Tunnel interactive.
The Discover NASA Quiz Show is a quick-paced and humorous version of a TV game show. Up to three patrons can play the game. The JPL/NASA produced Eyes on Exoplanets touchscreen kiosk allows patrons to learn about the search for exoplanets and the latest discoveries. This kiosk provides near-real-time updates. The Mission to Mars kiosk takes patrons on a journey to Mars and back. Asteroids and comets are featured in the Space Rocks kiosk that includes a touch screen featuring games such as "What if it Hit My Town", "Asteroid Impact" and "What are the Odds?" Two large meteorite samples (one from Argentina and the other from Northwest Africa) are available for patrons to explore using a magnifying glass and bar magnet.
Hands-on interactives also include a Daily Planetary Report Station, where patrons can step in front of a green screen, don an assortment of costumes and give a weather report from various locations in our Solar System. This station includes props and can get a little noisy. Also included is a Discovery Station with various space-themed, hands-on activities such as designing and building robotic rovers (using Legos and other equipment).