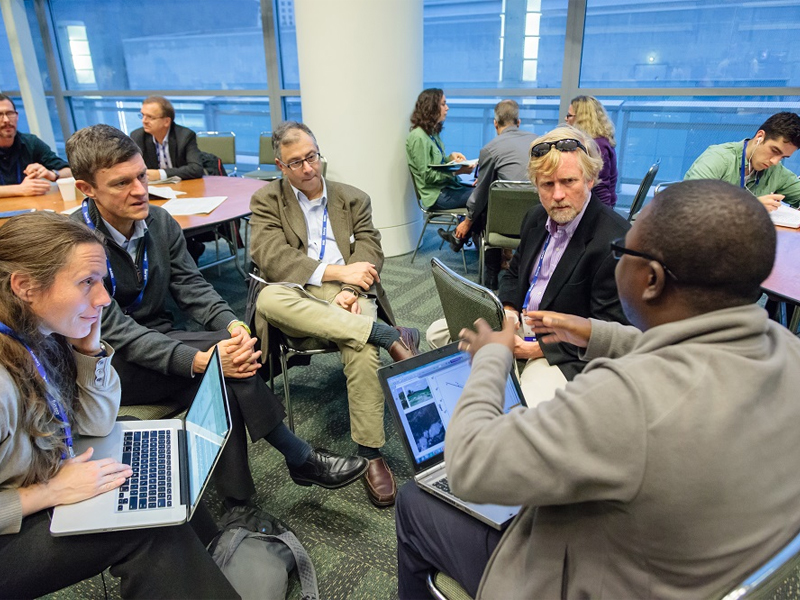 2017 AGU Fall Meeting
December 11, 2017

-

December 15, 2017
Fall Meeting is the largest and preeminent Earth and space science meeting in the world. The 2017 Fall Meeting will take place in New Orleans, Louisiana, offering attendees the chance to discover a new location that features world-renowned cuisine, music, arts, and culture, and provides access to vital scientific ecosystems. The Crescent City provides attendees access to the world-famous French Quarter, Jackson Square, the Saint Louis Cathedral, and a ride on the historic St. Charles streetcar through the elegant Garden District. Read more >>
SESSION/ABSTRACT INFORMATION:
Delivering customized apps, multimedia and NASA data to libraries and their patrons
Monday, December 11, 2017 – 16:37 – 16:53
Description:
With funding through NASA's Science Mission Directorate, the NASA@ My Library project has been working with the public library community to enhance the STEM literacy of library patrons throughout the nation. One element of the project is to disseminate a variety of materials to 75 partner libraries in order to support their implementation of hands-on, NASA related STEM activities for their patrons.
Click here to view the full abstract.
---
The 2017 Solar Eclipse Community Impacts through Public Library Engagement
Wednesday, December 13, 2017 – 17:20 – 17:30
Description:
More than two million pairs of eclipse glasses were distributed free through public libraries in the U.S. for the solar eclipse of the Sun taking place on August 21, 2017. About 7,000 organizations, including public library branches, bookmobiles, tribal libraries, library consortia, and state libraries took part in the celestial event of the century.
Click here to view the full abstract.
---
Tracking How Science Resources Result in Educator- and Community-Level Outcomes
Thursday, December 14, 2017 – 14:25 – 14:40
Description:
Learners frequently need to access increasingly complex information to help them understand our changing world. More and more libraries are transforming themselves into places where learners not only access STEM information, but interact with professionals and undertake hands-on learning. Libraries are beginning to position themselves as part of learning ecosystems that contribute to a collective impact on the community.
Click here to view the full abstract.
---
Sharing NASA's Scientific Explorations with Communities Across the Country: A Study of Public Libraries Collaborating with NASA STEM Experts
Friday, December 15, 2017 – 16:55 – 17:05
Description:
NASA research programs are helping humanity understand the origin and evolution of galaxies, stars, and planets, how our Sun varies and impacts the heliosphere, and defining the conditions necessary to support life beyond Earth. As places that offer their services for free, public libraries have become the "public square" by providing a place where members of a community can gather for information, educational programming, and policy discussions.
Click here to view the full abstract.
---
Citizen Science in Libraries: Results and Insights from a Unique NASA Collaboration
Friday, December 15, 2017 – 17:05 – 17:15
Description:
Libraries are local community centers and hubs for learning, with more and more libraries responding to the need to increase science literacy and support 21st century skills by adding STEM programs and resources for patrons of all ages. A collaboration has been developed between two NASA Science Mission Directorate projects – the NASA Earth Science Education Collaborative and NASA@ My Library – each bringing unique STEM assets and networks to support library staff and bring authentic STEM experiences and resources to learners in public library settings. The collaboration used Earth Day 2017 as a high profile event to engage and support 100 libraries across the U.S. (>50% serving rural communities), in developing locally-relevant programs and events that incorporated cloud observing and resources using NASA GLOBE Observer (GO) citizen science program. GO cloud observations are helping NASA scientists understand clouds from below (the ground) and above (from space). Clouds play an important role in transferring energy from the Sun to different parts of the Earth system. Because clouds can change rapidly, scientists need frequent observations from citizen scientists. Insights from the library focus groups and evaluation include promising practices, requested resources, programming ideas and approaches, particularly approaches to leveraging NASA subject matter experts and networks, to support local library programming.
Click here to view the full abstract.